The TikTok Hack That Will Add A Kick To Chick-Fil-A Sauce
Another day, another TikTok hack that's got us rethinking the way we do condiments. If you're a fan of Chick-fil-A's famous sauce in all its creamy goodness, maybe your taste buds think it's perfect just the way it is. While the chain's signature barbecue-honey mustard hybrid does pair deliciously with its crunchy fried chicken, some sauce dippers may want something that has more of a spicy kick to it. 
But what about Chick-fil-A's most underrated sauce, Sweet and Spicy Sriracha, which is chock-full of red jalapeño peppers and chili garlic sauce? And what about the cayenne-spiced Zesty Buffalo Sauce? Scratch those, and instead try mixing your own makeshift sauce that's even hotter than the condiment options Chick-fil-A has to offer. All you need is a packet of Texas Pete Original Hot Sauce.
The reason spicy food enthusiasts love the vinegar-based hot sauce is because of the aged cayenne peppers that give it more heat than brands like Frank's RedHot sauce. For those who are extra serious about their spice, Texas Pete packs a happy medium of around 340-740 Scoville heat units and won't drown out the taste of your food. Next time you find yourself at the drive-thru and need an extra zing, ask for a few Texas Pete packets to mix right into your beloved Chick-fil-A sauce.
Texas Pete can add magic to your Chick-fil-A order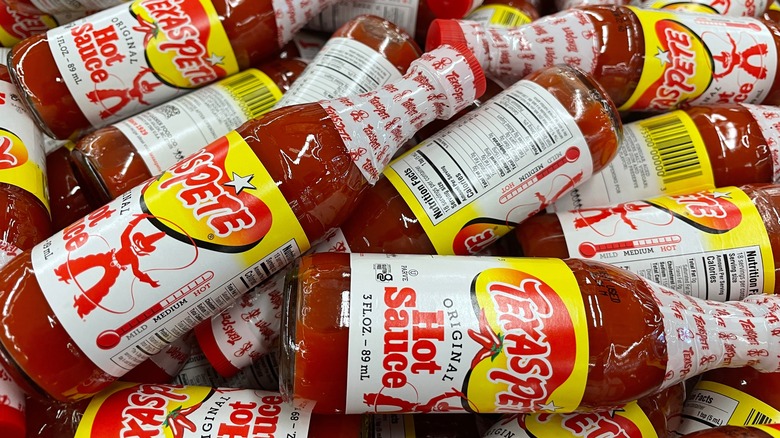 Billy F Blume Jr/Shutterstock
This DIY condiment upgrade was shared by Alabama-based TikTok user, Maddy Daye, who hypes it up while combining the two sauces from their car. "Who doesn't love a little spice in the morning?" they ask before trying a hash brown dipped in the mixture. A little-known fact about Chick-fil-A is that besides its own line of sauces, it actually offers packets of Texas Pete Original Hot Sauce if you ask for some.
The comments are full of other sauce combos that Chick-fil-A lovers swear by. Combining the popular chicken joint's Garden Herb Ranch Sauce with Texas Pete seems to be a crowd favorite, but mixing the hot sauce with almost any of the other sauce flavors is worth a try. Nuggets and fries aren't the only menu items you can infuse some zest into. "I pour the Texas Pete over the hash browns and then dip them in the Chick-fil-A sauce," one commenter said, and a former employee suggested to mix hot sauce and honey mustard to slather onto the Grilled Chicken Club.