Honey-Garlic Pan-Seared Salmon Recipe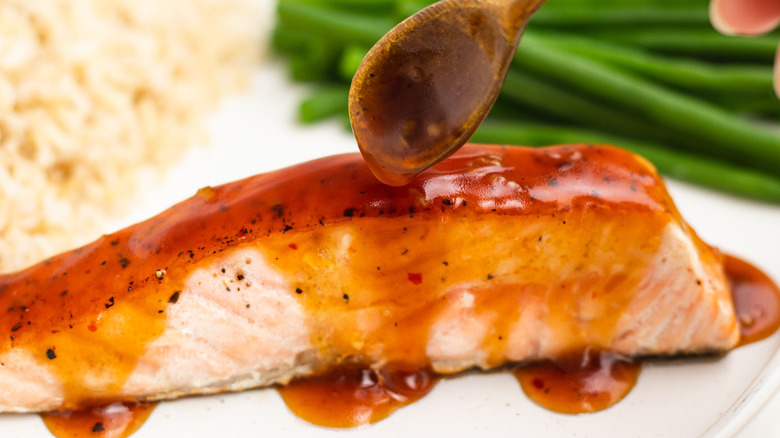 Catherine Brookes/Mashed
Salmon is featured in countless cuisines, prepared in different ways all over the world. Scandinavians cure it with salt, sugar, and dill; Russians put it in savory pies; and the Japanese add it to soups. And for U.K.-based recipe developer Catherine Brookes, salmon is especially good when pan-seared and topped with a versatile sauce that could complement almost any kind of meat.
"Honey, soy sauce, and garlic makes for a delicious combination in the sauce here, with the sweet, salty, and savory flavors all balancing each other perfectly," explains Brookes. With a combined prep and cook time of about 20 minutes, this recipe is perfect for dinner on a busy weeknight — not to mention nutritious and easy to pair with any sides. What you may love most about this dish, though, is that the sauce comes together with ingredients you may already have in your pantry. Similar to a sweet and sour sauce, the honey-garlic condiment is sticky, tangy, and full of flavor.
Gather the ingredients for your honey-garlic pan-seared salmon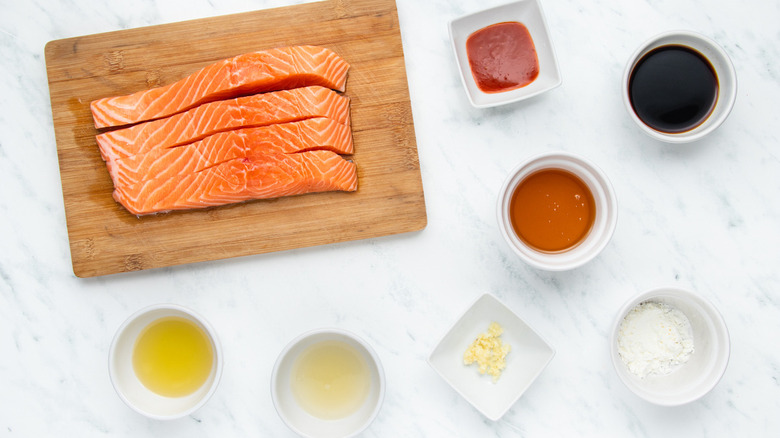 Catherine Brookes/Mashed
Most of these ingredients are staples you might already have, so check your pantry before going to the store. There, you'll start off by purchasing four skin-on salmon fillets. If olive oil, soy sauce, honey, cornstarch, and salt and pepper are already in your cupboard, then all you'll need is a bulb of fresh garlic and lemon juice, which you can either get bottled or by squeezing a fresh lemon.
Pan-sear your salmon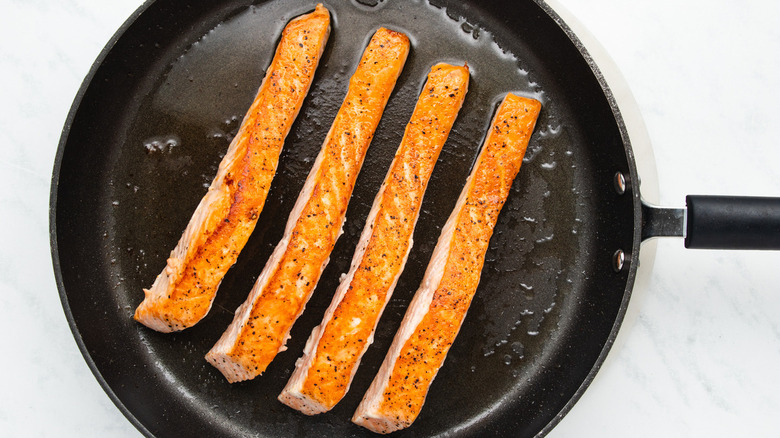 Catherine Brookes/Mashed
Now you're ready to cook. Heat a large frying pan over medium-high heat and pour in just 1 tablespoon of the oil. When the oil is hot and popping, add your salmon (skin side up) and fry for 5-6 minutes. Once it's well browned, flip your salmon over to crisp the skin for 3-4 minutes or until your desired level of doneness. 
How will you know when your salmon is done? "Some people may prefer to cook salmon until it is no longer pink in the middle (well done)," explains Brookes. "At this level of doneness, a meat thermometer would read at least 145 F when inserted into the thickest part of the salmon. For medium salmon (still slightly pink in the middle), you're looking for a temperature of 135 F." When you're happy with the cook, you can leave the fillets to rest for about 5 minutes. This way, the salmon will retain its juices, says Brookes.
Make your honey-garlic sauce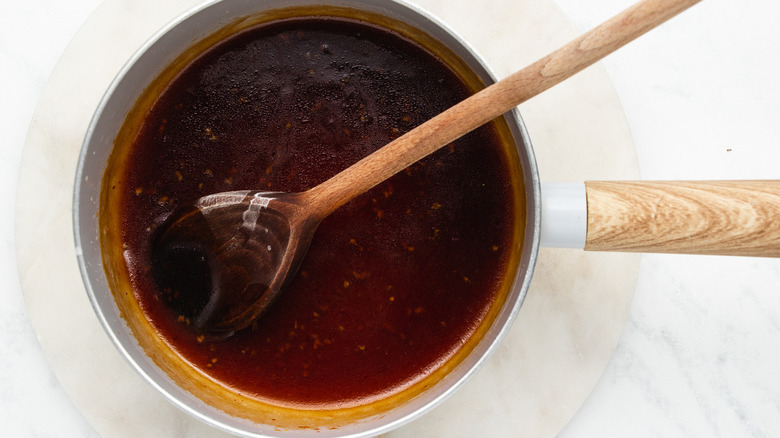 Catherine Brookes/Mashed
Meanwhile, it's time for the sauce. Start by combining the honey, soy sauce, lemon juice, and garlic in a saucepan over medium heat. Add the other tablespoon of olive oil and keep stirring as the pan heats up. Don't stop until the sauce begins to simmer.
At this point, you'll want to thicken the mixture. In a small bowl, add 2 tablespoons of water to the cornstarch and mix it until it forms a slurry. "Just cold water from the tap is fine," says Brookes. "The cornstarch slurry should look like a white cloudy liquid with no lumps."‌
Add the slurry to the honey-garlic sauce in the pan and stir for about another 2 minutes until it's thickened and coats a spoon. Give it a taste and season with salt and pepper to finish it off.
Sauce and serve your salmon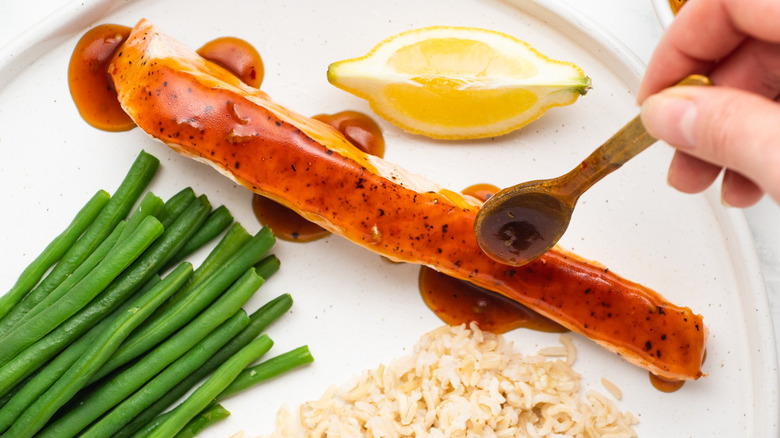 Catherine Brookes/Mashed
Your house should now be filled with the sweet aroma of the honey-garlic sauce. Finally, you can plate your perfectly fried salmon with this indelible condiment spooned over the top. While you could really serve this with any sides, Brookes recommends rice and green beans. "You could also serve the salmon with steamed broccoli or cabbage and new potatoes," Brookes recommends, "or a fresh green salad."
Honey-Garlic Pan-Seared Salmon Recipe
Need a new go-to salmon recipe? This one is ready in 20 minutes and comes together with an easy, sweet and sour garlicky pan sauce.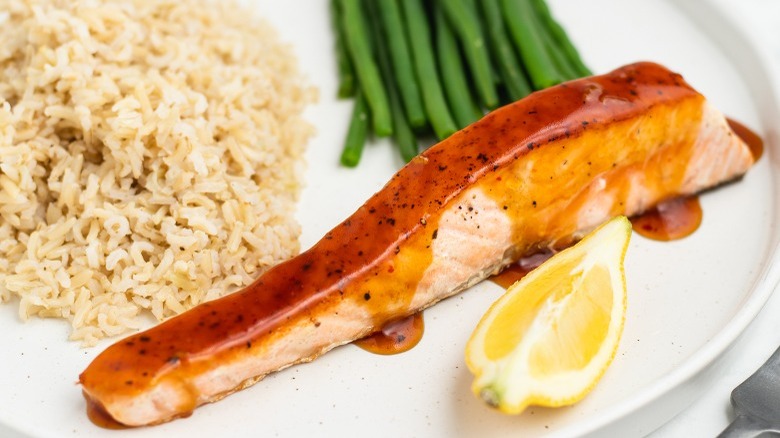 Ingredients
2 tablespoons olive oil, divided
4 skin-on salmon fillets
¼ cup honey
3 tablespoons soy sauce
2 tablespoons lemon juice
3 cloves garlic, minced
1 tablespoon cornstarch
Salt and pepper, to taste
Directions
Heat 1 tablespoon of oil in a large frying pan on medium-high setting heat. Add the salmon (skin side up) and fry for 5-6 minutes until well browned.
Flip the salmon skin side down and fry for another 3-4 minutes or until your desired level of doneness is reached.
To make the sauce, add the honey, soy sauce, lemon juice, garlic, and remaining 1 tablespoon olive oil to a saucepan. Stir over medium heat until simmering.
In a bowl, mix the cornstarch with 2 tablespoons of water to make a slurry, then add this to the pan. Stir for another 2 minutes until thickened.
Season the sauce with salt and pepper to taste.
Spoon the sauce over the salmon and serve with your favorite sides.
Nutrition
| | |
| --- | --- |
| Calories per Serving | 970 |
| Total Fat | 60.0 g |
| Saturated Fat | 13.0 g |
| Trans Fat | 0.0 g |
| Cholesterol | 217.8 mg |
| | |
| --- | --- |
| Total Carbohydrates | 22.0 g |
| Dietary Fiber | 0.6 g |
| Total Sugars | 17.7 g |
| Sodium | 1,044.5 mg |
| Protein | 82.1 g |