The Vegan Pizza That Made Lizzo's Taste Buds Dance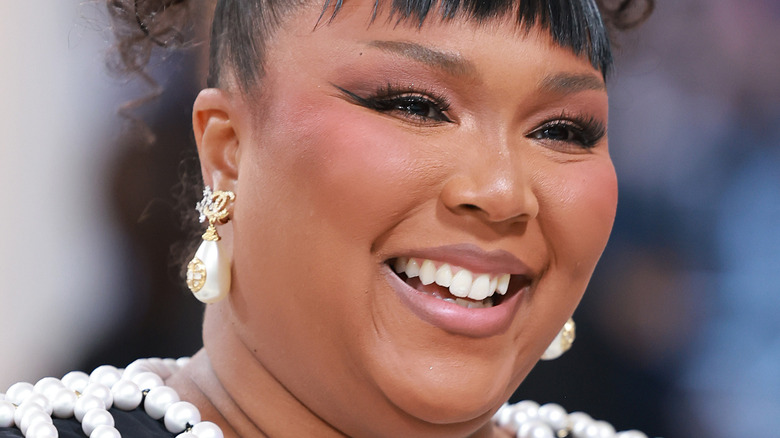 Theo Wargo/Getty Images
Lizzo isn't just an international superstar — she's also vegan, and she recently discovered a newfound love for Chicago pizzeria Dimo's. The star posted a TikTok video sharing a review of some of the restaurant's vegan options, and it's safe to say the singer was a fan. 
From classic pepperoni to plant-based margherita, Dimo's has an eclectic menu featuring a wide variety of vegan and non-vegan pizza options. Lizzo ordered the vegan buffalo chicken made with seitan chicken alongside the vegan mac and cheese pizza and a side of plant-based ranch for dipping. Despite her saying, "I would want the mac and cheese to be sloppier," the singer gave Dimo's pizza a resounding 10/10 rating.
The singer, rapper, and flutist was vegetarian for seven years before making the switch to a completely plant-based lifestyle in 2020. She told Vanity Fair that her vegan lifestyle is less about losing weight and more about eating food that feels good, "I'm not a vegan to lose weight, I just feel better when I eat plants," she said. Although a diet high in fruits and vegetables is a great way to maintain a healthy lifestyle, as Lizzo knows, not all vegan food is as boring as a plate of raw vegetables. 
Make your own Lizzo-inspired copycat pizza
Of course, this isn't the first time Lizzo has put her fans onto some top-notch vegan food — her TikTok page is full of vegan indulgences. One admirer commented on the video quipping, "How are you finding all these vegan foods!?" If you want to eat more like Lizzo, but don't live in Chicago to pick up Dimo's, don't worry — you can actually make your own. Just don't forget to pair it with a root beer like Lizzo did.
To make vegan buffalo chicken pizza like Dimo's, first, you need to make seitan. Seitan is a plant-based protein that's easily disguised as fried chicken. It's made from wheat gluten that's been kneaded and rinsed until the starches completely dissipate, leaving you with protein that's similar to poultry. Once you've made your seitan, dredge it in a plant-based egg wash, toss it in flour and bread crumbs, and fry it right up. Assemble buffalo sauce, vegan cheese, and fried seitan atop a frozen pizza crust, bake until desired, and there you have it — a buffalo chicken pizza without the chicken.
For a Dimo's copycat mac and cheese pizza, take a frozen pizza crust, slather plant-based alfredo sauce across its surface, top with cooked vegan mac and cheese (boxed will work), bake in the oven until you have a crunchy crust, and garnish with green onions to finish. When you're making your own Dimo's vegan pizza, just remember, what would Lizzo do?