Homemade Apricot Jam Recipe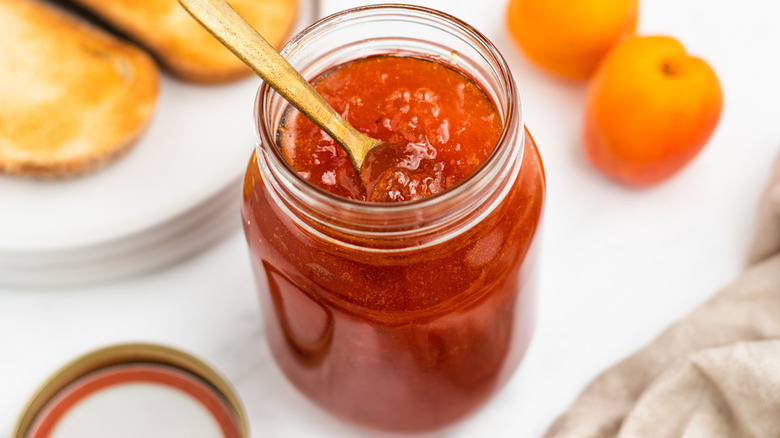 Catherine Brookes/Mashed
The apricot has its origins in Asia nearly 4000 years ago. Like many Asian culinary treats, it made its way to Europe on the silk road and was a favorite of royalty. Given the delicious, juicy taste of apricots, it's easy to see why. While there are many ways to prepare and eat apricots aside from eating them raw, making apricot jam is a perfect way to ensure that you can have that luxurious flavor whenever you want. While making and jarring your own jam might sound a bit challenging, recipe creator Catherine Brookes has put together a recipe that makes it easy to create your own apricot jam. 
"Using ripe, juicy apricots helps to give this jam maximum flavor and sweetness," explains Brookes. This homemade apricot jam packs a delicious punch almost guaranteed to blow away any jam you'll find at even high-end grocery stores. It's a great way to take your fruit spread game to the next level.
Shopping for homemade apricot jam ingredients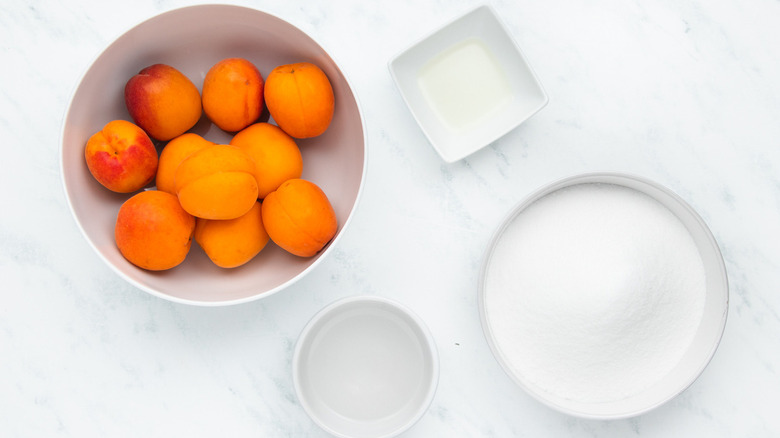 Catherine Brookes/Mashed
Perhaps the greatest thing about homemade jam is that it takes a few ingredients to make it. First, you need to buy apricots. "Apricots are naturally sweet what a slightly more tart/tangy taste than peaches," describes Brookes. You need 1 ⅓ pounds of fresh apricots to be exact. Then get a bag of sugar and a container of lemon juice. That's all you need to make homemade apricot jam.
Clean your jars and slice your apricots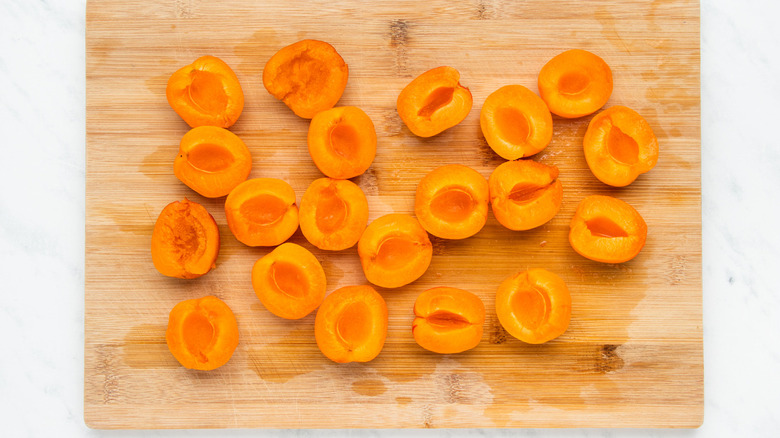 Catherine Brookes/Mashed
To start off you need to sterilize your jars. Wash them in soapy water and preheat the oven to 350 F. Once it hits 350, put the jars and lids upside down on a baking sheet. While they heat up, wash and then slice your apricots, remove the stones, and set aside. "I tend to slice the apricots down the middle moving in a circular motion around the stone," suggests Brookes. "Then you can simply twist apart the two halves and remove the stone." Once the jars have heated for 15 minutes, take the tray out and let the jars cool at room temperature for about another 15 minutes.
Cook the apricot mixture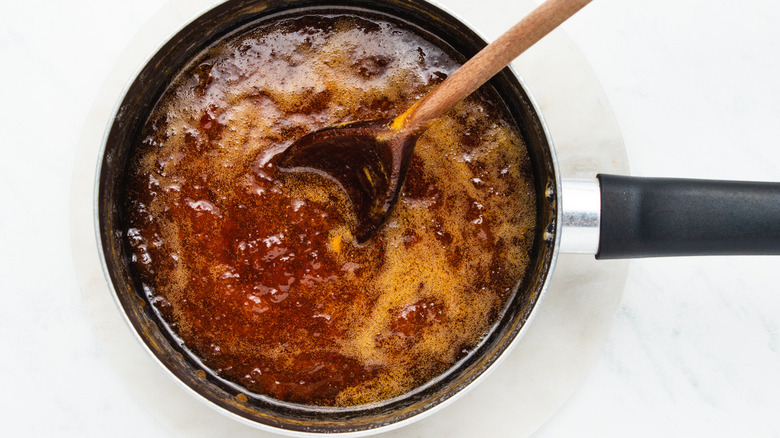 Catherine Brookes/Mashed
Combine the apricots with lemon juice and some water in a large saucepan and stir. Add the sugar and put the pan on the stove, cooking it over medium heat. Stir until the sugar dissolves and continue heating until your apricot concoction starts to boil. 
Finish cooking your jam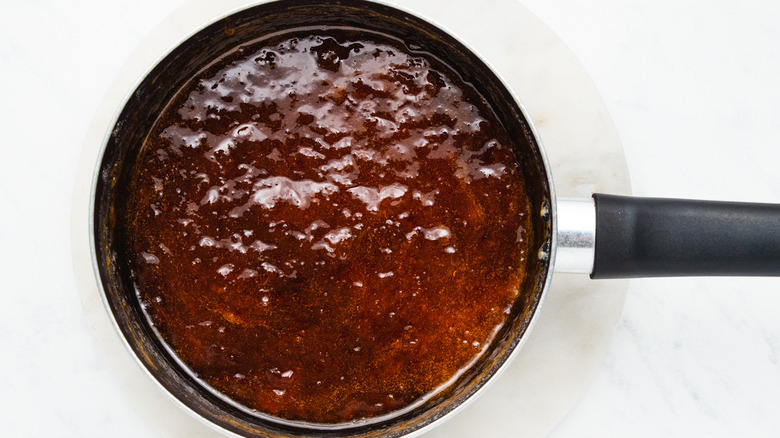 Catherine Brookes/Mashed
Reduce the heat to simmer and simmer it for 30 minutes. As the apricots break down, the jam should reduce and thicken. You can test doneness with a chilled plate. If the jam thickens and turns into a jelly when you put a small bit on a chilled plate, it's ready. "I chilled the plate in the freezer to speed up the process," suggests Brookes. "You can place a plate in the fridge for an hour, or the freezer for 10 minutes."
Finish the jam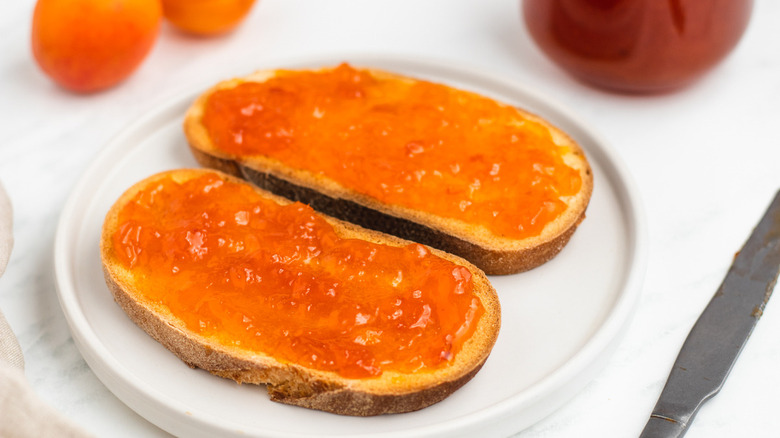 Catherine Brookes/Mashed
A frothy layer might form on top of the jam. If so, scrape it away with a small spoon. Let the jam cool in the saucepan for 15 minutes or so and then start jarring it. You can either put all of it into one 500 ml jar or two 250 ml jars. "Yes the pan can be removed from the heat," explains Brookes, adding that "15 minutes should be long enough to let it cool before adding to the jar as it will cool further once in the jar too. You want it to still be easily pourable when adding to the jar."
If you want to taste test it, spread some of your fresh jam on bread and dig in. "The jam is great spread on toast, used to fill cakes or spooned over yogurt."
Homemade Apricot Jam Recipe
Learn how to make your own homemade apricot jam that will taste delicious spread on toast.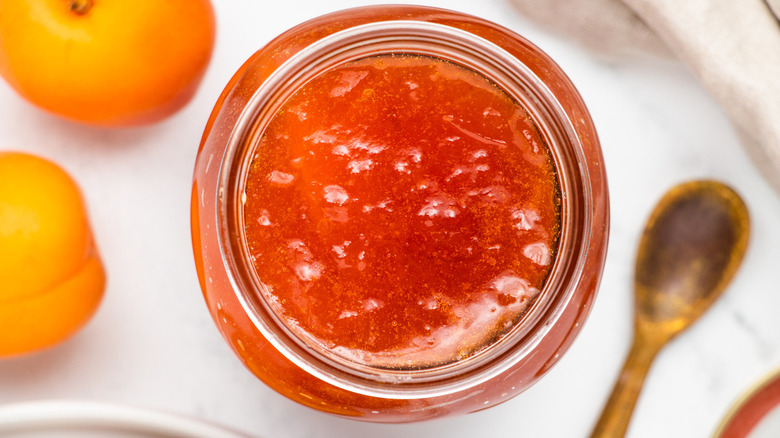 Ingredients
1 ⅓ pounds (600 grams) fresh apricots
2 cups sugar
3 tablespoons water
1 tablespoon lemon juice
Directions
To sterilize your jars, first wash them in water soapy water. Preheat the oven to 350 F. Next, place the jars and lids upside down on a baking sheet and put them into the oven for 15 minutes. Leave to cool.
Wash the apricots, slice them into halves, and remove the stones.
Add the apricots to a large saucepan with the water and lemon juice. Stir.
Add the sugar and place the pan over a medium heat. Stir until the sugar has dissolved and the mixture starts to boil.
Simmer for 30 minutes. The jam should be reduced and thickened with the apricots broken down. To test whether it is ready, spread a small amount of jam onto a chilled plate and leave for 10 seconds. If it becomes thick and jelly-like in texture it is ready.
If a frothy layer has formed on top of the jam, use a small spoon to scrape this away.
Leave the jam in the saucepan for about 15 minutes before transferring it to your prepared jars.
Allow to come to room temp then store in the fridge. It should keep well for up to 1 month.
Nutrition
| | |
| --- | --- |
| Calories per Serving | 307 |
| Total Fat | 0.4 g |
| Saturated Fat | 0.0 g |
| Trans Fat | 0.0 g |
| Cholesterol | 0.0 mg |
| | |
| --- | --- |
| Total Carbohydrates | 78.0 g |
| Dietary Fiber | 2.0 g |
| Total Sugars | 75.9 g |
| Sodium | 2.0 mg |
| Protein | 1.4 g |