Silky Smooth Crab Bisque Recipe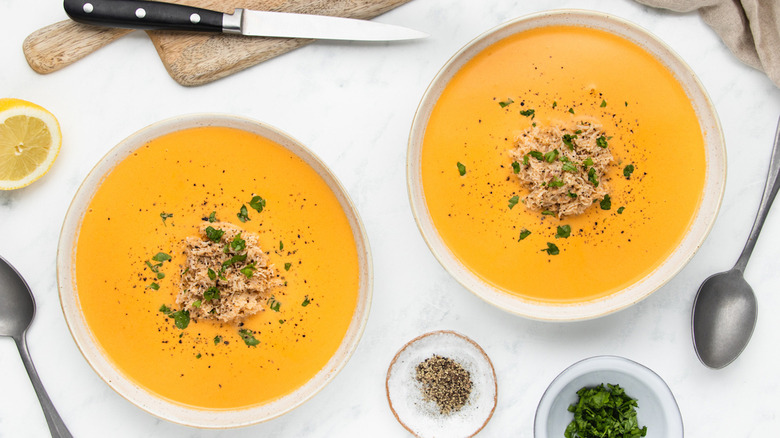 Catherine Brookes/Mashed
When it comes to deliciously creamy soups, you'd be hard-pressed to find one more indulgent and sophisticated than crab bisque. A satisfying seafood soup, this dish, like many recipes from France, originated as a humble meal. With a base of sumptuous crab, this old fisherman's fare is now any food lover's favorite. 
In this version, recipe developer Catherine Brookes shows us how to create a truly dynamic bisque by combining savory and acidic ingredients with a generous splash of cream to round things out. "I'd say it's the combination of everything together here that makes this recipe delicious," says Brookes. "White wine and lemon add a slight tanginess, the veggies give a perfect savory base flavor, and the crab meat gives that distinctive seafood taste."
It might take some effort to create such a memorable, palate-pleasing, and stomach-satisfying soup from scratch, but at only an hour of prep and cooking, you could definitely still whip up this luxurious meal after a busy day at work.
Gathering your silky smooth crab bisque ingredients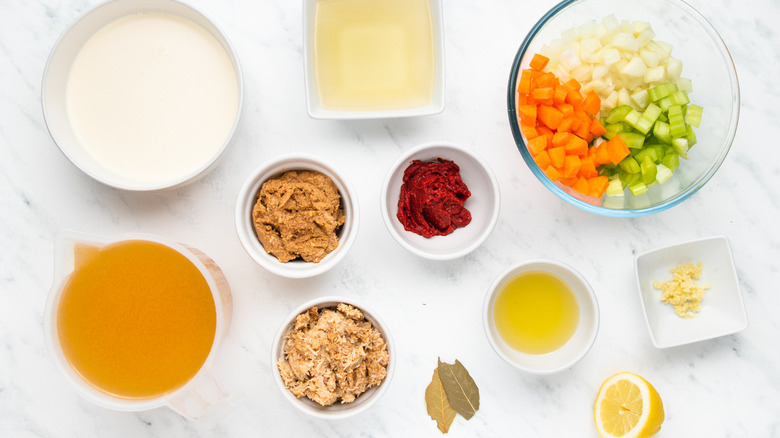 Catherine Brookes/Mashed
This seafood soup contains a few things you may already have at home, like olive oil, garlic, bay leaves, and salt and pepper. From the supermarket or your local fishmonger, you'll need just over 5 ounces each of white crab meat and brown crab meat, which each offer their own flavor to the dish. Brookes previously shared with Mashed that the white meat from the claws and legs is milder and more substantial in consistency, while the brown meat "is found in the shell cavity of the crab and is smoother and more paté-like in texture." She says that "you could also buy a whole crab and remove the meat from the shell" — just be sure you know how to pick out the best crab from the seafood counter.
Next, head to the produce section for onion, celery, carrot, and a lemon for the juice. Once you've also picked up a quart of fish stock, some tomato paste, white wine, and heavy cream, it's time to get to bisquing.
Make the vegetable base of the soup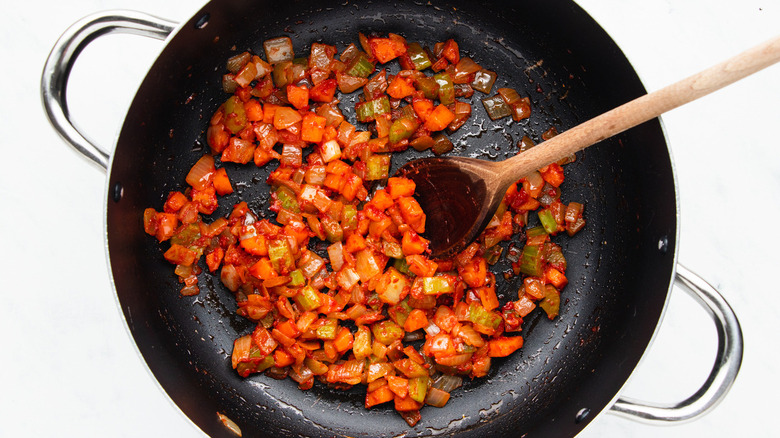 Catherine Brookes/Mashed
While the crab and the cream are the stars of this dish, the vegetables and herbs are the unsung heroes. Soften them by frying the onion, celery, and carrot in 2 tablespoons of olive oil, combined in a large soup pot over medium heat. After about 10 minutes, they should be tender and very aromatic. Stir in your crushed garlic cloves and tomato paste, cooking for another 2 minutes so both can briefly caramelize. "Once the veg is well coated in the tomato paste," you're ready to move on to the next step, Brookes says.
Add the fish stock, wine, and bay leaves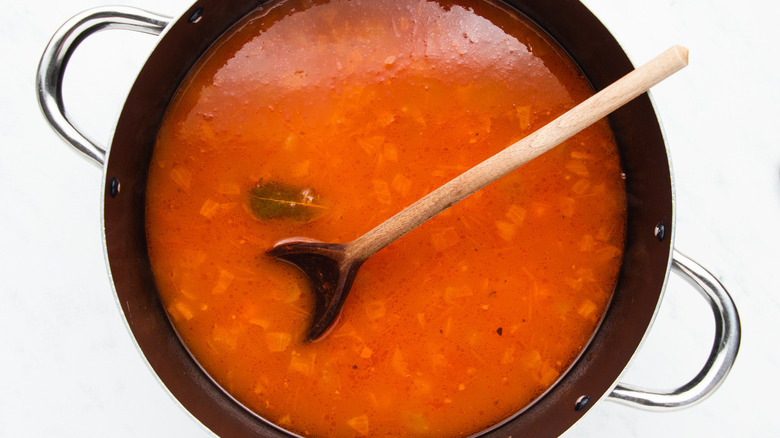 Catherine Brookes/Mashed
Now let's make some magic. Add the fish stock, wine, and bay leaves to the soup pot. Once it starts boiling, cover the pot and simmer for 30 minutes to allow the alcohol to evaporate and the flavors to infuse.
Blend the soup, then stir in the cream and brown crab meat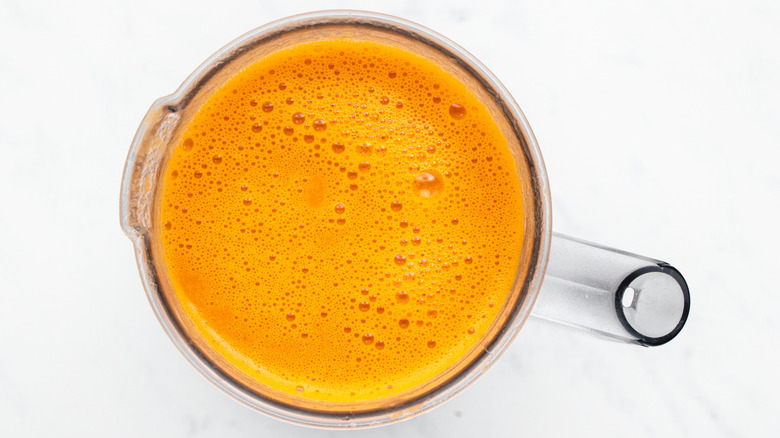 Catherine Brookes/Mashed
Carefully pour your simmering soup pot full of contents into a blender and buzz it up until smooth. You could also turn off the heat and use an immersion blender to blend the soup in the pot and save time on dishes, Brookes says. However, "I prefer using the jug blender as I find it makes the bisque that extra bit smoother," she adds. Return the blended soup to the pot, then stir in the cream and brown crab meat until combined and heated through. If you're tempted to leave the soup chunky, know that this step is key to a true bisque: "Blending the bisque helps to make it super smooth, and adding heavy cream gives it that lovely rich, creamy texture," Brookes says. Finally, squeeze in the juice from the halved lemon, add salt and pepper to taste, and voila, soup's on.
Top with white crab meat and serve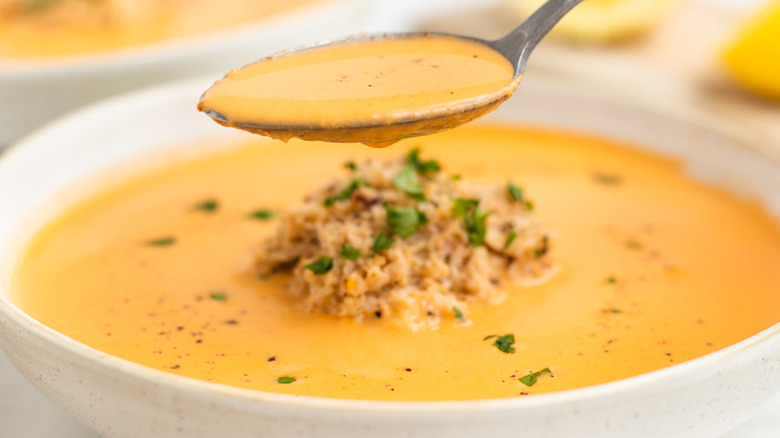 Catherine Brookes/Mashed
Suddenly very hungry due to a mouthwatering fragrance? According to Brookes, that's because "while the bisque is cooking, you can smell the delicious savory aromas of the veggie and fish stock base. Once you add the crab meat, it's that distinctive sweet seafood smell."
Given how magical this meal tastes and smells, it needs just as exquisite of a presentation. Split the white crab meat among 4 shallow bowls, adding equal mounds to the center of each. Spoon your bisque around your mounds so each one looks like a little island of crab in a creamy sea of orange. To really make it impressive, finish it off with some fresh chopped parsley and extra cracked black pepper, if desired.
Silky Smooth Crab Bisque Recipe
With fresh crab for luxe flavor, cream for richness, and a vegetable base for aroma, this homemade crab bisque is velvety and balanced.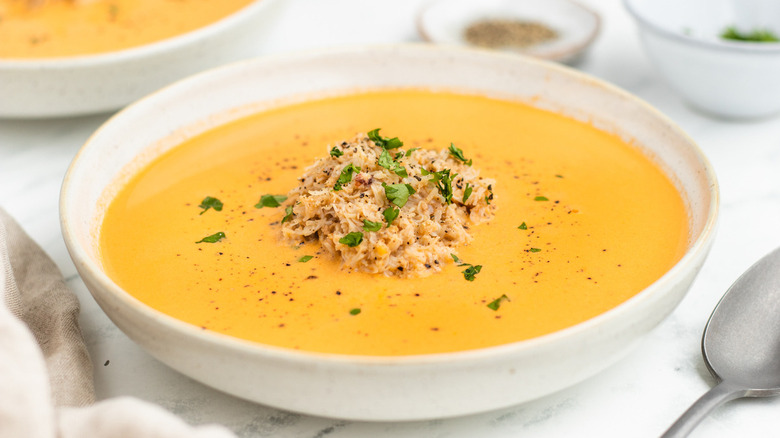 Ingredients
2 tablespoons olive oil
1 onion, diced
1 stick celery, diced
1 carrot, diced
2 cloves garlic, crushed
2 tablespoons tomato paste
4 cups fish stock
¾ cup white wine
2 bay leaves
5.2 ounces brown crab meat
1 cup heavy cream
Juice of half a lemon
Salt and pepper, to taste
5.2 ounces white crab meat
Optional Ingredients
Fresh parsley, chopped, for garnish
Directions
Add the olive oil to a large soup pot over medium heat. Fry the onion, celery, and carrot until softened, about 10 minutes.
Add the garlic and cook for another minute, stirring constantly.
Add the tomato paste, stir well, and cook for another 2 minutes.
Stir in the fish stock, wine, and bay leaves. Bring to a boil, then cover and let simmer for 30 minutes.
Transfer the mixture to a blender and blend until smooth.
Return the bisque to the pot and add the brown crab meat and cream. Stir for a couple of minutes until combined and heated through. Squeeze in the lemon juice and season with salt and pepper.
To serve, divide the white crab meat among 4 shallow bowls, making a mound of crab in the center of each. Spoon the bisque around the crab meat. Top with fresh chopped parsley and extra cracked black pepper, if desired.
Nutrition
| | |
| --- | --- |
| Calories per Serving | 432 |
| Total Fat | 30.9 g |
| Saturated Fat | 15.3 g |
| Trans Fat | 0.7 g |
| Cholesterol | 141.1 mg |
| | |
| --- | --- |
| Total Carbohydrates | 11.4 g |
| Dietary Fiber | 2.1 g |
| Total Sugars | 5.5 g |
| Sodium | 1,144.8 mg |
| Protein | 21.4 g |