The Key To Building Better Pasta Salads Starts With A Mason Jar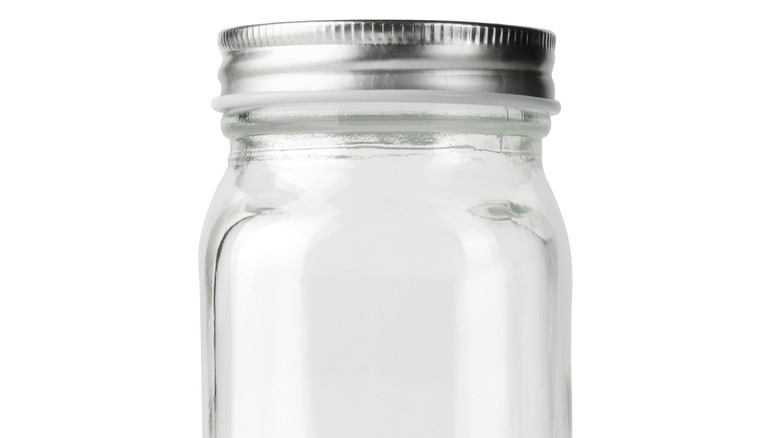 Soho A Studio/Shutterstock
Pasta salad is a staple in the summer seasons, whether you're looking to craft something for a picnic or potluck or trying to whip up a quick, easy dinner without turning on the stove. It's also endlessly customizable, so you can create a version with flavor combinations you love — and use up leftovers to eliminate food waste.
If you want to level up your pasta salad and make the chilled dish an even easier endeavor, there's one tool you're missing — a mason jar. A TikTok user posted a video in which the ingredients for a pasta salad were layered in a mason jar as you would with a salad prepped in the same vessel.
The ingredients should be layered in a particular order for optimal results. As the video creator demonstrated, the dressing should go at the bottom of the mason jar so your pasta salad doesn't become a soggy mess if not eaten immediately. Next, you should use heartier vegetables, such as raw red onion and chopped bell pepper, to marinate in your flavorful dressing. Finally, layer the slightly more delicate ingredients, your cheese and proteins (the recipe in the video features spinach, feta, and chicken sausage), and place cooked pasta at the top.
When you're ready to serve or enjoy, you can turn the jar upside down and pour your assembled ingredients onto a dish.
Tips for even better pasta salads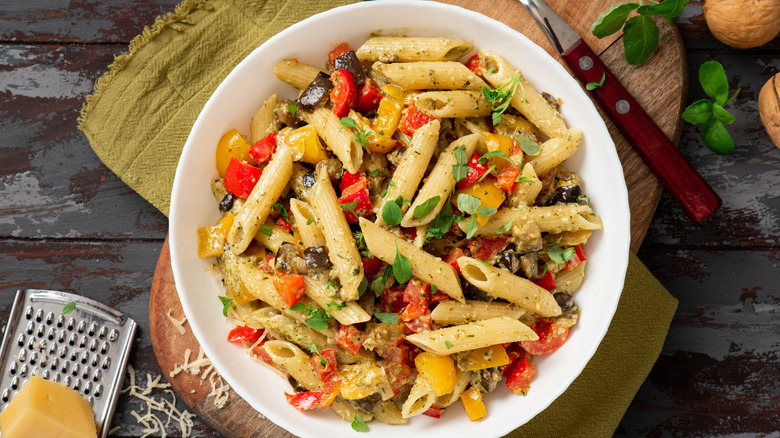 Svetlana Monyakova/Shutterstock
While the TikTok video highlights the order in which you may want to consider crafting your pasta salad as an easy way to prep the dish in advance, there are still a few things to consider to get an impressive final product.
First, don't make one simple mistake with your pasta salad that can result in a bland final product: All the components should be properly seasoned first, including the pasta. Use approximately 2 tablespoons of salt in the water for every 1 pound of pasta.
Don't put away your stash of mason jars just yet. In addition to being a vessel to prep your pasta salad, these jars can provide the perfect way to mix up a homemade salad dressing. Some people advocate dressing your pasta in advance or when it's still warm so the noodles absorb all the flavors. If you prefer to wait until closer to your intended serving time, mason jars can still be handy. To add a final flavor boost, drizzle a bit of dressing onto the salad at the very end once everything is mixed: Reserve some of the homemade dressing in the mason jar, and it'll be ready to go when you put the finishing touches on your pasta salad.