The One Section Of Costco You Might Be Overlooking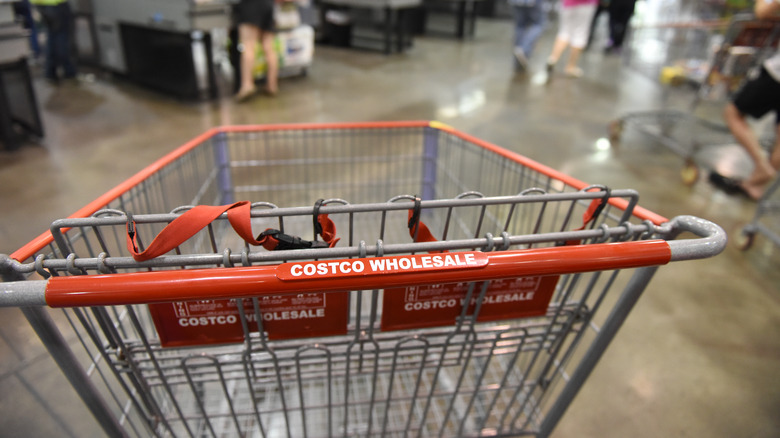 Andykatz/Getty Images
You know Costco for being your one-stop-shop for practically anything on your list. And by anything, we mean pretty much anything. Your local warehouse might feature furniture ranging from sofas to outdoor gazebos,  appliances like dishwashers and refrigerators, and even jewelry like diamond earrings and watches. Plus, there's quite the grocery department, which is stocked with items like Costco's infamous rotisserie chicken. The store has a bakery full of baked goods, a sizable supply of bulk toilet paper , and even a selection of caviar for your fancy events.
You're used to hitting up all your favorite departments during a Costco run, but there's one section of the store that you might be overlooking: the prepared meals section. These ready-to-go dishes are prepared ahead of time; some offerings are ready-to-eat, like salads, while others like meatloaf and mashed potatoes just need to be reheated before being enjoyed. These meals are convenient when you're on the go and looking for a quick lunch to have between emails at the office or a weeknight dinner for the family.
There is quite the selection of prepared meals available at Costco
TikToker @costcoguide took to the social media platform to share the prepared meals they found at their local Costco warehouse. The selection included spinach salad with poppyseed dressing, stuffed bell peppers with ground beef (which come with six peppers per package), a cheese-topped enchilada bake made with rotisserie chicken, meatloaf with glaze and Yukon mashed potatoes, mac and cheese, Yakisoba stir fry with seasoned chicken and veggies, chicken Alfredo, and ravioli lasagna with beef and pork bolognese sauce.
Per @costcoguide's video, the meals average between about $14 to $22, and, according to this post and other social media posts, the ready-to-go dishes are worth the money. "I tried the mac and cheese and it was the creamiest and gooiest mac and cheese ever. I couldn't get enough," commented one user on the TikTok, while over on Instagram, one person commented on a post featuring the ravioli lasagna, writing in part, "We just stocked up! We really like this one."