Cookies And Coffee Cake Were Meant To Be Together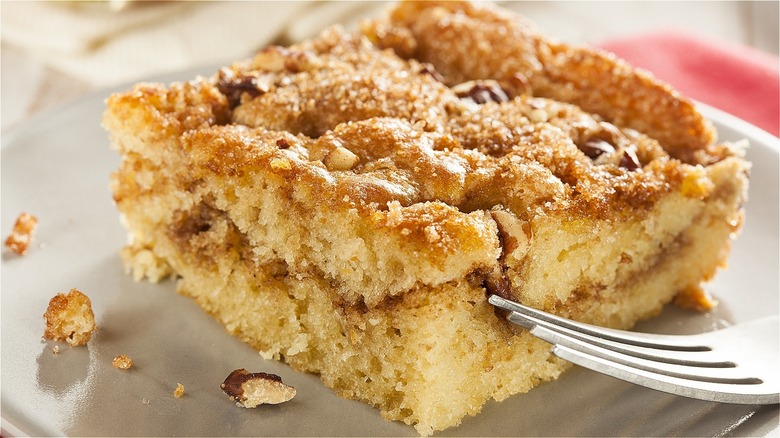 Bhofack2/Getty
If you are craving crispy cookies but can't wait to try your new coffee cake recipe, TikToker @thepalatablelife might have a solution for you — coffee cake-inspired cookies. These are sugared cinnamon cookies with the crumbly topping that characterizes coffee cake, and they're proof that cookies and coffee cake are a match made in heaven.
For this recipe, which was inspired by an episode of Gilmore Girls, the baker uses cinnamon dough as a base, with a streusel topping made of flour, butter, sugar, and cinnamon. Once cooled, it's drizzled with delicate icing. The reaction to the video was very positive, with commenters calling the cookies amazing and unreal. "Just made them last weekend and ate about 6 in a day," shared a user. Many said if it was on Gilmore Girls, they were in. Another user wrote, "Isn't it ironic there is no coffee in these cookies?"  In fact, coffee cake is so-called because it is normally paired with coffee not because it has coffee in it. But, as one commenter suggested, you can add instant coffee to the dough for a bitter punch to it. And creativity with coffee cakes and cookies shouldn't stop there, think beyond!
Add a coffee cake flavor and crumbliness to your favorite treat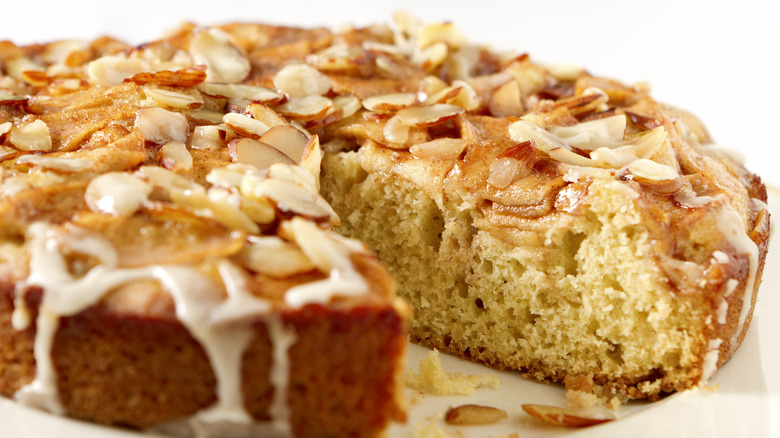 Boblin/Getty Images
The simplest way to play with your coffee cake cookies would be to add an extra ingredient. "These would be really good with pecans," read a comment, or almonds, hazelnuts, or chopped pretzels. Another user suggested adding maple syrup to the icing for that extra sweetness. 
Famed Disney World bakery Gideon's Bakehouse has its own version of coffee cake cookies, which have the cinnamon strudel on the inside and a buttery crumb topping. The bakery takes it up a notch with its dark coffee cake cookie, which has a chocolate cookie base and is only sold from sunset till it sells out.
The popularity of Gideon's cookies, as well as the fact that they're fairly exclusive and hard to obtain, has spawned a host of copycat recipes on the internet, with people adding their own touch to the mix, from cream cheese inside to dark chocolate pressed on top. 
The cookie-to-coffee cake relationship works the other way, too, and you'll find recipes for coffee cakes inspired by chocolate chip cookies, or incorporating leftover girl scout cookies. Pretty much any cookie would only be better with a crumbly cinnamon strudel topping!