Golden Corral Buffet Really Tried To Kick Someone Out For Eating Too Much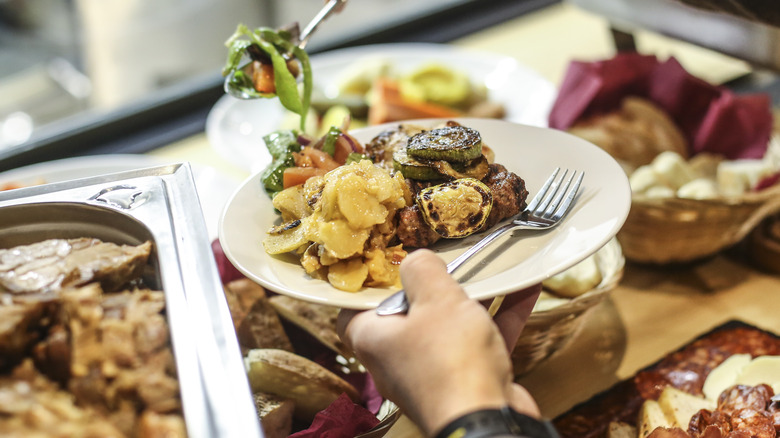 Goodlifestudio/Getty Images
Is Golden Corral really all you can eat? Over the years, people have wondered just what the food limit is when it comes to a buffet. Everyone's heard the urban myth of the man that was kicked out of the restaurant for eating 50 pounds of food that circulated back in 2016. That ended up being just fiction. Although there have been questions about whether Golden Corral really is an "endless" buffet like it markets itself, the restaurant has no rule that specifies how long you can stay there and eat. However, a man claimed that he was about to be kicked out after eating too much food at a Golden Corral in Florida. 
In a video, competitive eater and TikToker Moh Mbengue shared he was getting multiple plates of food when staffers began to argue over whether or not he was allowed to eat that much. "Being told you can't eat no more at a buffet is wild," he said in the video. No word on whether the creator was asked to leave in the end, but he maintained a calm demeanor and continued to eat as three employees discussed his case in the video.
Netizens think Golden Corral was being unfair
After the video went viral, hundreds of people took to the comments section to share how they felt about Golden Corral employees trying to kick him out. One fan called him out for spending five hours at Golden Corral, but the TikToker clarified that he was only there for an hour and 30 minutes.
Other users thought he should've been allowed to eat as much as he wanted without question. "It's a buffet. Eat as much as you want, they be throwing good food away at the end of the night anyway," one user wrote. "They are mad you are actually eating and not throwing it away?! My gawd," another user exclaimed. Meanwhile, a Redditor claims to have had a similar experience several years ago, being asked to leave Golden Corral after eating nine plates of food. 

While customers are allowed to eat as much as they like in all-you-can-eat buffets, restaurants have banned people for eating too much or wasting food. The restaurants hold the right to refuse service to customers if they violate the rules, bring in a pet, cause disruption, or put other patrons at risk in any way. On the other hand, restaurants can get into some serious legal trouble if they deny service on the basis of race, religion, color, and nationality.