The Catalyst That Turned Starbucks Into Fast Food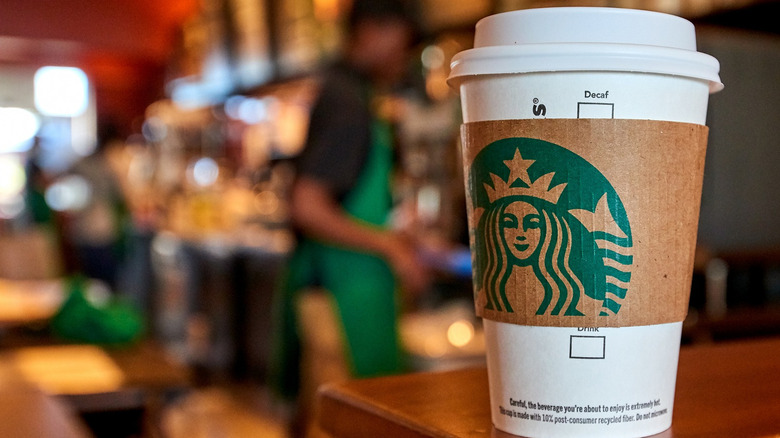 Harun Ozmen/Shutterstock
Starbucks changed the coffee industry in the United States by inviting customers to sit down and enjoy a coffee at their cafes, launching the "third place" movement" that caused Americans to spend more money on the drink than ever before. Starbucks made headlines by offering complimentary Wi-Fi, while small businesses banned laptops, Wi-Fi, and lounging. Patrons responded by hosting gatherings at Starbucks, often meeting with lawyers, classmates, business partners, and others. That may be coming to an end with Starbucks increasingly pivoting to more of a fast-food model in the name of convenience and speed. Drive-thru Starbucks locations are expanding, and Starbucks stores are getting smaller in size. According to The Seattle Times, in 2022, 86% of Starbucks store openings were drive-thru locations.
As reported by ABC 7 LA, a Los Angeles Starbucks removed seating to discourage the homeless, supposedly to protect employee safety. It would not be the first time. Chairs famously disappeared from Starbucks during the COVID-19 pandemic, changing the way people view coffee shops and Starbucks as a brand. Most locations in the San Francisco Bay Area lack chairs and power outlets to encourage customers to quickly grab their coffee and lower electricity costs. These changes seem to be spreading across the country.
Starbucks speeds up the coffee process
Starbucks labels the changes a "reinvention plan" with an increased focus on efficiency and speed. One major change is a new cold beverage system beverage to satisfy the changing habits of consumers who want cold drinks made quickly and represent an important share of the business, with over 70% of revenue coming from cold drinks. According to the New York Times, the new cold beverage system at Starbucks reduces the time to make a Frappuccino by nearly 30 seconds. The process for creating Starbucks cold brew has also been sped. What once took 20 hours now takes seconds, thanks to technological advancements. This focus on reducing the time to make drinks is similar to how fast-food chains, such as McDonald's, are constantly increasing efficiency to get orders out the door and into customers' hands.
The Starbucks Rewards app also plays a role in how the company is embracing the fast food concept and using technology to grow. Starbucks has over 28 million members enrolled in its app-based rewards program. Mobile ordering helps Starbucks increase the speed at which orders are created and encourages repeat business. The company gets over 25% of its business through the Starbucks mobile app, viewing it as an important key in increasing speed and efficiency.