Cinnamon Roll Pancakes Are The Viral Breakfast That's A Piece Of Cake To Make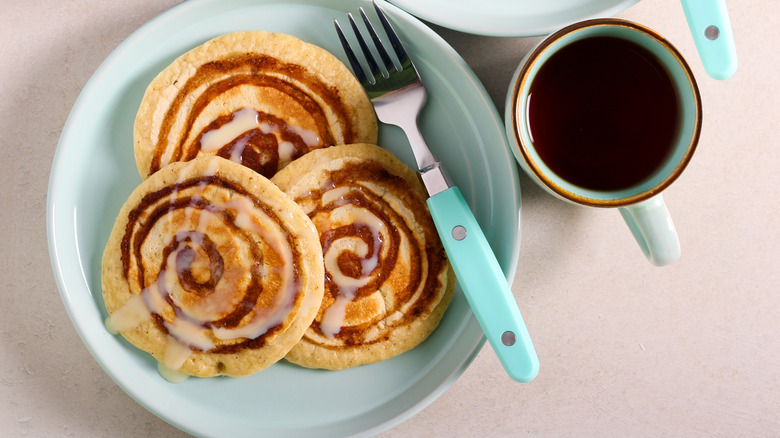 MShev/Shutterstock
Choosing between cinnamon rolls and pancakes can be one of the toughest decisions to make in the morning, especially for those who enjoy a bit of sweetness with their first meal. Fortunately, we live in a time when we don't have to choose between the two breakfast delicacies because cinnamon roll pancakes are a thing that exists.
The hybrid dish has taken social media by storm, and it's no surprise why. Not only do you get all the best of both breakfast faves — soft, fluffy pancakes, ooey, gooey cinnamon, and sugary sweet icing — all in a single bite, but, believe it or not, they're a piece of cake to make, too.
As demonstrated by TikToker @madisonveganeats in their viral post from May 25, you'll only need a handful of ingredients to whip up each element of this unique brekkie. Naturally, pancake batter is the first element. You can use a boxed mix or, if you feel like going all out, go the homemade route (even pancakes from scratch can use as little as three ingredients). Next, you'll need to make your cinnamon filling, which is just a mixture of melted butter, brown sugar, and, of course, cinnamon and can be transferred into a piping bag or squeeze bottle once it's made. Finally, the pièce de résistance is the sweet glaze that calls for butter, cream cheese, powdered sugar, and vanilla.
How to make cinnamon roll pancakes
Once all three components are ready, it's time to fire up the stove and make those cinnamon roll pancakes come to life. In a hot, greased pan, pour a quarter cup of pancake batter. As the bottom cooks, pipe your cinnamon filling on the top of the pancake in a spiral motion to give it that classic, swirly cinnamon roll shape. Give your flapjack a flip after one to two minutes or when you start noticing a defined edge and a few bubbles on the surface, and allow it to cook for another one or two minutes before transferring it onto a plate. Repeat this process until your pancake tower has reached the height you desire, and finally, drizzle your stack with the cream cheese glaze and dig in.
You can still top your pancakes off with some of your favorite maple syrup; Just be aware that this will make your breakfast extra sweet. Other toppings that you might want to try include fruits, such as blueberries or raspberries, or even baked apples to give your stack an apple pie-esque flavor. Additionally, if you're whipping up cinnamon roll pancakes for dessert rather than breakfast, a scoop of vanilla ice cream can make them even more indulgent.