Microwave Baked Apples Recipe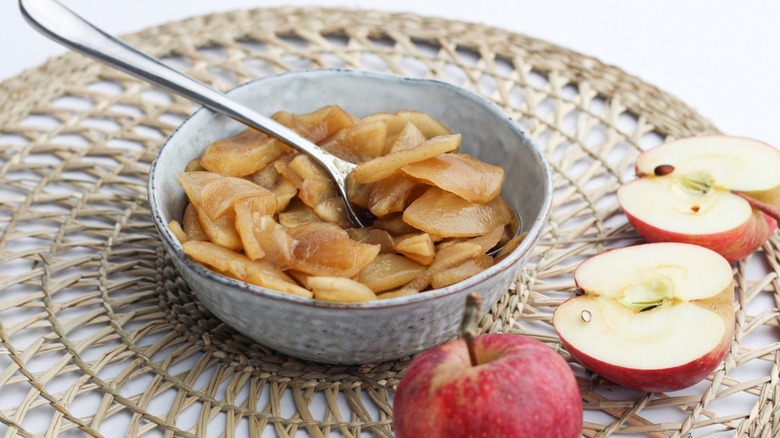 Susan Olayinka/Mashed
Let's say it's a weeknight, and you've already had dinner, but you still have a hankering for something sweet. Now, if it's "that" time of year, you could open up a box of Girl Scout Samoa Cookies. Or, if you're feeling kind of creative and you have 10 minutes, you could whip up a simple microwave mug cake that's chock-full of Nutella. But if you have 10 minutes and happen to have apples in your refrigerator, then there's another tasty alternative. Did you even realize you could use your microwave to make "baked" apples? Well, you can, and recipe developer Susan Olayinka of The Flexible Fridge is going to show us how. 
How did we not think of this before? Indeed, "Anything made in the microwave is immediately amazing," quips Olayinka. And that goes double for these microwave baked apples, which can pass for oven-baked or stovetop prepared, but are so much faster, not to mention "so much easier." 
Gather your ingredients for microwave baked apples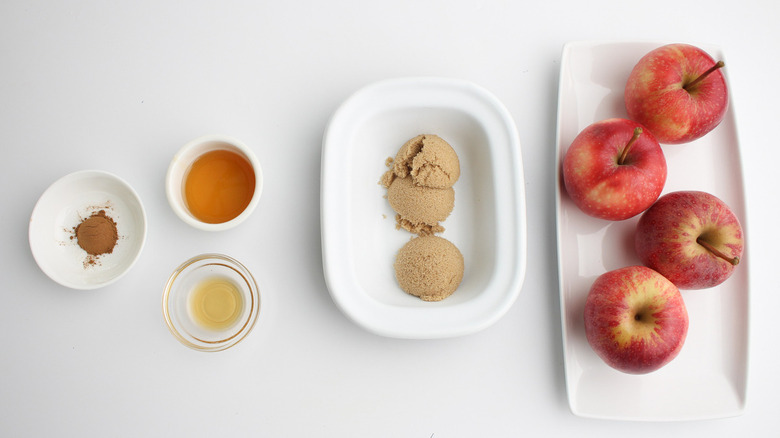 Susan Olayinka/Mashed
To make Olayinka's recipe for microwaved baked apples, you will need four medium-sized fresh apples. Olayinka used Gala apples in the photos accompanying this recipe, and Gala apples would work perfectly. However, you can feel free to substitute any sweet apple variety such as Red Delicious, Fuji, or Honeycrisp. You can even use Golden Delicious if that's your preference, Olayinka notes. In addition, you will need just a little bit of brown sugar (3 tablespoons), maple syrup (1 tablespoon), 1 tablespoon of vanilla extract, and ¼ teaspoon of cinnamon.
Core, peel, and slice the apples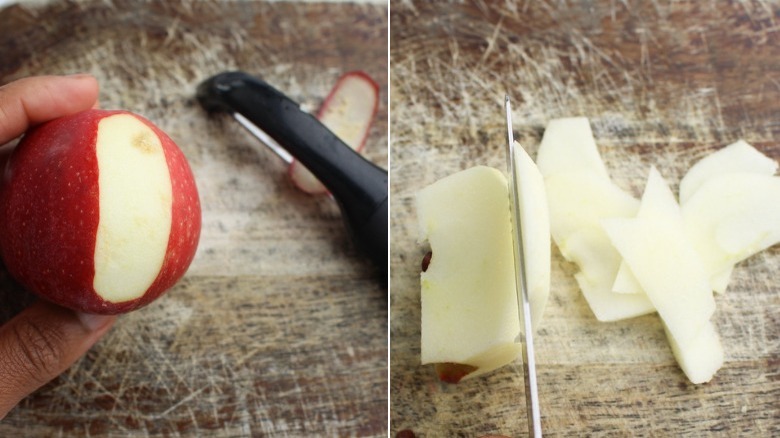 Susan Olayinka/Mashed
First things first: You'll need to peel, core, and slice the apples you selected. Peel the apples first, as shown above. An apple corer will make quick work of extracting the core. However, if you don't have an apple corer, you can simply slice the apple into quarters, and slice off the core. In either case, slice the cored apple into thin slices, as shown. "The thinner, the better," Olayinka advises, because this helps them to cook through. It also affords a denser bite when serving.
Add the apples to a microwave-safe mixing bowl, and mix in the cinnamon-sugar coating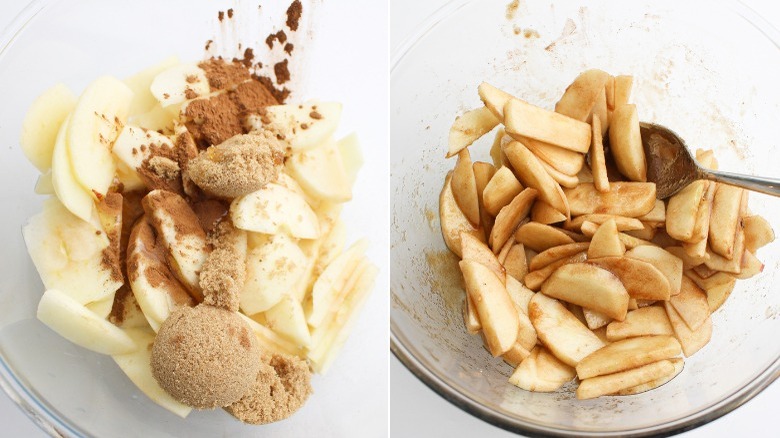 Susan Olayinka/Mashed
Finally, we arrive at the part of this microwaved baked apples recipe where all the magic starts to happen, and those thinly sliced apples really start to become something magnificent. Pull out a microwave-safe mixing bowl, and transfer the slices into it. Add the brown sugar, maple syrup, vanilla extract, and  cinnamon, then stir gently with a spoon to evenly coat all of the apple slices.
"Bake" the seasoned apples in the microwave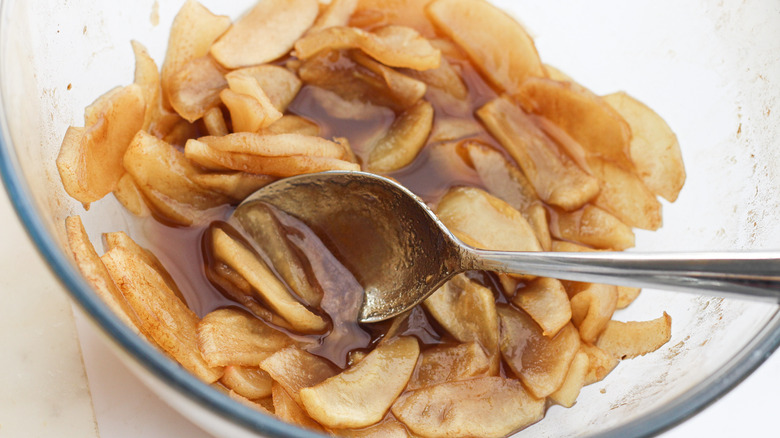 Susan Olayinka/Mashed
By the time you turn to your microwave, your apple slices should already smell warm and cinnamon-y. But just wait until after they "bake" in the microwave! 
Cover the bowl of seasoned apples with a microwave-safe plate, and put the covered bowl in the microwave. Set the microwave to cook for five minutes at its regular setting. Five minutes later, you'll know your microwaved baked apples are ready, because they're going to smell positively delightful. Open the microwave door, and serve immediately with whipped cream or ice cream. This is sure to be a family staple at your house — especially throughout the fall season.
Microwave Baked Apples Recipe
Serve these microwave baked apples with whipped cream or vanilla ice cream for the sweetest kind of fall snack.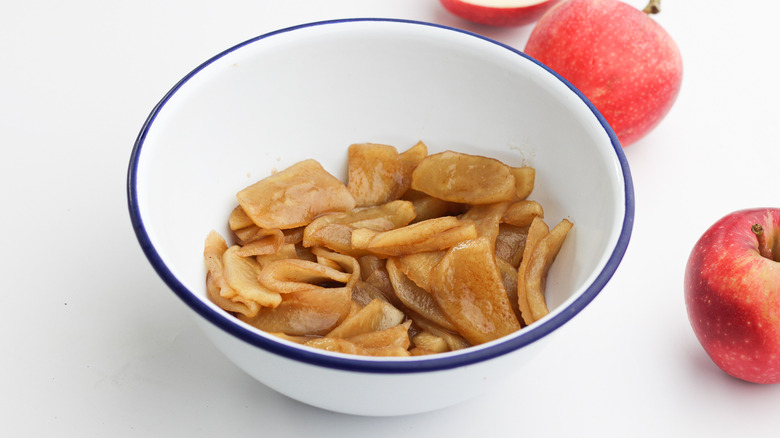 Ingredients
4 red apples, cored, peeled, and sliced
3 tablespoons brown sugar
1 tablespoon maple syrup
1 tablespoon vanilla extract
¼ teaspoon cinnamon
Optional Ingredients
whipped cream, for serving
ice cream, for serving
Directions
Core, peel, and slice the apples into thin strips.
Place the sliced apples into a microwave-safe mixing bowl, and add the brown sugar, maple syrup, vanilla extract, and cinnamon.
Place the bowl in the microwave.
Cover the bowl with a microwave-safe plate.
Microwave, covered, for 5 minutes.
Serve immediately with optional toppings.
Nutrition
| | |
| --- | --- |
| Calories per Serving | 143 |
| Total Fat | 0.3 g |
| Saturated Fat | 0.1 g |
| Trans Fat | 0.0 g |
| Cholesterol | 0.0 mg |
| | |
| --- | --- |
| Total Carbohydrates | 35.7 g |
| Dietary Fiber | 4.5 g |
| Total Sugars | 28.9 g |
| Sodium | 4.6 mg |
| Protein | 0.5 g |