Coffee Brands That Are Older Than You Realized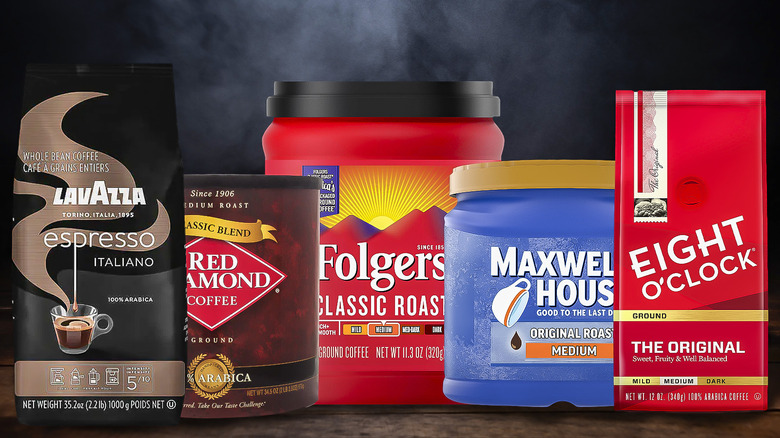 Static Media / Shutterstock
When that first waft of morning coffee hits your nostrils, do you ever pause and wonder how many people have taken part in this same exact ritual, with the same exact brand of coffee on their shelf and the same exact brew in their mug in years long since passed? While you sip on Folgers and watch the cars go by outside of your office window, have you ever thought about the U.S. Marines who also sipped Folgers while picking up the pieces of a destroyed San Francisco after the 1906 earthquake? What about Nescafé instant coffee — have you ever enjoyed a cup knowing that it's the same product that kept American soldiers warm in World War II bunkers? 
Truthfully, for most of us, coffee is a daily necessity first and a richly storied global commodity second. We don't tend to look at coffee as a crop that brought with it countless examples of family perseverance, corporate drama, and tons of ethical controversy. In recent years, a new wave of coffee culture heralded brands that are female-owned or Black-owned or certifiably environmentally friendly or co-oped by the farmers who grow it to ensure an equitable wage for all — or all of the above. But several brands that you recognize today as steadily unchanged from childhood commercials or the dusty cupboard shelves of your grandparents' kitchen have been around for much longer than you may realize. Here's a brief history of the oldest legacy coffee brands you can still find today.
Eight O'Clock Coffee
A grocery aisle staple, this red-bagged brand of coffee has been in existence for over a century. Eight O'Clock Coffee, which is roasted in Maryland, notched its 100th birthday in 2019. This brand was started by a company called the Great Atlantic and Pacific Tea Company, better known as A&P, which says that the coffee's name was inspired by a 1919 survey revealing that 8 a.m. and 8 p.m. are the times when the most coffee is consumed. 
Eight O'Clock quickly emerged as the preferred brew of choice among American coffee lovers in the 1920s, but it was exclusively sold for almost 60 years in A&P grocery stores — of which there were once thousands, since it was the world's biggest supermarket chain, peaking at almost 16,000 locations in the 1930s. The coffee finally became available in other stores in 1979. By 2003, Eight O'Clock was a brand fully independent of its parent company, A&P (which would go on to file for bankruptcy in 2015 and close all of its grocery stores shortly thereafter). 
Maxwell House
A long history exists behind the iconic blue can of coffee grounds that's been brewed in American households since the late 1800s. Joel Cheek was working as a wholesale grocery salesman in 1873 when he was approached by a customer who wanted to know which coffee among his wares was the best. Cheek recommended the priciest option, naturally, to boost his own commission — but this salesman who knew nothing about coffee later tried his premium and budget coffees one after the other. He found that the less expensive bean was in fact tastier (and ended up selling the cheaper product to his customer).
That sparked Cheek's unexpected passion for finding, roasting, and blending the best coffees. Some years later, he partnered with another coffee guru to develop the original blend that Maxwell House is now known for. One of Cheek's first major customers was the Maxwell House Hotel in Nashville, where it's said that customers loved Cheek's blend so much that they complained to management after his initial free sample of coffee ran out and the hotel went back to its previous supplier. Known as being an affordable yet delicious alternative to more expensive competitors, Maxwell House exploded in popularity, with the brand even reportedly receiving the stamp of approval from former President Teddy Roosevelt. It's storied that, in 1907, Roosevelt visited the Nashville hotel and deemed its house coffee — which by that point was in fact the coffee supplied by Cheek — as "good to the last drop."
Red Diamond
The company Red Diamond Coffee & Tea might be known more for its iced tea products, but according to the brand's history, coffee predates tea in Red Diamond's repertoire. Founded in 1906 in Birmingham, Alabama, Red Diamond started when William Fitz Donovan began selling groceries to residents in the up-and-coming industrial city under the name Donovan Provision Co. Two years after that, Donovan ventured into the coffee-roasting business, naming his product and his business after the rarest and most expensive of gemstones. Now, nearly 125 years after Donovan first began peddling his wares, Red Diamond remains a family-owned business. 
It wasn't until the 1920s that a relative (exact relation unclear), William St. Clair Donovan, began to develop the tea blend that Red Diamond is known for today, according to the company's history. Another couple of decades later, and Red Diamond was among the contributors to the largest global supply of instant coffee. Tea eventually usurped coffee as Red Diamond's bread-and-butter commodity, but joe will always be one of Red Diamond's earliest endeavors. 
Gillies Coffee Company
The year was 1838 when Wright Gillies, the son of Scottish parents who had recently immigrated to the relatively young United States, set out to the Big Apple to find a lifeline out of the financial distress his family was experiencing. He worked in a tea shop for two years before breaking out on his own. According to the company's official history, it was reported in All About Coffee by the Tea and Coffee Trade Journal Company that Gillies, who at that point was barely past 20 years old, opened his own coffee business in New York City, where he's said to have used a horse-powered roaster for his coffee beans. 
The success of Gillies' coffee mercantile flourished, and by 1863 he was supplying products to places as far away as New Orleans. He went on to hold two roasting-related patents, including one for roasting coffee using natural gas. Gillies coffee is mostly sold on a commercial level, notably to specialty wholesalers, as the private label coffee of restaurants and hotels, and for other private dining locations. 
Lavazza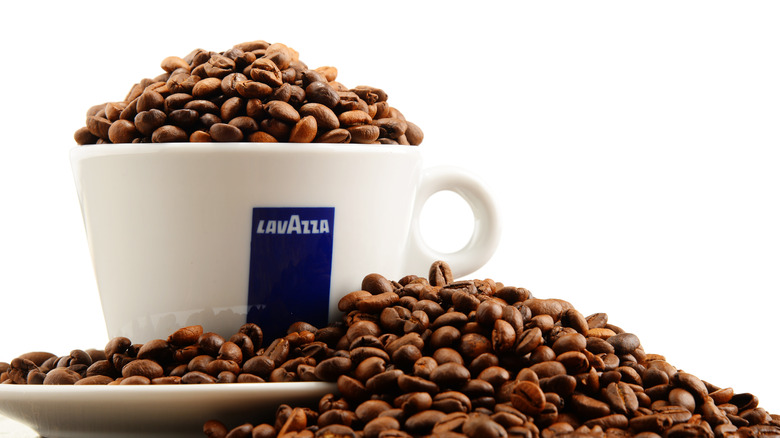 Monticelllo/Getty Images
Chances are that if you know coffee at all, you know Lavazza. This brand's story begins in 1895 when Luigi Lavazza opens his first coffee shop and artisan roastery in Turin, Italy. Lavazza considered himself to be a student of the brew, having extensively researched the nuances of blending and roasting coffees of multiple origins. This brand's founder is considered to be one of the first, if not the first, to ever blend different coffees together to develop a better-tasting brew. Lavazza was also the first to change his coffee packaging to incorporate Pergamin paper, a special oil-resistant paper that helps the beans to retain their delectable aroma for a longer period of time. 
During Lavazza's second generation of ownership, in the 1940s and '50s, the brand was still busy developing and growing. It received a patent for vacuum-sealed tin cans for preserving coffee and opened its first manufacturing plant in 1957. Even through the third generation of ownership, up through the '80s, Lavazza was still almost exclusively an Italian product. The brand's first celebrity endorser, an Italian actor, popularized the phrase, "The more you drink it (Lavazza coffee) down, the more it pulls you up." By the late '80s, Lavazza was expanding throughout Europe and was involved in the development of the first coffee-pod-style brewing machines. The brand finally reached American soil in the 1990s but didn't  launch a major advertising campaign in the United States until 2015 as part of the company's 125th anniversary.
Folgers
Littleny/Getty Images
Folgers has been the best part of waking up since the mid 19th century. Its founder, James Folger, was just 14 years old when he traveled from Nantucket, Massachusetts, to San Francisco to hopefully strike gold, literally, during the gold rush. His brothers headed into the mines, while Folger opted to work at The Pioneer Steam Coffee and Spice Mills. A few years later, Folger found himself as the sole owner of the business when it went bankrupt following some economic strife in the United States. In the late 1800s, most American coffee importers chose their crop based on the physical appearance of the beans. Folger was reportedly one of the first buyers to cup (or sample) the beans firsthand before purchasing. 
Folgers coffee was exclusively sold in California until 1900, when a salesman finally expanded the brand to grocery stores outside of the Golden State. In 1905 the brand built a new manufacturing plant that luckily survived the massive San Francisco earthquake the following year. In fact, Folgers says it is the only San Francisco-based coffee business to have made it through the disaster unscathed. With the tattered city and post-earthquake fires surrounding it, a base camp headquarters for the U.S. Marines was set up in the new Folgers factory, and the brand served free coffee to people while the city worked to rebuild itself. Folgers' popularity exploded in 1958, when it released its instant coffee. 
Nescafé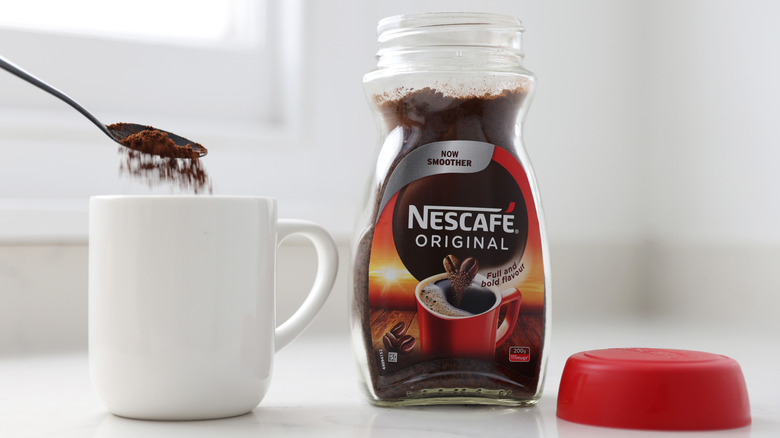 Bloomberg/Getty Images
The 100th birthday of Nescafé, a subdivision of Nestlé, is approaching. Nescafé exclusively produces instant coffee and is perhaps one of the most ubiquitously recognized instant coffee labels across the globe. According to Nestlé, its instant coffee product is sold in over 180 countries and thousands of cups of it are consumed every second worldwide. 
But java wasn't always a Nestlé commodity; it was only in 1929 when economic collapse led to a pitch in coffee prices that Nestlé was asked to find a way to prevent multiple warehouses full of coffee in Brazil from going to waste. Several years of research ensued, including plenty of attempts to preserve and powderize cafe au laits and other types of coffee. Nearly 10 years later, in 1938, Nescafé instant coffee was sold for the first time in Switzerland. Sales in the United Kingdom and the United States followed. 
Instant coffee held a lot of appeal to global consumers, especially during wartimes when a longer shelf life and easier preparation method were gladly accepted. During World War II, American soldiers were supplied with Nescafé instant coffee, and two factories were quickly erected in the United States to keep up with demand.
Café Bustelo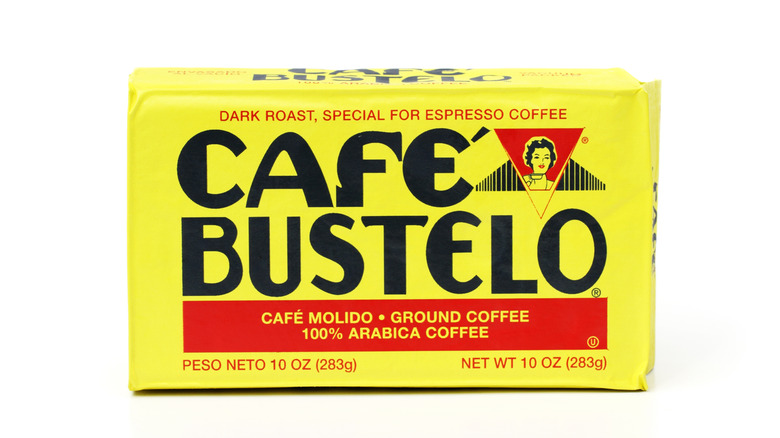 Noderog/Getty Images
The rich history of Café Bustelo, a nearly 100-year-old brand with iconic yellow packaging, spans across New York, Spain, and much of Latin America. Founder Gregorio Bustelo had a passion for travel, a wanderlust that led him across the globe and eventually to Harlem, New York, in 1928. Before he arrived there, Bustelo had visited a number of Latin American cities, all of which contributed to his deep love for Latin coffee. Bustelo began selling his own secret blend of espresso-style Latin coffee beans, hand-ground, in East Harlem. He saved every penny he made until he was finally able to open a 5th Avenue shop, where he sold his product, Café Bustelo, to Latino markets and bodegas. 
Over time, the flourishing of Café Bustelo pushed its brand of coffee across the United States. Gregorio Bustelo used to just peddle cups of coffee to passersby in his New York City neighborhood, but his brand now offers instant coffee, Keurig pods, and coffee grounds in a variety of blends and styles. And that woman you see on every canary-yellow box of Café Bustelo? That's Angelina, Gregorio's wife. 
Yuban Coffee Company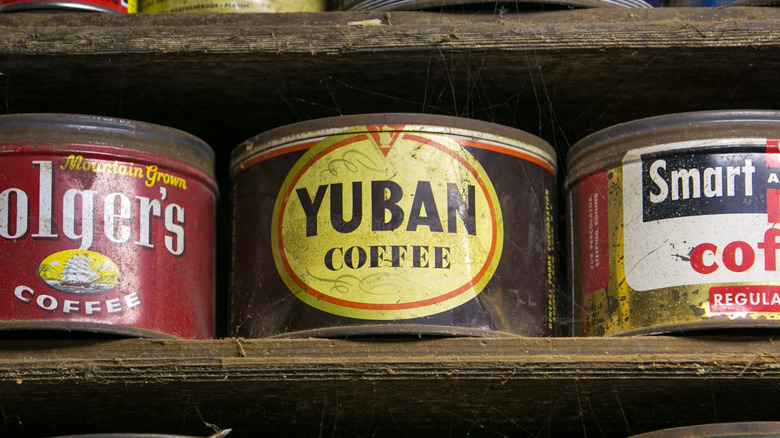 George Rose/Getty Images
You might not see Yuban Coffee Company around now as much as you might have in decades past, but this brand of coffee is nearly 130 years old. It was started when a couple of brothers, Charles and John Arbuckle, blended several South American bean varieties to create a roast that was considered superior in taste and overall quality.  
The origin of this brand's name is debated. According to Full Coffee Roast, the Arbuckle brothers would serve this carefully curated blend at their Yuletide banquets, and it was this tradition that earned Yuban coffee its name (Yu- from Yuletide plus -ban from banquet). Other sources say that the name came from a roaster by the name of Samuel Yuban who was employed at the Arbuckle Brothers Coffee Company. There's no official record of company history (Yuban Coffee's own website is no longer in service), so this is likely an unsolvable mystery. 
The Arbuckle brothers' company disbanded in the 1930s, but Yuban coffee prevailed and was eventually purchased by Kraft Heinz Company in 1994. Kraft stopped selling the original Yuban coffee product in 2005, but newer versions can be found online for purchase. The definitive history of Yuban Coffee may never be known, but what we do know is that it's among the oldest coffee labels you can find. 
Café du Monde
In 1862, the doors to a new coffee stand were thrown open in the historic French Quarter market of New Orleans. This shop, Café Du Monde, is still open today, and operates 24/7, save for "Christmas Day and on the day an occasional hurricane passes too close to New Orleans," according to the brand's website. The original Café Du Monde sold chicory coffee, traditional coffee, and beignets, all staples in The Big Easy.
The grocery store version of Café Du Monde is coffee combined with chicory — that's the ground-up roots of the chicory plant, a member of the dandelion family and a coffee alternative appreciated for its lack of caffeine and supposed health benefits. It's not clear when, exactly, Café Du Monde expanded to sell its ground coffee product in grocery stores, but the popularity of this product among the earliest Vietnamese American populations (due to the chicory roots' likeness to the flavor profile of robusta coffee, the main coffee varietal cultivated and consumed in Vietnam), suggests that it's been on shelves since at least the 1970s.
Gevalia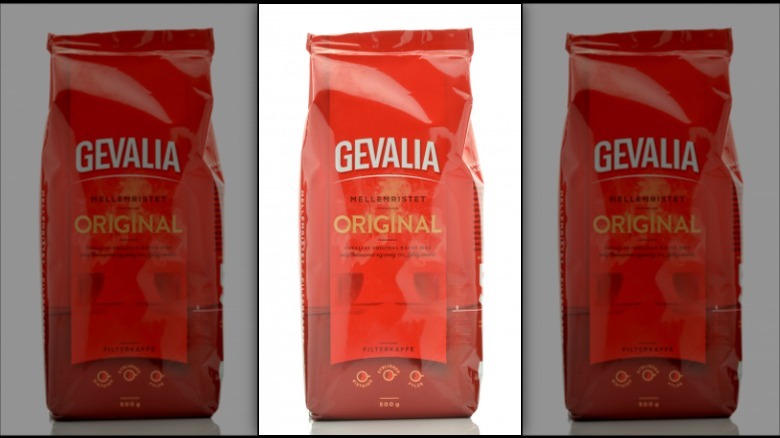 Darios44/Getty Images
Swedish coffee roaster Gevalia has had a very long time to perfect the art of roasting coffee. The company was started in 1853, when Victor Theodore Engwall decided he wanted to produce the best of the best in coffee for his Swedish people. He opened his shop in Gävle, Sweden, and sold high-quality green coffee to locals. Gevalia utilizes the Swedish method of roasting coffee beans — that's a slow, low-temperature roasting to develop a rich and complex flavor, plus quick-snap cooling.
Scandinavia remained the chief market of Gevalia coffee for a long time. North American sales didn't start until the 1980s, and even then you wouldn't have been able to find the Swedish brand on grocery store shelves; instead, Gevalia was available only through a mail-order home delivery service. A website with ordering capabilities was finally launched in 2009, and Kraft Foods finally brought the coffee to brick and mortar retailers in 2011.