Charleys Cheesesteaks Sandwiches Ranked Worst To Best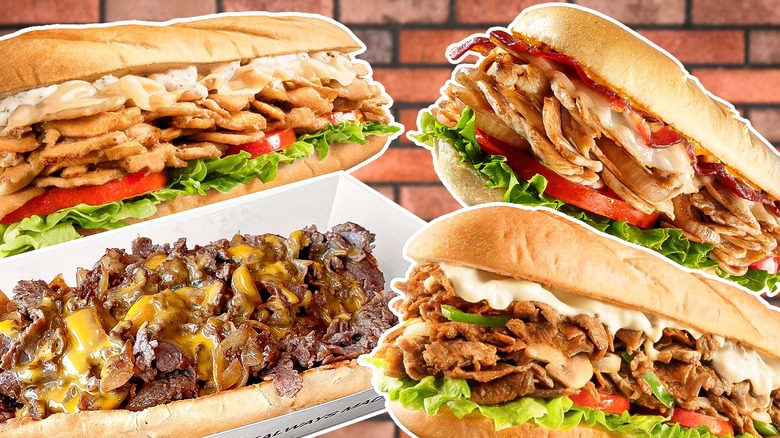 Static Media / Shutterstock
Try not to be scandalized, but the founder of Charleys Cheesesteaks is not, in fact, from Philadelphia. An immigrant hailing from Seoul, Korea, Charley Shin didn't put a glorious cheese-filled steak sandwich into his mouth until he was a college student. However, while he's not a Philly native, Shin's love for the city's iconic comfort food led him to create a Philly cheesesteak recipe all his own. A recipe that has gone on to be enjoyed by customers in more than 700 Charleys Cheesesteaks chains across the world — and counting. With plans to open at least 150 more locations by the end of 2023, a Charleys is likely coming to a mall near you. And when it does, you're going to need to know what to order, because the sacred Philly cheesesteak is not the only cheesesteak sandwich on Charleys' menu.
How is that possible, you may ask? It turns out that a sandwich doesn't have to have beef in it to be deemed a cheesesteak. All it needs to earn this illustrious sandwich title is to consist of griddled meat and melted cheese on a roll. And while this restaurant is famed for introducing the Philly cheesesteak to non-Philly folks, it's also committed to proving that any type of sandwich is better when it's served cheesesteak-style, in theory, anyway. Not every cheesesteak-style sub at Charleys is a Philly native's dream. Here is our ranking of Charleys Cheesesteaks sandwiches from worst to best.
9. Chicken California Cheesesteak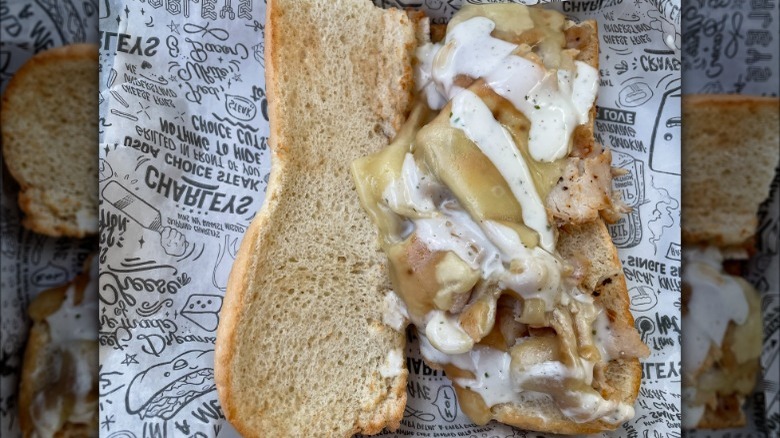 Brianna Corley/Static Media
Advertised as an East Coast-style sandwich with "West Coast attitude," the Charleys Chicken California Cheesesteak is supposed to be brimming with white meat chicken, provolone, lettuce, tomato, mayonnaise, pickle, and of, course, the ingredient that makes this sandwich a California girl — ranch dressing (which was popularized in Cali thanks to Hidden Valley Ranch). However, while this sandwich's provolone and ranch are plentiful, the one we received suffered from a very noticeable Achilles heel — it came with none of those fresh veggies that Charleys advertised.
This was honestly a real shame, as the Chicken California's flavor had some serious potential. Even without its promoted tomato, lettuce, and pickle, the creamy yet seasoned taste of the ranch harmonized with the more mild and equally silky mayonnaise in a very interesting way. And the taste of Charleys' juicy and high-quality chicken was made to pair with this flavor combo.
However, without its promised veggies, even with lots of ranch, this sandwich was bone dry. Plus the amount of poultry simply didn't make up for the lack of tomatoes and lettuce. In fact, this sandwich (which will set you back $8.98 for a regular-sized portion), had the least amount of meat of the entire Charleys crew. All of these factors have forced us to nominate this Philly-Cali hybrid as Charleys Cheesesteaks' worst sandwich.
8. Bacon Chipotle Chicken Cheesesteak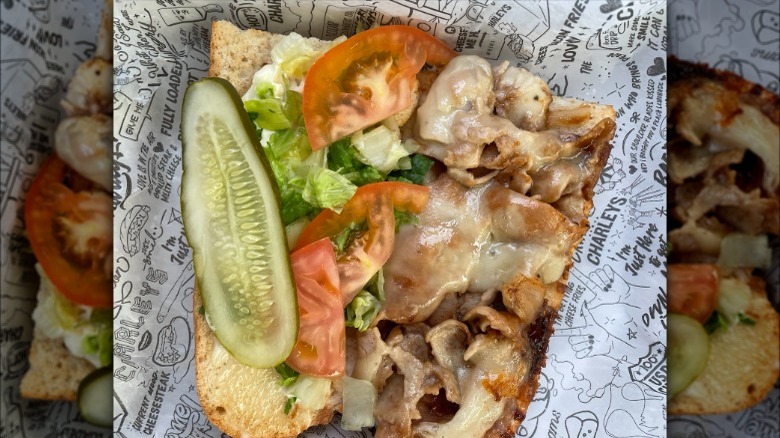 Brianna Corley/Static Media
Unlike the Chicken California, the Bacon Chipotle Chicken Cheesesteak is not a Charleys mainstay. Only here for the summer of 2023, this limited-time sandwich is allegedly packed with white chicken, sautéed onions, a slice of bacon, pepper jack cheese, and (obviously) chipotle ranch sauce. However, when Charleys states its sandwich is smothered in chipotle sauce, it's not pulling your leg. This sandwich is a classic example of how you can have too much of a good thing.
When you bite into a Bacon Chipotle Chicken Cheesesteak, the first, the last, and just about the only ingredient you can taste is chipotle sauce. The second flavor you can identify is mayo. And maybe, just maybe, if you're really concentrating you can taste a little bit of bacon. In other words, this sandwich is essentially one big sauce bomb. It costs $9.28 for a regular-sized serving, and while you can taste more meat and veggies the closer you get to the center of the sandwich (which also means, unlike the California Chicken, all of its ingredients are there) the ingredients would need to be distributed evenly throughout the sub for this sandwich to stand a shot at not being banished to our Charleys Cheesesteaks naughty list.
7. Veggie Delight Cheesesteak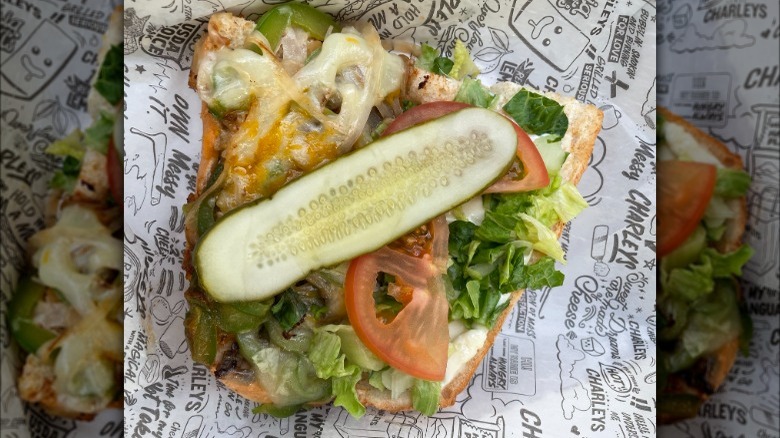 Brianna Corley/Static Media
We know earlier we said that a cheesesteak has to have a type of grilled meat, but this is the exception. In recent years, many fast food chains have noticed and taken advantage of plant-based food products' burst in popularity. Shake Shack offers the Shroom Burger, Carl's Jr. sells the Beyond Famous Star, and Charleys Cheesesteaks has the Veggie Delight Cheesesteak. Costing $8.29 for a regular, the Veggie Delight Cheesesteak is supposed to combine sautéed onions and peppers, mushrooms grilled Philly cheesesteak-style with provolone, cheddar cheese, tomato, lettuce, mayonnaise, and a pickle on a roll.
However, while this veggie-focused cheesesteak is indeed packed with onions and green peppers whose flavors work wonderfully together, this sandwich suffers from two distinct problems. Firstly, similarly to the Chipotle Chicken, the Veggie Delight is constructed unevenly. The mayo and cheese are located primarily in the center of the sandwich. In fact, it seems like all the vegetables were pushed to the front of the sub. Secondly, and most importantly, the Veggie Delight is ... missing something.
Generally speaking, vegetable dishes typically use a plant-based option like mushrooms or tofu for some filling flavor dimension. And while this sub reportedly has mushrooms, we couldn't taste them. So all and all, while not terrible, the Veggie Delight Cheesesteak is simply a below-average sandwich.
6. Old School Cheesesteak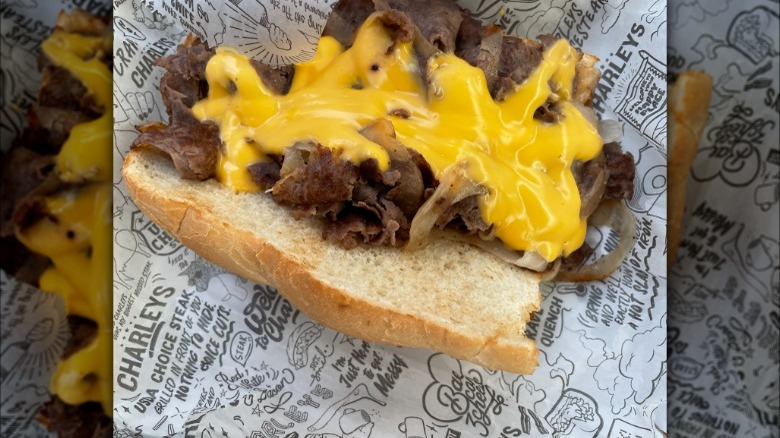 Brianna Corley/Static Media
Before we get into it, it's important to note that the Charleys Old School Cheesesteak is not the OG Philly sandwich that made this chain a worldwide fast food favorite. Introduced in 2021, the Old Fashioned Cheesesteak, which packs extra steak, sautéed onions, and Cheez Whiz onto a roll, is what many people think of when they hear the words "Philly Cheesesteak" — more on that later. Originally meant to be a limited-time item, this sandwich became a permanent Charleys sub in 2023 due to its popularity. At $10.29 for a regular, the Old Fashioned Cheesesteak is the most expensive on Charlie's list. However, we assure you, you get all of the steak you pay for. 
The Old School Cheesesteak is absolutely loaded with tender, high-quality steak, crispy onions with a good crunch, and Cheez Whiz. But (and this is a big but), while we welcome the surplus of meat and veg, there is just, quite frankly, too much cheese on this sandwich. So much, in fact, that in the cheesiest parts of this cheesesteak (which is about half of the sub) the meat and onions are absolutely lost in the great Cheez Whiz ocean. So while the parts where the cheese is more minimal are delectable, the Old School Cheesesteak, though inspired by the classic Philly recipe, pales in comparison to the next sandwich on the list.
5. Bacon 3 Cheesesteak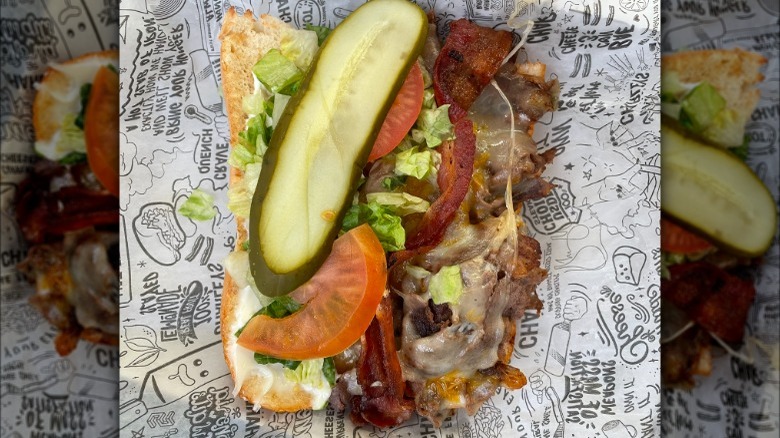 Static Media/Brianna Corley
Another twist on the classic Philly Cheesesteak formula, our next Charleys Cheesesteak's star ingredient is bacon — and you pay for it. Costing $9.79 for a regular, the Bacon 3 Cheesesteak includes steak, provolone, cheddar cheese, Swiss, lettuce, tomato, mayo, and pickle. Oh and, bacon. Bacon as in a singular strip.
We were initially hesitant at the prospect of this bacon-focused sandwich having only one slice of the meat horizontally placed on top of the sub's other ingredients. But it turns out Charley made the right call. This strip of bacon is perfectly placed so that you get a piece of crispy goodness in every bite. And, as expected, the saltiness of this sandwich's bacon pairs wonderfully with the steak. However, while the meat in the Bacon 3 Cheesesteak is delicious, the rest of the ingredients in this sub fall flat.
The tomato and lettuce are plentiful, but the pickles are almost untasteable. And the mayo on this sandwich is either non-existent or over the top, depending on what part you bite into. So while the meat in the Bacon 3 Cheese Steak is truly spectacular, this sandwich still can't be deemed one of Charleys Cheesesteaks' best.
4. Teriyaki Chicken Cheesesteak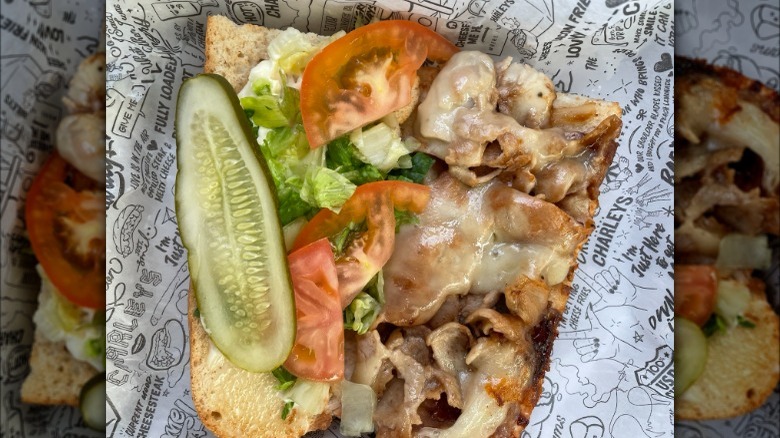 Brianna Corley/Static Media
America is nothing if not innovative. Especially when it comes to its food. And in true American spirit, Charleys Cheesesteaks has found a way to combine one of the most beloved sauces for Japanese food with Philadelphia's most sacred sandwich. At $8.79 for an average-sized serving, the Teriyaki Chicken Cheesesteak is packed with teriyaki-slathered chicken, melted Swiss cheese, onions, lettuce, tomato, mayonnaise, and a pickle slice. Subway's Sweet Onion Chicken Teriyaki wrap has nothing on this sandwich.
The mayo and teriyaki sauce on this chicken cheesesteak strike a perfect balance with each other. The taste of tangy-sweet Teriyaki combines with creamy mayo to make this unique take on a Philly cheesesteak a treat to the tastebuds. However, while the Teriyaki Chicken Cheesesteak is delicious, and has a fair share of juicy white meat chicken, it's lacking in onions and, honestly, the pickle takes away rather than adds to its flavor. So although good, this sandwich simply couldn't make it to Charleys' top three.
3. Buffalo Chicken Cheesesteak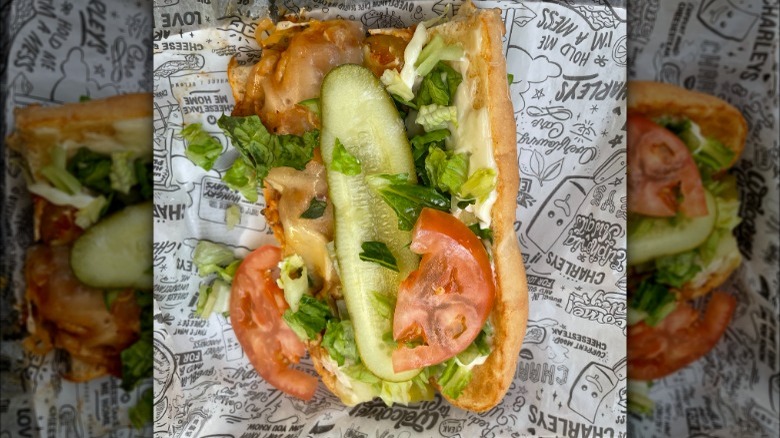 Brianna Corley/Static Media
The Chipotle Chicken Cheesesteak was drowning in sauce, the Old School Cheesesteak was conquered by Cheez Whiz, and the Teriyaki Chicken had a good amount of sauce but a minimum amount of veggie ingredients, but our third-place winner is bursting with the best of both sandwich worlds. A sub filled with chicken, provolone cheese, onions, banana peppers, and doused in spicy buffalo chicken sauce, the Buffalo Chicken Cheesesteak brings the heat.
However, this sandwich's sauce doesn't overwhelm its ingredients. Instead, it creates an explosion of flavor in your mouth that complements its fillings. Brimming with Charleys signature high-quality, juicy chicken, this sandwich is also piled high with banana peppers that you can taste in every bite. This means that while the Buffalo Chicken Cheesesteak is full of flavor, it'd be unwise to eat this sandwich without a drink close by. Costing $8.29 for an average spice-filled serving, for all its deliciousness, the Buffalo Chicken Cheesesteak's flavor is still beat out by the taste of our top two Charleys cheesesteaks.
2. Chicken Philly Cheesesteak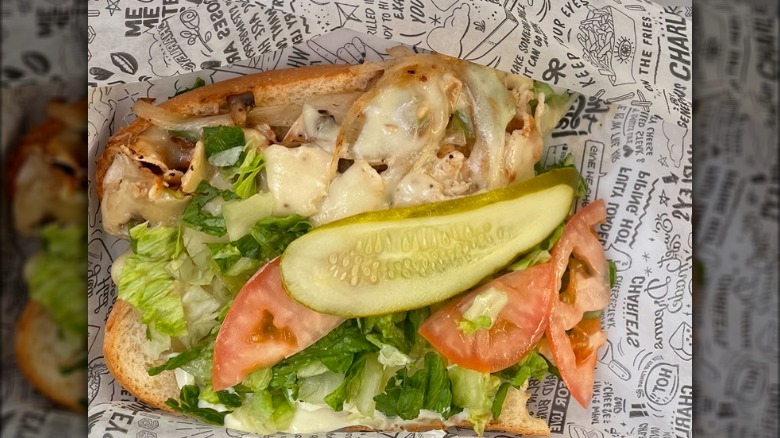 Brianna Corley/Static Media
As we mentioned before, a cheesesteak sandwich does not necessarily have to use steak as its main meat. Thought to have come about thanks to the innovative spirit of one Philly-based "Schultzy" Schultz, the chicken cheesesteak is held in high regard by the City of Brotherly Love and, naturally, Charleys Cheesesteaks. Priced at $8.29 for a regular portion, Charleys Chicken Philly Cheesesteak is brimming with white chicken breast grilled cheesesteak-style with provolone cheese, onions, mushrooms, green peppers, lettuce, tomato, mayo, and pickle. And every inch of this sandwich is absolutely delicious.
Filled with a generous amount of high-quality chicken, almost every ingredient in this beef-free cheesesteak is flavorfully present. The onions are plentiful, the single pickle slice is crunchy, and there is a bounty of lettuce and tomato. And while you can certainly taste mayo, there isn't so much of it that all of the other ingredients are drowned out by the condiment. However, though it's a minor issue, this sandwich still is lacking in the mushroom and green pepper department, so our number one pick beats it out by a narrow margin.
1. Steak Philly Cheesesteak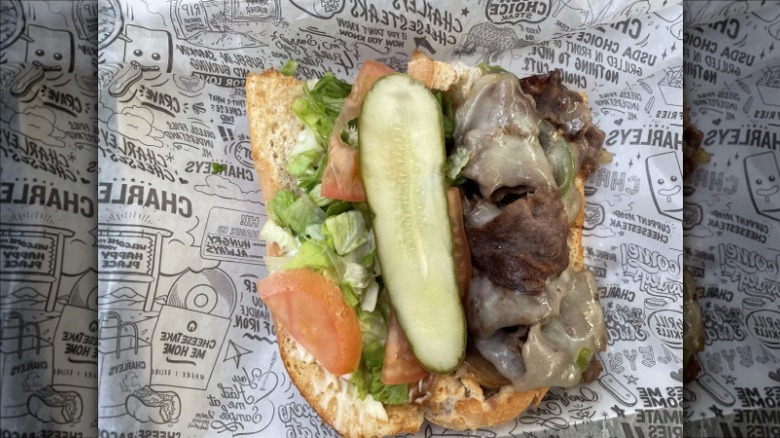 Brianna Corley/Static Media
And so we arrive at the first-ever Charleys Cheesesteak. The cheesesteak that, after his college buddies gave the sandwich rave reviews, Charley Shin realized was irresistible. Priced at $9.29 for an average portion, the Steak Philly Cheesesteak is brimming with steak, green peppers, mushrooms, onions, melted provolone cheese, lettuce, tomato, and mayo. The fact that Charleys layers its signature dish with provolone when Cheez Whiz is thought of as the designated cheese topping for the Philly cheesesteak has been a point of contention in the Philly cheesesteak community. However, we think Charley made the right call on this one.
Unlike the chain's Cheez Whizzed-out Old School Cheesesteak, the provolone and high-quality steak in this sandwich are the perfect flavor tag team. But the provolone and steak are not alone in their work to make this sandwich irresistibly tasty. The lettuce, tomato, pickle, and (this is where it beats out the chicken) a generous amount of green peppers are also pulling their tasty weight. Delicious, high-quality, and fresh with dimensions of flavor, this Steak Philly tastes like ringing the liberty bell, so our hands are tied. The sub that turned this chain into a worldwide favorite is our number one-rated Charleys Cheesesteaks sandwich.