TGI Fridays' Biggest Menu Shake-Up Since The '90s Is A Meaty Makeover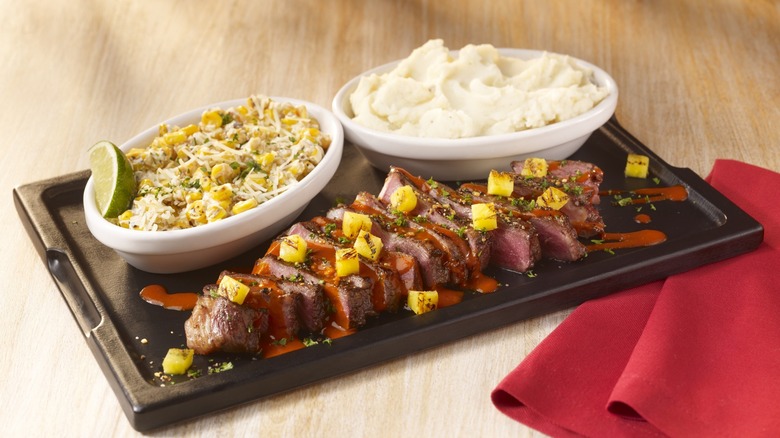 TGI Fridays
While TGI Fridays has been around for decades, its menu has remained mostly unchanged for the past 30 years. We get it: It's hard to question cheesesteak egg rolls and loaded potato skins, though not all TGI Fridays appetizers are winners, and some choices have the potential to be downright disappointing. But times they are a-changing, and consumers have an increased interest in customizable options, from entree to sauce choices. TGI Fridays just rolled out a new "Grilled and Sauced" menu which attempts to bring the restaurant into the 21st century, providing mix-and-match combinations of grilled protein, rubs, and sauces. Grilled meats are trending, relatively healthy, and hearty, making them a natural choice. Customers can choose from salmon, chicken breasts, or several types of steak. But the true opportunities for customization can be found in the sauces and rubs.
The new choices reflect a range of influences, from Korean Red Chile Sauce and Mexican-inspired Al Pastor to "Nashville Hot" and a Spiked Orange Glaze infused with Hennessy — just in case you forgot that TGI Fridays' origins are firmly planted at the barstool. Fridays also added a rub to the line-up, for those who eschew sauces but still want to up the flavor ante of their meat. TGI Fridays' other sauces are sticking around: the chain has a host of BBQ and whiskey-flavored options that keep the chain rooted in its history, as well as a host of sides that aren't going anywhere. 
From singles bar to sit-down chain restaurant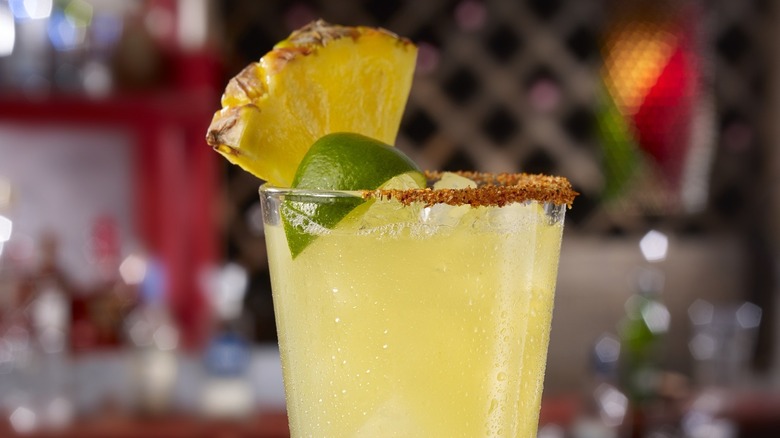 TGI Fridays
TGI Fridays fans may not realize that the familiar chain had a truly wild start. Its founder, Alan Stillman, was just looking to meet some women and recreate a cocktail party atmosphere in a public bar when he decided to take matters into his own hands and opened that sort of place himself. Little did he realize that he was founding an institution when he opened his first small location on the Upper East Side of Manhattan in 1965. Things have expanded and settled down considerably since then, and TGI Fridays are now a recognizable presence in most cities in the U.S, with its red-and-white awnings and array of happy hour specials. 
Cocktails and happy hour are still an essential part of the chain's brand, so it's no surprise that this new "Grilled and Sauced" menu launch comes with some new drink options, too, ranging from their own riff on a Paloma, a pineapple and mezcal "Mezcarita," a lavender-lemon Martini, an Old Fashioned and "The Legacy" — TGI Fridays' take on a sidecar, which includes notes of orange and agave. Sounds like the menu may have changed, but the party atmosphere is here to stay.