50% Of People Eat One Food In Particular For Breakfast - Mashed Survey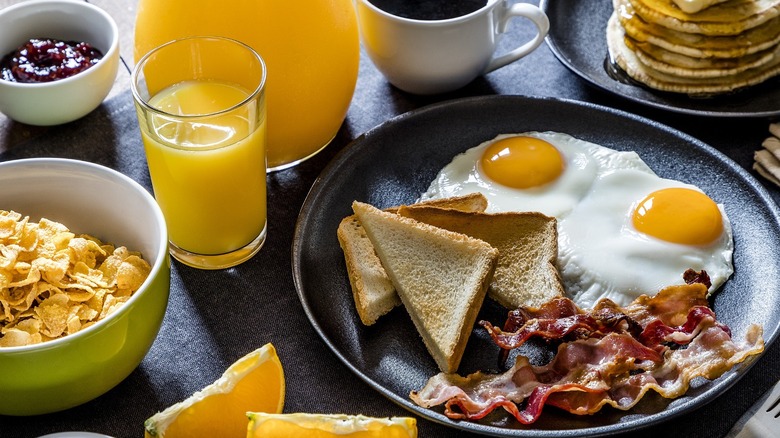 Carlosgaw/Getty
Breakfast may or may not be the most important meal of the day, but this morning meal can have its health benefits, plus, as a bonus, it also boasts some pretty tasty foods. What's your favorite thing to have for breakfast? Are you a nothing but black coffee minimalist, or more of a continental bon vivant? While we here at Mashed are rather partial to the full Monty, ourselves, with bacon, eggs, pancakes, and anything else you can cram on the plate, we decided to conduct a poll to determine what the #1 breakfast item may be. We asked our viewers on our YouTube channel to select their favorite breakfast item – cereal, oatmeal, breakfast meats, bagels, and eggs.
With over 25,0000 votes, the results are in, and with little to no shock, Mashed readers eat eggs for breakfast more than anything else. In fact, eggs lead the poll by a whopping 50%, a large margin. With so many different ways to prepare from scrambled to poached to fried, eggs have become the staple for many breakfast dishes. In fact, many people would agree breakfast is incomplete without them. 
Other great breakfast hits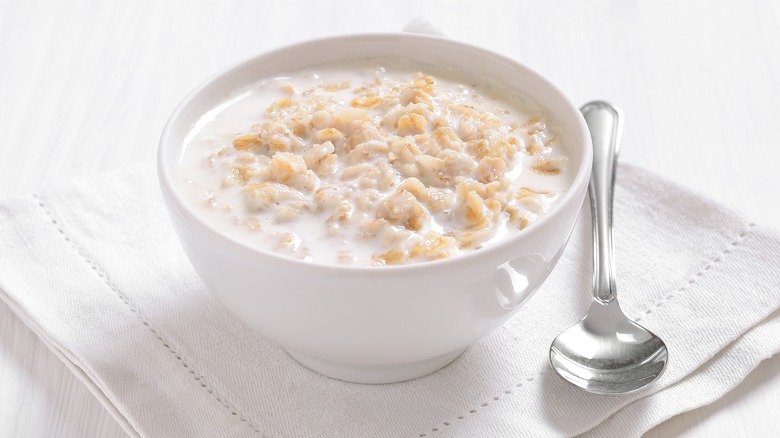 Nadezhda Nesterova/Shutterstock
Even though eggs were the runaway winner in the poll, the other entries each got their share of votes. Breakfast meats were a strong second-place finisher with 21%, although we did not have the scope to break it down so there may need to be a follow-up poll in order to determine whether, say, bacon is preferable to ham or sausage. 
On Ranker, however, bacon by itself ranks #2 spot on a list of overall favorite breakfast foods (behind a combo of eggs and bacon), while sausage doesn't make the list until the #22 spot and ham barely cracks the top 50 at #46. ( As Ranker rankings tend to go up and down, these numbers may or may not be the same by the time you cast your eyeballs over this).
Getting back to our poll, cereal, the favorite breakfast food of folks in a hurry (or the cooking-averse) was in third place with 12%, while 9% earned bagels a 4th-place finish. In last place, with just 8%, was oatmeal, but at least the oats can console themselves with their superfood status as they are the only such food on our list.