Thanks To TikTok, Rice Cakes Don't Have To Be Bland And Boring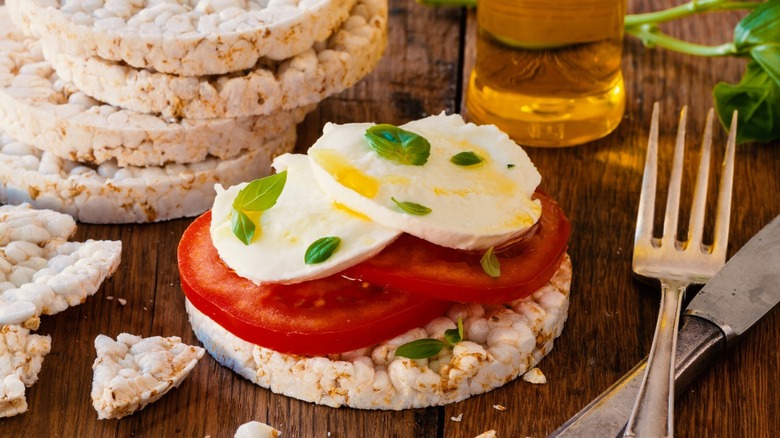 New Africa & Hans Geel/Shutterstock
Plain rice cakes are a nutritious snack. An unsalted rice cake made of brown rice has 35 calories, is good for maintaining healthy blood glucose levels, and can contain up to nine grams of whole grains. Many people turn to them because they're gluten-free, low in calories, and because they seem a healthier choice for most people than bread. However, despite their nutritional value, when eaten plain right out of the package, rice cakes can be a bit, well, boring.
Fortunately, TikTok is here with yet another innovative food hack that the social media platform has become famous for (remember cloud bread and green goddess salad?). From covering them with innovative toppings like sushi ingredients to chopping them up and turning them into cookies, social media users are outdoing themselves trying to add a little zing to plain rice cakes. One TikToker, @victoriafitiee has a whole variety of suggestions to help spice up bland rice cakes with fun breakfast topping hacks that will have you not only trying each one but also making more. From sweet and fruity to savory and spicy, these rice cakes combine layers of ingredients to add flavor to the (relatively) flavorless.
Nine delicious rice cake ideas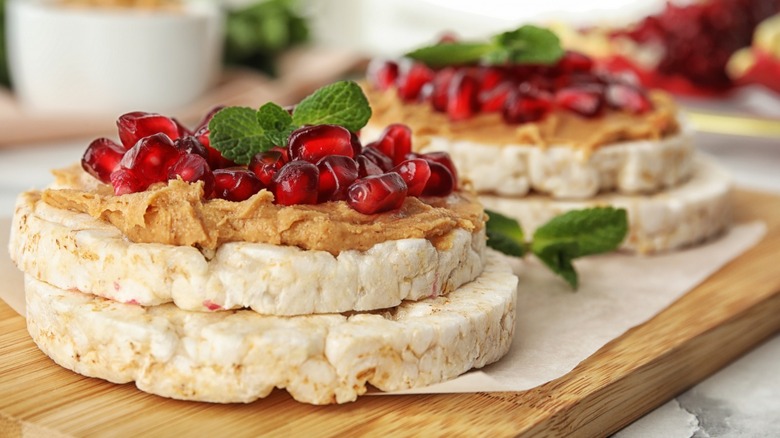 New Africa/Shutterstock
In the video, which has thousands of likes, @victoriafitiee shares nine different topping ideas to add some pizzazz to your traditional breakfast rice cake. She features rice cakes covered in a layer of yogurt and topped with sliced strawberries and chocolate shavings, as well as rice cakes with yogurt, blueberries, and cashews. Peanut butter stars in several versions, including one topped with bananas, one topped with dates, shredded coconut, and pumpkin seeds, and one topped with granola. On the savory side, you'll also find a rice cake with hummus, sliced cucumbers, and a sprinkling of paprika on top, and one with smashed avocado, sliced tomatoes, and black pepper. Vegans can try the rice cake topped with vegan cream cheese, sliced avocado, and black pepper. 
Breakfast aside, one viral trend sees mad scientists of the kitchen turning their rice cakes into giant peanut butter cups, topped with chocolate and a sprinkle of sea salt. Some users sub in almond or cashew butter, or even chocolate protein powder mixed with yogurt, and top with Nutella instead of melted chocolate. Others break the rice cakes up into pieces before mixing them with peanut butter and melted chocolate, to make cookie-style bites. Let bland, boring rice cakes be forever a thing of the past!