How Bobby Flay Always Helps Alex Guarnaschelli In The Kitchen - Exclusive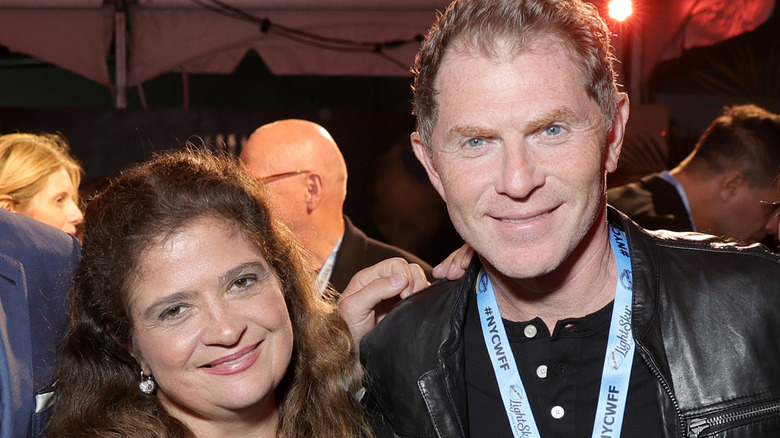 Michael Loccisano/Getty Images
During Alex Guarnaschelli's illustrious cooking career, she's rubbed elbows with some equally impressive chefs, from Giada De Laurentiis to Andrew Zimmern. She also frequently works with larger-than-life personality Guy Fieri on Food Network shows like "Tournament of Champions" and "Guy's Grocery Games." She even told The Hollywood Reporter that she believes there is something truly special about Fieri and that he has a positive energy that's infectious to everyone around him. "A lot of people suck the air out of the room," Guarnaschelli explained. "Guy is the opposite. Guy is a human air conditioner for good feelings."
However, when it comes to the celebrity chef who's given her the best advice, Alex Guarnaschelli revealed to us in an exclusive interview — while promoting her new partnership with Ziploc Endurables — that it would have to be Bobby Flay. She said that Flay has become an important mentor in her life and that he's helped her with feeling more confident in her abilities.
He's intuitive and helps her feel more self-assured
While Alex Guarnaschelli has admitted that she didn't like Bobby Flay before she met him, she was pleasantly surprised when they first spoke in person. The "Ciao House" star told People she thought he seemed too cool with his grill and spatula on his series but said she couldn't have been more wrong, and now he's one of her closest friends.
Guarnaschelli divulged to us that Flay not only helps her feel more self-assured, but he is also very intuitive and always knows the right thing to say. "We need a lot of conversation about confidence and believing in yourself and in your own abilities," she said. "... I'm interested in anything that builds confidence. You know when someone says something to you at the right moment and you're like, 'How did you even know that kind of feeling?'"
To learn more about Ziploc Endurables, you can visit Ziploc's website.