The Difference Between Rodizio And Churrascaria At Brazilian Steakhouses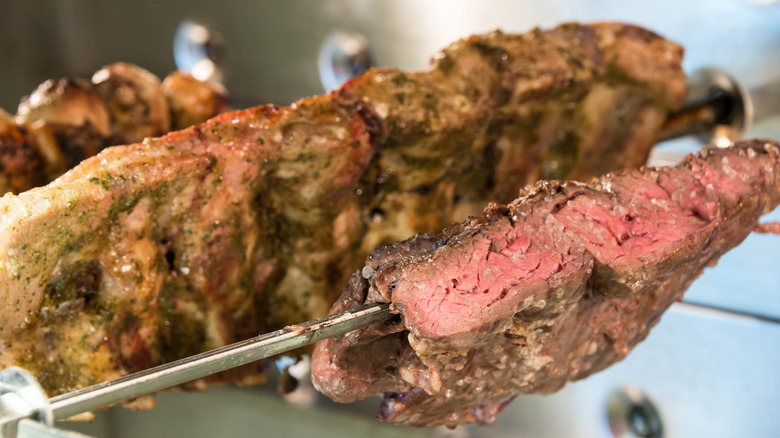 Juanmonino/Getty Images
Brazilian steakhouses are a carnivore's dream come true. With their seemingly endless supply of succulent, spiced meats, they've become a popular dining destination for people around the world — even outside Brazil. If you're brand new to this widely celebrated culinary experience, there are some key vocabulary words to familiarize yourself with before you book a reservation, including rodizio and churrascaria. While these terms are sometimes used interchangeably, there are some important differences between the two you should know about.
Rodizio — which means "rotation" in Portuguese — is a style of all-you-can-eat buffet in which servers bring giant skewers of meat to your table and carve it directly onto your plate. Think of it as a never-ending parade of meat that has been seasoned with rock salt and cooked over an open flame. Rodizio is all about variety, so you can enjoy a range of beef, pork, chicken, lamb, and even exotic meats like alligator and ostrich. You get to try a little bit of everything, and you can keep asking for more until you're satisfied.
Churrascaria, on the other hand, refers to a type of restaurant where a variety of meats are cooked churrasco-style, or skewered and cooked over a flame. A churrascaria typically has a fixed menu from which you can order your food à la carte and have it served to you. Churrascaria focuses on quality, so you can expect your meal to be of the highest caliber.
The type of service matters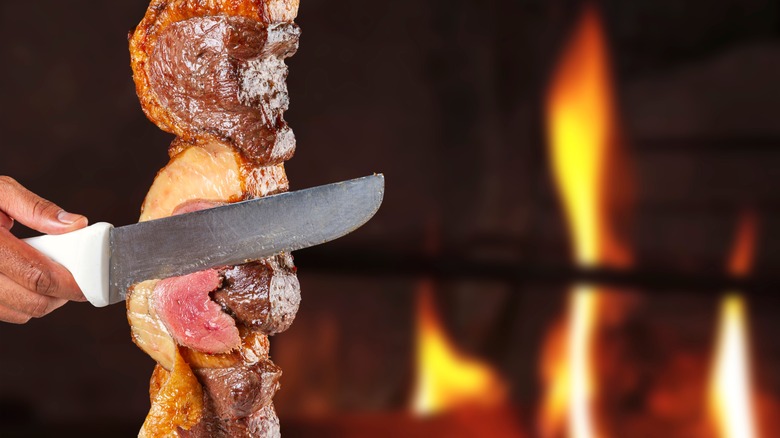 rocharibeiro/Shutterstock
A major difference between rodizio and churrascaria is the price you can expect to pay when the bill arrives. Not all churrascarias serve their meats rodizio-style, and rodizios generally tend to be more expensive, as you are paying for the service of having the waiters bring the meat directly to your table, in addition to the mega-flavorful grub. However, many diners believe the convenience and elegance of having someone carve the meat in front of you is 100% worth the extra cost. In terms of the types of meat Brazilian steakhouses offer, both rodizios and churrascarias offer a variety of cuts, including beef, pork, chicken, and lamb. However, some Brazilian steakhouses may specialize in certain types of meat.
At the end of the day, the main contrast between rodizio and churrascaria is the manner of service. If you want a more interactive dining experience, rodizio is the way to go. And if you prefer a more casual environment where you can help yourself to delicious, belly-filling, soul-warming food, then churrascaria may be the better option. Either way, you're sure to leave well-fed and with a newfound appreciation for classic Brazilian cuisine.