Fast Food Joints Tapping Into The Gaming Industry With Free Eats Isn't New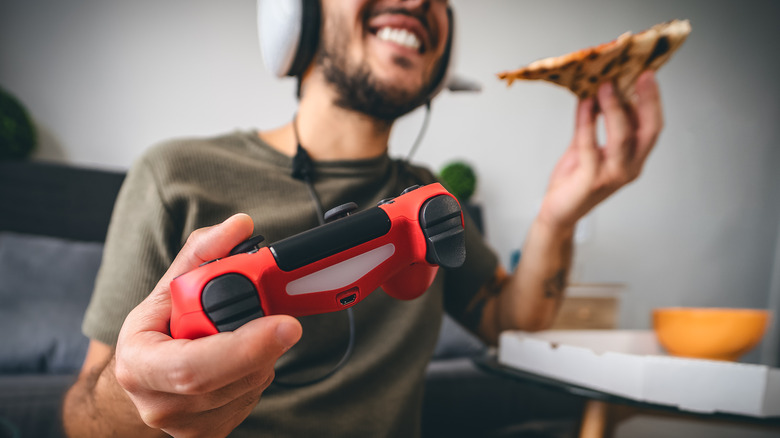 AlessandroBiascioli/Shutterstock
Whether you're a proud completionist, a fan of retro throwbacks, or a casual gamer, you're part of the reason gaming has steadily exploded into the most lucrative part of the entertainment industry. According to Statista, revenue from games sold in 2023 is expected to soar to over $380 billion worldwide. 
As a result, the fast food industry and other big food brands decided to get in on the action by seeking partnerships with game studios and developers to offer in-game rewards for players. Companies want their offers to stand out and provide value, so there has been no shortage of creative collaborations and fun new product announcements, especially surrounding the release dates of highly-anticipated games. 
In 2012, Pizza Hut introduced a new stuffed crust pizza featuring Red Leicester cheese — a crumbly, mild aged cheddar with a signature red color — in partnership with Microsoft and "Halo 4." Purchases of this menu item allowed players to get a free avatar in the game. Mountain Dew and Doritos also decided to hop on the game's hype train with their own "Halo 4" food creations, which helped gamers double their XP points and unlock a fancy new helmet for Master Chief by making select purchases. Other fast food campaigns that have jumped on the bandwagon include KFC with Blizzard Entertainment's "Diablo IV," Hot Pockets with "Magic: The Gathering," and Chipotle, which has offered gamers the chance to win free food and prizes since 2019.
Chipotle's annual tournament-style promos have gamers battling for cash and freebies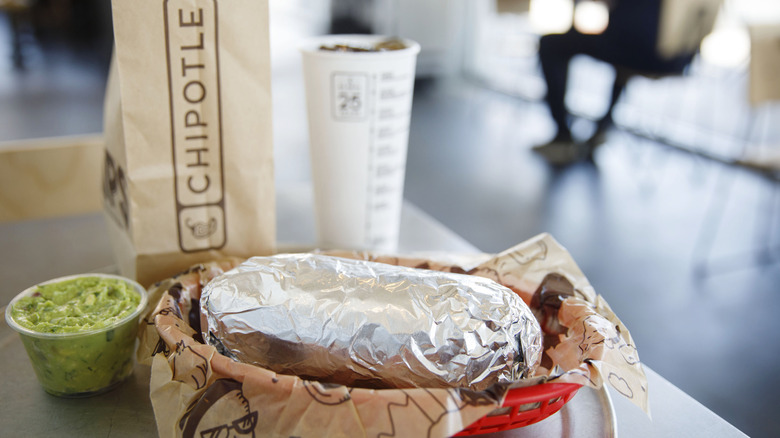 Bloomberg/Getty Images
In 2019, Chipotle hosted an elaborate esports tournament called the Challenger Series, which was successful enough to become an annual event that went on to feature more specific titles like "PUBG," "Halo Infinite," and "APEX Legends." This year's tournament features "Street Fighter 6" and allows winning players to claim victory in the form of cash prizes or an all-expenses-paid trip to a gaming competition in Las Vegas.
Besides a cool $10,000 and the free trip, the first-place winner will also receive free "Chipotle for a Year," which counts for 52 regular entrees like burritos, tacos, and quesadillas. Twitch users can also score Chipotle freebies like chips and guac just for watching other live streamers who are playing "Street Fighter 6."
The esports agency that Chipotle works with reported that its goal was to provide incentives and fun objectives to uplift the whole community. Other companies will no doubt continue promoting food NFTs in games. However, Chipotle's efforts to capture the attention of gamers seem like a wholesome way to get them actively involved in gaming events that support fandoms they love. Plus, perhaps nothing complements the impressive world-building and exciting co-op experiences gamers love like some free grub.