Cameron Diaz's Fridge Full Of Wine And Salad Is Iconic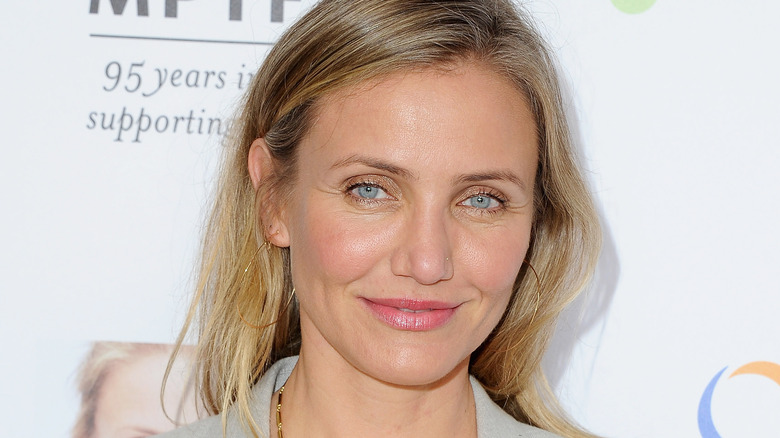 Jon Kopaloff/Getty Images
We've long been fascinated with celebrities and their habits: How they work out, what they use in their skincare routine, and of course, what they eat. From Selena Gomez's freezerstocked with at least a dozen different ice creams to Lea Michele's refrigerator full of fresh fruits and vegetables, we often look to celebrities to get an idea of what we would like to do better or to see how much differently their fridges look from our own.
Cameron Diaz recently teamed up with Gwyneth Paltrow's Goop Kitchen to release a dish for the meal delivery company. According to an Instagram video from Diaz, "Cameron's Summer Crunch Salad" contains "crisp gem lettuce, sweet-and-spicy mango slaw, crunchy snow peas, carrots, cucumbers, fresh herbs, [and] avocado slices," plus "puffed rice, candied cashews, and goop Certified Clean cashew vinaigrette." It's also designed to be paired with a white wine from Diaz's company Avaline. Diaz's refrigerator is featured in the video, which looks to only contain bottles of wine and packaged salads. It caught some attention; one Instagram fan commented "Ideally this is how my fridge would look," with another proclaiming "This is my kind of fridge!"
Diaz's wine and salad-filled fridge may not be practical, but clearly, it's the kind of fridge many of us wish we had.
Some fans were critical of the plastic containers
Since Cameron Diaz debuted in "The Mask" alongside Jim Carrey in 1994, audiences have been enamored with the actress. A proponent of not comparing yourself to others, she's written two books related to taking care of ourselves and being aware of what we put into our bodies. It made sense that when she re-emerged from her retirement in 2020, it was to promote her new 'Clean Wine,' Avaline.
The passion project began when she realized she wasn't 100% sure what the ingredients were in what she was drinking. "And we just thought, Hey, we're buying organic groceries, we're choosing clean skincare products and nontoxic household products. And [with wine], we just kind of said to ourselves, 'This is just grapes, right?'" she told Harpers Bazaar.
Along with the admirers who complimented how Diaz's refrigerator was stocked with only wine and salads, there were also those who were critical of the amount of plastic the salads were boxed in. Goop Kitchen responded that they "choose recycled polyethylene terephthalate (rPET) containers, because they can go on to live another day after you're done with them."