Whatever Happened To Crispy Cones From Shark Tank?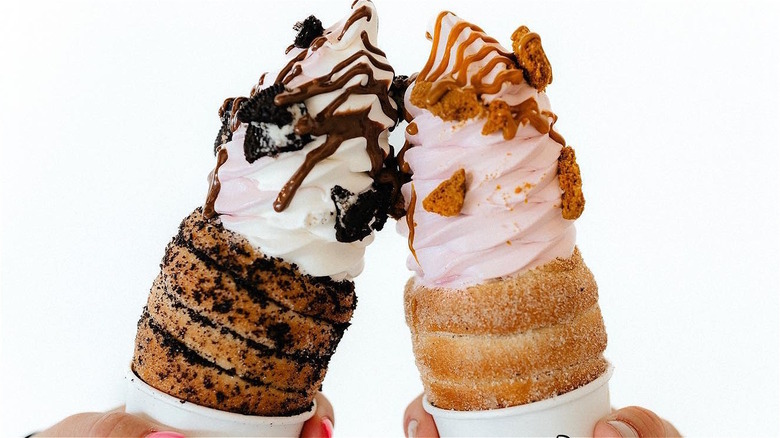 Photo Beto/Getty
Crispy Cones is a business run by Jeremy and Kaitlyn Carlson, who appeared on Shark Tank in March of 2023. The company specializes in soft-serve ice cream, served in cones made of rotisserie-grilled dough dusted with cinnamon sugar or crushed Oreos. Beyond the classic ice cream flavors of vanilla, chocolate, and swirl, Crispy Cones allows customers to enhance their cones with various spreads (Nutella, cookie butter, and peanut butter), fruits, and toppings. They also offer enticing weekly specialty ice cream flavors and monthly specialty cone flavors. At the time of their appearance on Shark Tank, the Carlsons were already operating two locations in Rexburg, Idaho, and Logan, Utah.
Looking to transform their small business into a successful franchise, Jeremy and Kaitlin sought $200,000 from the Sharks for 10% equity in their company. Most of the potential investors were turned off by this ambitiously high valuation and refused to bite. However, Barbara Corcoran cited her experience in food franchising and ultimately offered a deal of $200,000 in exchange for 20% equity. After considering the offer, the couple accepted and walked away with an implied valuation of one million dollars. Though the episode only aired three months ago, the business appears to be doing well and expanding. According to the Crispy Cones website, two new franchise locations are slated to open in Chandler, Arizona, and Provo, Utah.
From Europe to Utah
The idea for crispy, donut-like ice cream cones came to the Carlson couple on their mission for the Church of Jesus Christ and Latter-day Saints. While in the Czech Republic, they discovered the chimney cake ice cream cones called "trdelníks," a traditional European pastry of fried dough coated in cinnamon sugar and often lined with chocolate. More recently, the pastry has been ingeniously adapted into a vessel for ice cream served by street vendors throughout Central and Eastern Europe. 
When Jeremy Carlson returned to the U.S. as a student at BYU, he began selling his own version of the cones and soft serve out of a tent. While the earnings weren't anything groundbreaking, the Carlsons still had a vision for the business.
Judging by Crispy Cone's active Instagram and news of expansion, that vision appears to be materializing. A recent Yelp review of the Rexburg location called it "the best ice cream from here to Canada." Lately, Crispy Cones announced new toppings like peanut butter cups and weekly flavors like pineapple, peach, and lemon. The website also sells branded merchandise and lists a contact form for those interested in franchising.