Much Older Italian Barbecue Cooks Faster Than The American Version (But Gets The Same Results)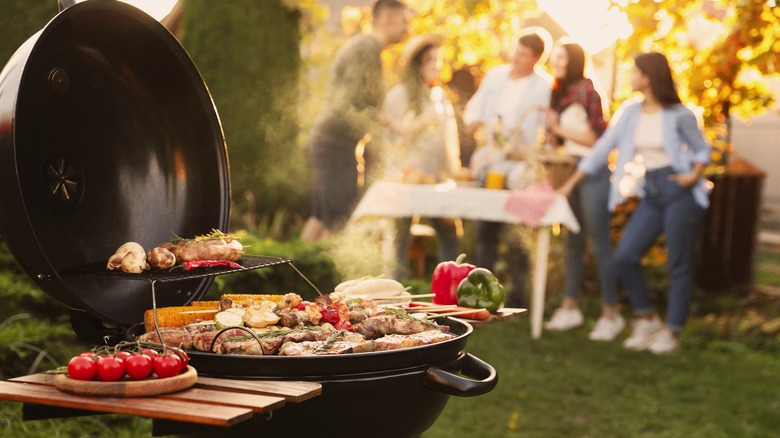 New Africa/Shutterstock
Outdoor grilling is one American pastime that has cemented itself as one of the nation's favorite ways to enjoy a savory meal with good company. Whether you're barbecuing as a delicious Fourth of July tradition or simply love going cookout-hopping during the summer, each year provides meat lovers with lots of opportunities to grill out. In the U.S., it's common practice to follow the "low and slow" rule when cooking up the most tender, mouthwatering cuts of meat possible. Grilling or smoking fall-off-the-bone meats has become something of an art form throughout the country, especially in America's southern "barbecue belt", and has been traced back to colonial times. Although, some other countries around the world have been doing it for much longer, albeit a little differently.
A cookout in America is equivalent to an Italian grigliata, which translates to "grill out". Italian barbecue involves a plethora of tasty entrees that are lighter and offer more variety. For instance, it's common to find grigliata dishes like grilled leafy salads, stuffed eggplants and mushrooms, or even thin-crust pizza. Freshly caught fish and smoked steak kabobs are also typical Italian barbecue fare, and of course, there's always a list of more traditional pitmaster favorites, like steaks, ribs, or perfectly charred chicken. However, this lighter menu isn't the only way in which cookouts in Italy differ from those in America. Low and slow ideology is thrown out the window, and instead, Italians prefer to flame grill their food the complete opposite way.
Italian grigliatas involve cooking meat quickly and at high temps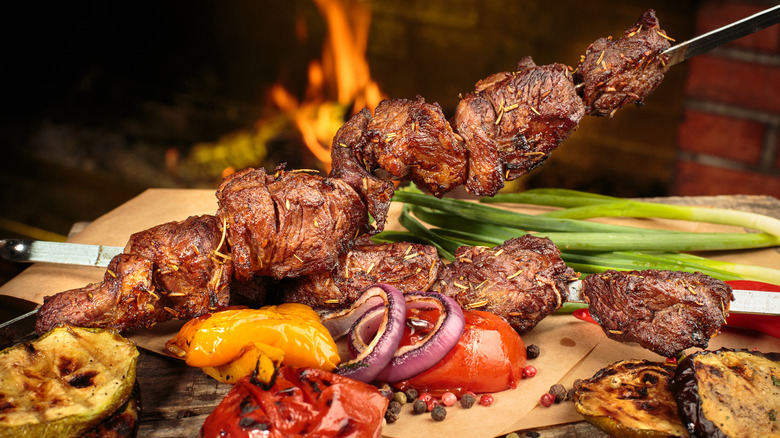 Gravika/Shutterstock
If you're a proud grill master, you've likely taken years to hone your craft and create the perfect grill recipes, ensuring all the right flavors and textures are locked into each cut of meat. It's a labor of love that has to be done right, but there happens to be a technique that could challenge one's view of what "the right way" looks like. The idea behind slowly grilling over low temperatures is to infuse even smoky flavors into your meat of choice. At a grigliata, cooking meats and fish at high temps so they cook much more quickly is the way to go, and the results are equally as heavenly.
One expert chef from Italy, LA restaurant owner Angelo Auriana, explains that his home country's barbecue interpretation is "actually like a hot smoking method." The same open-flame cooking methods are used but do "the opposite with very fast cooking, that's more direct on a coil" (via La Cucina Italiana). The main ingredients you'll need to make it a true grigliata are loads of olive oil, and of course, some red wine to sip on while you wait. In fact, marinating barbecued meats with olive oil after they've finished cooking is another distinct contrast from American cookouts, according to Auriana. It seems that, despite our contrasting techniques, barbecuing is a beloved culinary tradition both the U.S. and Italy can drool over together.