Krispy Kreme's Fourth Of July Lineup Is Bringing The Fireworks (And Sweetness)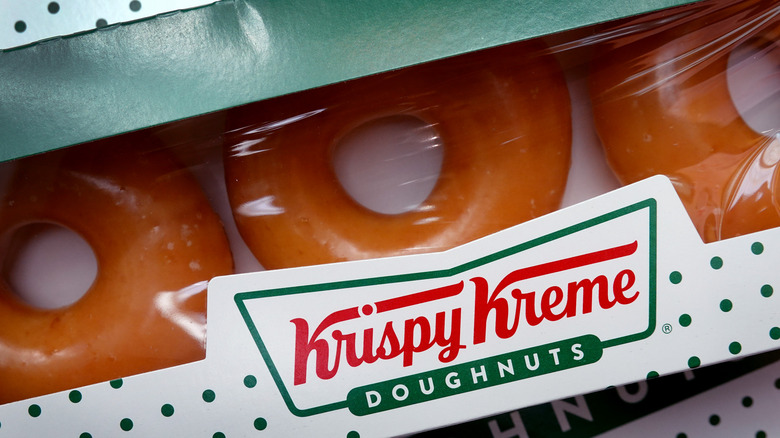 Scott Olson/Getty Images
The Fourth of July is typically a time of celebration in the United States which includes attending barbecues, going to parades, and eating foods like apple pie. And if Krispy Kreme has any say about it, it will also be a time of doughnuts. To celebrate the country's upcoming 247th Independence Day, Krispy Kreme is releasing three brand new doughnuts beginning June 21 that will be part of the Stars and Stripes Dozen.
Krispy Kreme's debut flavors include the Red Velvet Sparkler Doughnut, a red velvet cake doughnut coated with cream cheese icing and decorated with candy stars and pearls. The Freedom Flag Doughnut is an Original Glazed covered in red icing, with blue sprinkles and white frosting stripes to look like the American flag. And then there's the All-American Apple Pie Doughnut, an apple cinnamon-filled unglazed shell dipped in caramel icing and a graham cracker crumb, with white icing drizzled on top. The Stars and Stripes Dozen will include three of each new doughnut, along with three Original Glazed doughnuts. They can be purchased individually, but then you'd miss out on the special Fourth of July-themed box.
To give customers a little more encouragement to get to their nearest store, Krispy Kreme is giving away a free Original Glazed doughnut on July 4 for anyone who comes into a location wearing red, white, and blue.
Krispy Kreme loves to celebrate holidays
Krispy Kreme is pretty reliable at bringing the pizazz when it comes to holidays, whether it was 2022's Santa Bake Shop Collection or 2023's adorable Mother's Day mini donuts. While the donut chain loves to show some flair with its sweet specials, fans have noticed that they really bring out the fireworks year after year with the Fourth of July doughnuts.
"Family, friends, food, fireworks ... the Fourth of July is so much fun, and our new Stars and Stripes doughnuts will let sweetness ring at any gathering — from backyard barbeques to lined sidewalks at neighborhood and community parades across the land," said Dave Skena, Krispy Kreme's Global Chief Brand Officer, in a press release.
Knowing they're only available for a limited time somehow also makes the festive doughnuts even sweeter. Krispy Kreme's newest promotion has already begun its countdown, and doughnut lovers only have a few short weeks to pick up the new flavors at a store. Select grocery stores such as Walmart, Kroger, Food Lion, and Publix will also be selling 6-packs of the limited-time flavors.