Krispy Kreme's Mother's Day Donuts Are Getting The Mini Treatment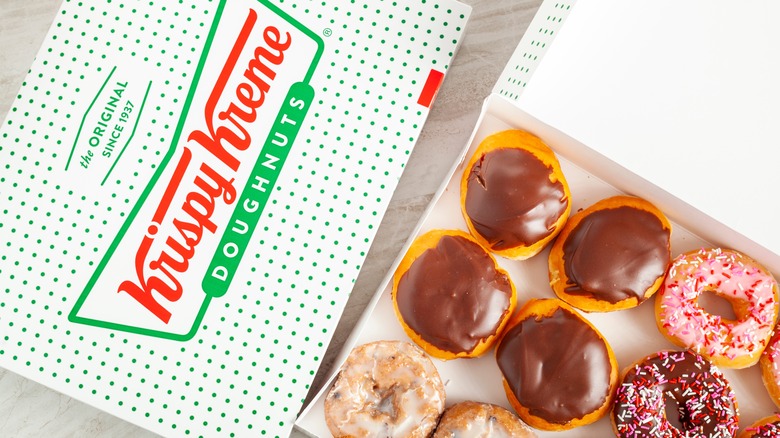 grandbrothers/Shutterstock
If you're not the type to bring your mom breakfast in bed for Mother's Day, you can surprise her with doughnuts instead. Krispy Kreme is celebrating Mother's Day by offering a 16-pack of donuts specially designed for the occasion. If sixteen full-sized doughnuts seem too much for one person, Krispy Kreme thought of the perfect solution by creating mini doughnuts for its 16-pack assortment. According to Business Wire, the Mother's Day mini doughnut box features four flavors: Mini Chocolate Iced, Mini Strawberry Iced, Mini Cookies & Kreme, and Mini Original Glazed. Keeping moms in mind, these mini doughnuts are adorably decorated to feature designs specific to the holiday: roses, hearts, and plenty of pink frosting.  
Krispy Kreme's Mother's Day doughnuts have made an appearance before, albeit with different flavor offerings. In 2022, Krispy Kreme's Mother's Day doughnuts were almost too pretty to eat. Similar in design to 2023's line-up, the mini doughnuts from 2022 also featured hearts and flowers. The 2023 Krispy Kreme mini doughnut boxes can be delivered directly to Mom's house for free if ordered between May 12 and May 13. These mini doughnuts will only be around until May 14 — and anyone can indulge in getting a box, whether they are a mom or not.
Krispy Kreme loves holidays
Krispy Kreme is always there to celebrate a holiday — big or small. The doughnut chain tends to go all out for celebrations, usually offering limited-time special doughnuts for each. In 2022, for Father's Day, the U.K. Krispy Kreme chains offered cheeky doughnuts featuring a tux-e-dough doughnut, complete with an edible sugar bowtie. Many other chains also embrace major holidays like Christmas — and Krispy Kreme is no exception. Previously, the chain celebrated the holiday by offering festive gingerbread doughnuts.
In 2023, Krispy Kreme also debuted mini doughnuts to celebrate spring's arrival, which featured themed decorations like bright, colorful Easter eggs and adorable yellow chicks. Sadly, the spring minis came and went — but the Mother's Day minis have taken their place for a limited time. 2023's Mother's Day doughnut boxes cost $17.49 each and will only be available through Mother's Day. At the time of writing, there's no news yet whether Krispy Kreme has other mini treats planned for other holidays or special events, but given the chain's history, it's safe to assume there will be other reasons to celebrate with different festive menu items in the future.