Stop Turning Your Nose Up To Canned Salmon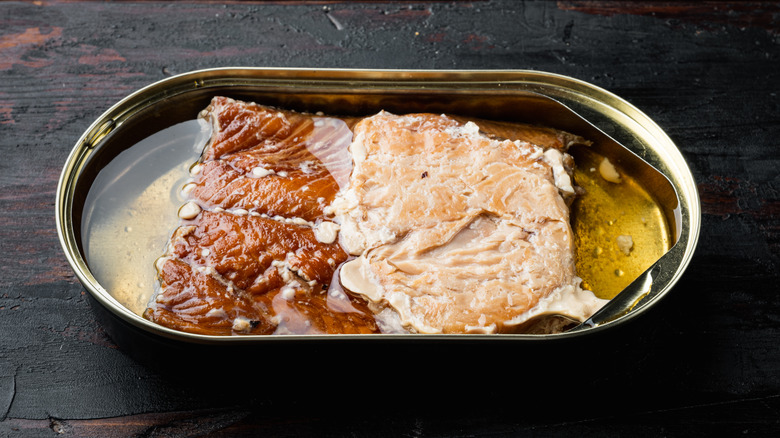 Ilia Nesolenyi/Shutterstock
Trust us, we get it — canned meat doesn't exactly have the same ring to it as fresh meat does. And when it comes to seafood in particular, fresh, wild-caught fish is typically everyone's first choice. But if fresh-off-the-hook fish isn't available to you, or it's just not fitting into your weekly grocery budget, canned salmon is an excellent substitute for fresh fish. Canned salmon is more affordable than fresh salmon, and because it's shelf stable, it lasts longer too. Worried it might not taste as good as fresh salmon? Don't fret, it's hard to tell the difference between canned salmon and fresh salmon in your favorite recipes!
In many ways, canned salmon is as nutritious, tasty, and versatile as fresh salmon is. According to Consumer Reports, most canned salmon is actually wild-caught, giving farm-sourced fresh salmon a run for its money. Plus, canned salmon is just as nutritious as fresh salmon. One of the key benefits of eating salmon comes from its heart-healthy fat content and canned wild-caught salmon has just as much omega-3 fatty acids as fresh wild-caught salmon. Some canned salmon brands keep the fish's soft, edible bones in the tin, making it an excellent source of calcium. 
In most recipes you can't tell the difference between canned and fresh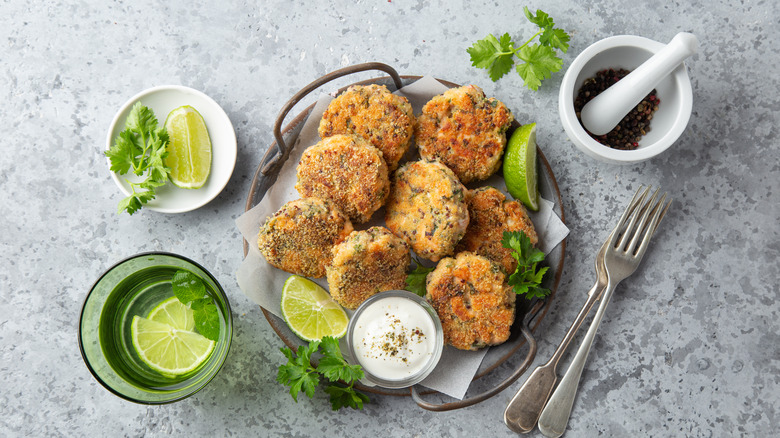 Anna Shepulova/Shutterstock
Now that you're a canned salmon connoisseur, you'll need a repertoire of recipes to put your tins to use. If you're a fan of the viral Emily Mariko fish bowl, which calls for salmon, rice, avocado, spicy mayo, and seaweed, then you'll be pleased to know that one user on TikTok said it was so delicious, even with canned salmon, that they couldn't tell the difference. 
Canned salmon is also an excellent choice for making croquettes or salmon burgers. Don't believe us? Just take Rachel Ray's word for it. The famous chef's warm salmon patties call for a variety of ingredients including two tins of canned salmon! Hey, if it's good enough for Rachel Ray, it's good enough for us! The internet abounds with inventive recipes for canned salmon, and many of them aren't the low-key dishes you associate with canned fish. You'll find recipes for salmon sushi, tonnato sauce, salmon pasta, salmon salads and many more. However you use canned salmon, just remember, have fun with it!