Chef Morimoto's Sushi Ordering Trick To Tell If Your Chef Is Any Good - Exclusive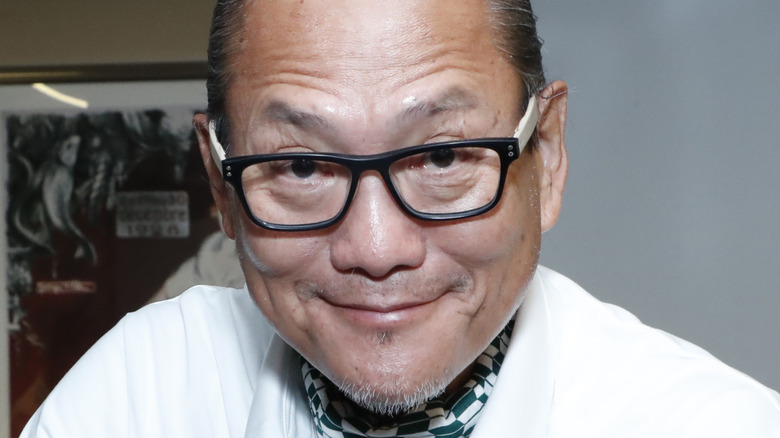 Astrid Stawiarz/Getty Images
If you sit down at a hitherto unexplored sushi bar, don't go ordering a dragon roll right away, even if your stomach rumbles for the nori, avocado, shrimp, and cucumber combo. First, test your sushi chef by ordering the basics, as Masaharu Morimoto does.
"I don't go to sushi restaurants much, but when I go to a sushi restaurant, I start by checking the restaurant and then checking the sushi man's skill," the mastermind behind "Morimoto's Sushi Master" exclusively told Mashed in a recent interview. You can't do that if you start complicated. Instead, Morimoto suggests beginning with Tekka Maki — a simple, fresh tuna roll wrapped in rice and seaweed. "That requires a very basic technique," Morimoto told Mashed.
After judging the quality of the sushi chef's Tekka Maki, the Iron Chef recommends you try a miso soup. What you're looking for is a high-quality dashi stock, Morimoto says. "Yes or no, are there chemical things — MSG?" the chef extrapolated. "That tells me, what kind of level is this sushi restaurant? What kind of level is this sushi chef?" If the Tekka Maki and miso soup aren't up to your standards, it's unlikely the rest of the menu will be either.
The signs of a great sushi chef, according to Chef Morimoto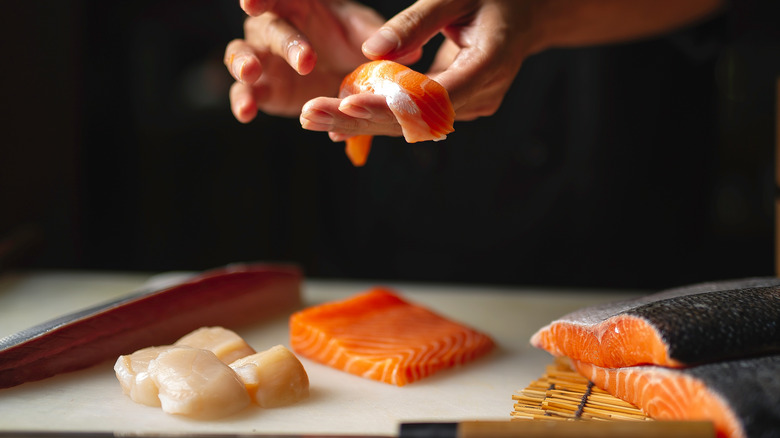 Chalee foodies studio/Shutterstock
Maybe the Tekka Maki and miso soup have met your standards, but how can you differentiate a truly talented sushi chef from a capable one? The sign of exceptional sushi skill isn't how well a chef can execute traditional dishes. Instead, it's how creative the sushi chef can get with their own variations of traditional Japanese food, per Masaharu Morimoto. "What a talented sushi chef has to ask themselves is, 'Okay, am I great? This is my skill. This is my dish,'" the celebrity chef told us.
The other skill Morimoto looks for is a sushi chef's ability to adapt their dishes to a customer's or culture's taste preferences. An exceptional sushi chef will recognize and embrace the unique taste profiles of their customer base, their country, or even their city — whether that's Tokyo, Rio de Janeiro, Los Angeles, or Rome. "It's not that traditional. After being introduced to Japanese food, you can decide, 'Okay, I like this over this,'" Morimoto explained. "Or last time, you made that, so how about this time, you make this? Then maybe you can try going bigger and bigger. That is how I think a sushi chef is a talented chef."

Pick up more sushi tips from Chef Morimoto on "Morimoto's Sushi Master," which you can stream for free on The Roku Channel.