KFC Wants To Fly You To Aruba With A New BBQ Chicken Sandwich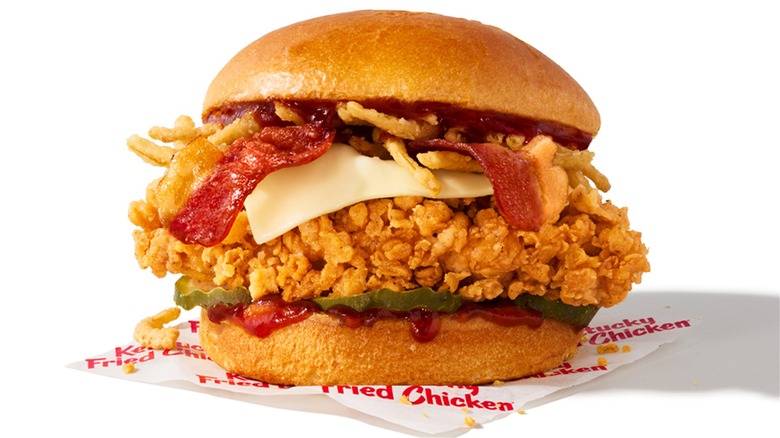 KFC
KFC chicken can't fly, not even the wings. But KFC fans can fly with the brand's help. Summer is in full swing, and to celebrate, the chain is unveiling the Ultimate BBQ Fried Chicken Sandwich. In addition, the finger-licking-good company will be sending two customers to Aruba for four days and three nights, with special excursions included.
Those familiar with the standard KFC sandwich know it's not an elaborate creation: just crispy chicken, mayo, and pickles on a brioche bun. The new BBQ chicken sandwich, which will only be available for a limited time, will be stuffed with fried chicken, bacon, honey BBQ sauce, fried onions, cheese, and pickles served between a brioche bun. Interested customers can enter the contest by purchasing the new menu item from July 3 to August 13, though it must be ordered through the app or website to qualify.
If you're chosen for the Aruban vacation, you can rest assured knowing you won't have to leave KFC behind on your trip. The chicken corporation has five locations in the country, with one in San Nicolas, Santa Cruz, Oranjestad, Palm Beach, and Sasaki.
The sweepstakes is made possible by a discount travel company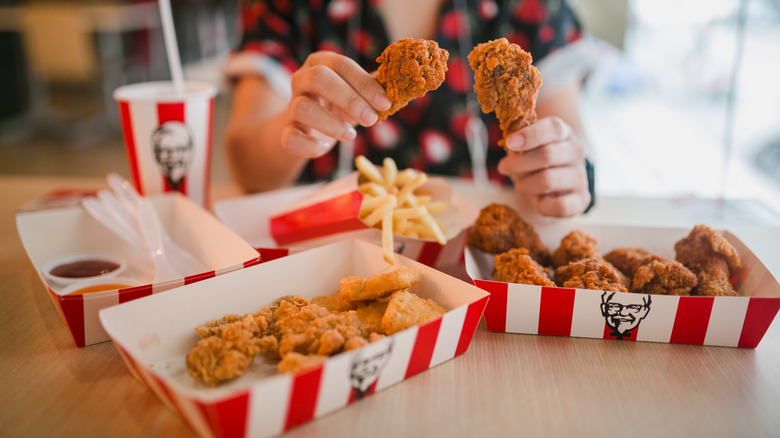 WUTTISAK PROMCHOO/Shutterstock
This exclusive sweepstakes wouldn't be possible without help from Going.com. Once Scott's Cheap Flights, Going is a membership-based website that's offered discount travel deals since 2013. As of now, the website has racked up two million active members. Because of this partnership, KFC will be giving out even more prizes to other customers who enter the competition.
Though only two customers will be lucky enough to win a trip to Aruba, other folks who purchase the Ultimate BBQ Fried Chicken Sandwich within the appropriate time window will have the chance to attain a one-year membership to Going.com. To try your luck in either of the contests, you must enter a unique code given to you at the time of purchase on KFC's website. If you're extra hungry, you can also join the competition by purchasing an Ultimate BBQ Fried Chicken Sandwich combo meal, which comes with fries and a drink. Those who wish can try out the brand's limited-edition drink — blackberry lemonade. Just make sure you don't make one of the common mistakes when ordering food from KFC.