The McDonald's Milk Tea Hack Puts Coffee Creamer To Shame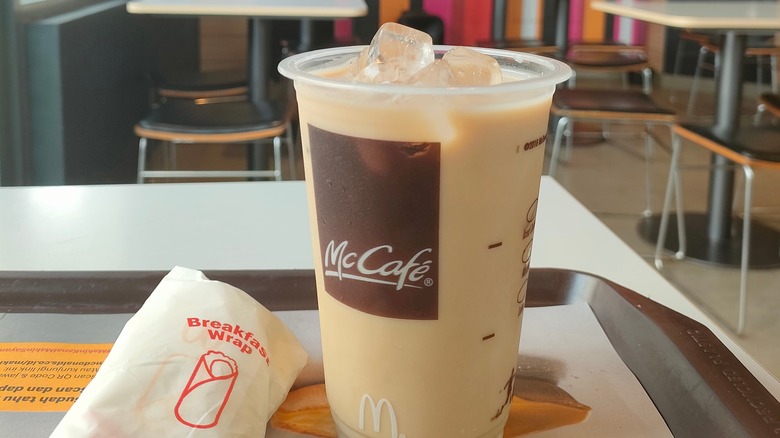 Dette Ditya/Shutterstock
With the surge in popularity of eye-catching boba tea drinks and flavorful milk tea variants in recent years, McDonald's fans have to be wondering when the fast food chain will release its own version. In Hong Kong locations, milk tea is already on the McCafé menu, complete with tapioca pearls and mixed with brown sugar goodness. But alas, we aren't sure when or if McDonald's in America will follow suit and feature such a sweet treat in the future. For now, we'll have to rely on creative menu hacks to achieve our milk tea goals when we pull up to the Golden Arches — that is, if its ice cream machine isn't famously broken.
If it's milk tea you're after, it's possible to use coffee creamer in your tea. But you can also craft your own with a sweet tea and one luscious additive that will transform your refreshment into anything but average. If your guess is to order a small milk jug to dump in as the creamy main ingredient, you'd be wrong. Ice cream will be the star of this mashup, mixed into one large, unsweetened iced tea or sweet tea from McDonald's. One TikTok user heard that his followers had suggested mixing the two and headed to the drive-thru line to try it for himself, and most importantly, to see if it really tasted like milk tea.
Dip and swirl a cone of vanilla soft serve into your McDonald's tea
Let's say you've hit a stroke of luck and the McDonald's ice cream machine has decided to work, blessing you with a drippy cone of vanilla soft serve. Seizing your chance to make milk tea happen, you'll want to dunk your handheld dessert into your tall cup of iced tea and swirl it around until it dissolves. You can watch how it's done in this video posted by Los Angeles-based creator, Food with Michel, as he clouds his drink with the ice cream before mixing it thoroughly with a straw.
Michel mentions that he got his tea unsweetened, and in the comments, more than a few people are questioning why he didn't just go with McDonald's fan-favorite sweet tea. In response, the foodie said he "felt like it might've combatted the ice cream's sweetness," which makes total sense if you don't want to overdo your total sugar intake. Although the beverage is fine to order for those hankering for it, every gallon of McDonald's sweet tea allegedly contains a heaping pound of sugar equal to two cups. Not only does choosing unsweetened iced tea keep sugar levels manageable, but you'll also be able to taste the creamy soft serve even better. Michel and other TikTok users have even tried the ice cream hack with black iced coffee and have produced equally scrumptious results. Coffee creamer might just have to take the backseat next time you order from McDonald's.