14 Best 4th Of July Restaurant And Fast Food Deals For 2023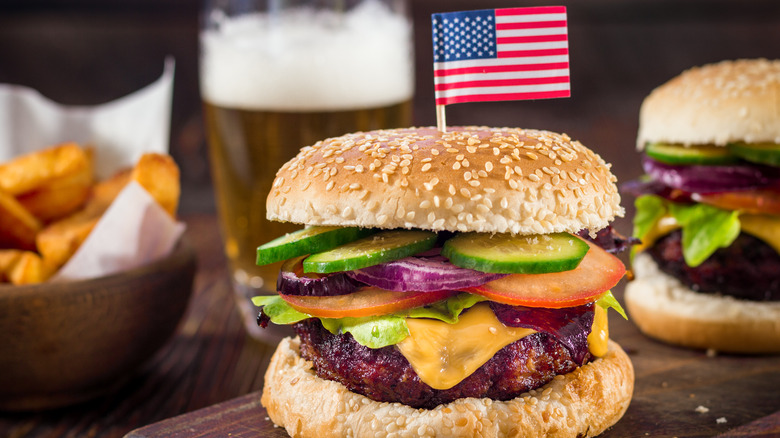 Nsphotostudio/Getty Images
The Fourth of July is traditionally a time for soaking up the sun, watching beautiful fireworks displays, tailgating, and, of course, barbecuing feasts with family and friends. But if you're more into having someone else do the cooking, or you want to grab a bite to eat at a restaurant earlier in the day before your festivities begin, we have a guide for you.
Although Independence Day is known more for its deals on furniture, vehicles, and other big-ticket items, it also offers a good amount of food deals that don't get advertised as heavily. Some restaurants and fast-food places even offer special promotions throughout the whole month of July to keep bringing people back throughout the summer. Whether it's a whole-month promotion or a special discount for the Fourth of July, there are plenty of ways to save money and enjoy delicious food while you celebrate the United States of America. Continue on to soak up the best Fourth of July restaurant and fast-food deals for 2023.
Buy a shake, get a shake free at Shake Shack
Need a way to pass the time while you wait on food to cook, or fireworks displays to start? If so, head to your nearest Shake Shack to buy a shake and get a shake free. This promotion runs through the end of July, so you can continue to celebrate all month long. Just be sure to order ahead of time using the website or mobile app, use code SHAKEITUP during checkout, and schedule your order to pick up between 2 p.m. and 5 p.m. to get your discount.
If it's your first time registering an account with Shake Shack to order on its website or app, you're even more in luck. New customers get a $5 "welcome" discount to use on their next order. After you place your BOGO shake order on the Fourth, you'll get a $5 discount emailed to you for use within 30 days. That's the perfect excuse to hit up Shake Shack again during the summer to cool off with one of its famous shakes.
Wear red, white, and blue to get a free Krispy Kreme donut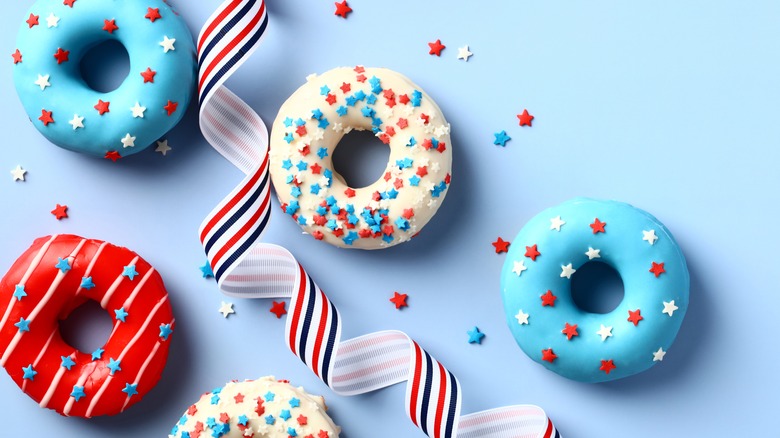 Savanevich Viktar/Shutterstock
Krispy Kreme hops into the Fourth of July spirit every year with its festive red, white, and blue donuts to celebrate America's holiday. This year is no different, as it's already started releasing its patriotic sweet treats for the Fourth, including a red velvet cake donut topped with confetti star sprinkles and an apple pie donut with caramel icing and a graham cracker crumb topping. You can order at your favorite Krispy Kreme or pick up a pack at a participating grocery store near you.
Unfortunately, you'll need to wait until the Fourth of July to get this year's holiday deal, which is a free Krispy Kreme donut, no purchase required. Pick one up in participating stores or grab one through the drive thru, but there's one stipulation: You must show off your red, white, and blue pride by wearing the colors when you visit. Check the Krispy Kreme website to see if your local shop is participating in the promotion.
Get extra reward credits from Rita's when you order a patriotic Gelati
If you haven't yet tried a 5-Layer Gelati from Rita's Italian Ice, there's no better day to do it than the Fourth of July. This sweet, cold, creamy treat is back on the menu for a limited time sporting its red, white, and blue colors and a whole lot of flavor. The 4th of Gelati 5-Layer Gelati is a patriotic delight made with red and blue Italian ice and layered with frozen vanilla custard. Rita's is keeping it available until July 9th this year, so don't worry if you can't make a visit happen on the Fourth.
Rewards members are in for an even bigger treat than just the Gelati. If you're not a member yet, you can sign up using the mobile app. During this promotion, Rita's is giving members double loyalty credits when they order the 4th of Gelati 5-Layer Gelati on the mobile app. That means you'll have one less visit to make to earn your next free goody from Rita's.
Buy a drink from Tim Horton's and get a free donut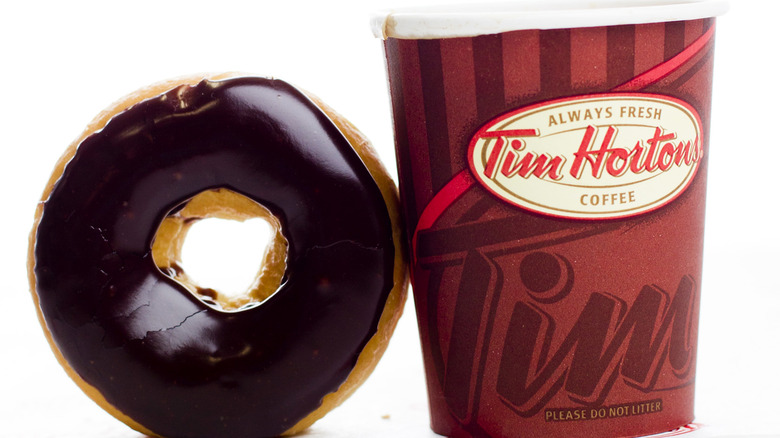 Bloomberg/Getty Images
Tim Horton's may be one of Canada's most prized possessions, but the company also caters to its American customers with Fourth of July savings. This Independence Day, Tim Horton's is treating its customers to a free patriotic donut when they visit. All you need to do to get yours is buy a drink from the restaurant using the Tim Horton's mobile app or website. Not a coffee drinker? That's okay. Tim Horton's also has tea, juices, and other drinks to quench your thirst as you enjoy your free donut. The discount automatically applies when you check out, so you don't need a special code to take advantage of this offer.
As you order, be sure to check the app for available rewards, as you might be able to score more free or discounted goodies before you finish your order. For instance, Tim Horton's frequently has app-exclusive BOGO deals, like BOGO breakfast sandwiches or $1 off with a purchase of more than $10. You can also earn points with your order to use toward rewards on future orders.
Get a $6 summer-ready margarita from Chili's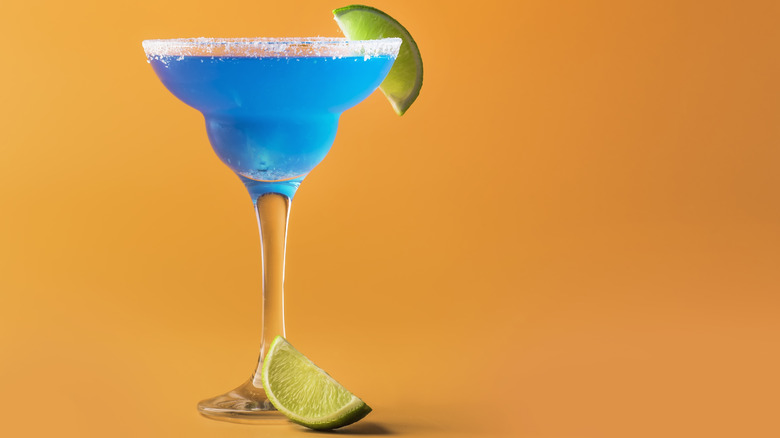 5ph/Getty Images
This July, Chili's is releasing a beach-themed margarita known as Bacardi Beach Party which customers can enjoy throughout the whole month. This includes the Fourth, as most Chili's restaurants are open for their usual hours on the holiday. This margarita is totally ready for Independence Day celebrations with its eye-catching blue hue and summer-worthy flavors. Made with Bacardi Silver Rum and Mi Campo Blanco Tequila and blended with coconut, pineapple, and blue curacao tropical flavors, this drink may get you in the mood for partying the night away. It may even get you in the mood to party the whole weekend away. 
As a bonus, the July margarita of the month is only $6, priced perfectly to share a drink or two with your family and friends. Chili's also offers to-go versions of the Bacardi Beach Party and its other tasty margarita options in specific states if you order pickup or curbside.
7REWARDS members get a free 7-Eleven Slurpee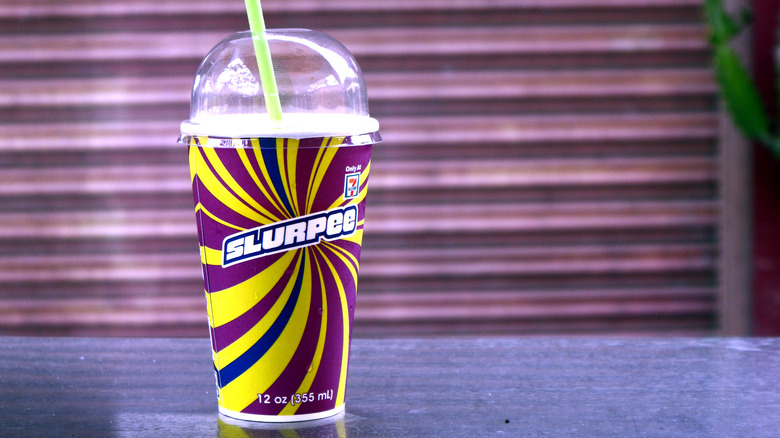 junpinzon/Shutterstock
Are you a rewards member at 7-Eleven? If not, consider signing up for 7REWARDS, the company's loyalty program for frequent 7-Eleven customers. While 7-Eleven gives away free Slurpees to all customers on July 11th to honor its birthday, only 7REWARDS members can grab a free Slurpee starting July 1st with special early access. That means that you can stop in on the Fourth of July to grab your free Slurpee before gathering with friends and family. 7-Eleven stores have various Slurpees to choose from, including the limited-time Summertime Citrus blended with orange and grapefruit flavors that exude summertime bliss.
As a 7REWARDS member, you'll continue to benefit long after you've sipped up your free Slurpee. The program offers tons of rewards through the 7-Eleven mobile app, including contactless payments, discounts on gas, and exclusive limited-time promotions to help you save on snacks, drinks, and other goodies you buy at 7-Eleven year-round.
Sonic cheeseburgers are half off on the Fourth of July
Burgers and the Fourth of July go hand-in-hand. What better way to celebrate America's birth than with a juicy, old-fashioned burger from Sonic Drive-In? Sonic is currently offering half-price cheeseburgers on Tuesdays when you visit after 5 p.m., perhaps to draw in more customers during a typically not-so-busy time. Lucky for us, the Fourth of July falls on a Tuesday this year, meaning Sonic customers can use the deal to pick up a discounted burger before enjoying the fireworks.
To get your half-price burger, be sure to use the Sonic mobile app or website to place your order at a participating Sonic. The promotion only works on regular burgers and doesn't apply to double patties, specialty burgers, or burgers included in combo meals. Need to order more than one cheeseburger? Sonic also has a two for $7 deal available any time.
Sip a Flag Margarita for less than $9 at Abuelo's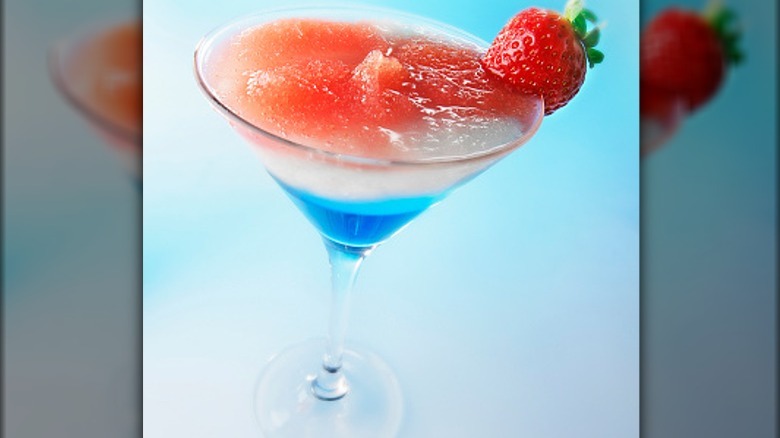 The-lightwriter/Getty Images
Abuelo's Mexican Restaurant likes to switch up its tasty margaritas for special occasions. In fact, one of its most beloved concoctions is its Flag Margarita, available around Cinco de Mayo each year, which is layered with the colors of the Mexican flag. Although the restaurant has perfected Mexican cuisine, it still jumps into Fourth of July celebrations. This year, you can get a Flag Margarita with the American flag's red, white, and blue for just $8.95 from July 3rd to the 7th when you dine in at your nearest Abuelo's.
For more rewards on your Fourth of July meal, consider signing up for Mi Abuelo's Rewards before you visit, which you can do on the website or via the Abuelo's mobile app. You'll start earning points on your first order, which you can later redeem for discounts when you dine with Abuelo's.
Celebrate with an upscale dinner for two at Morton's The Steakhouse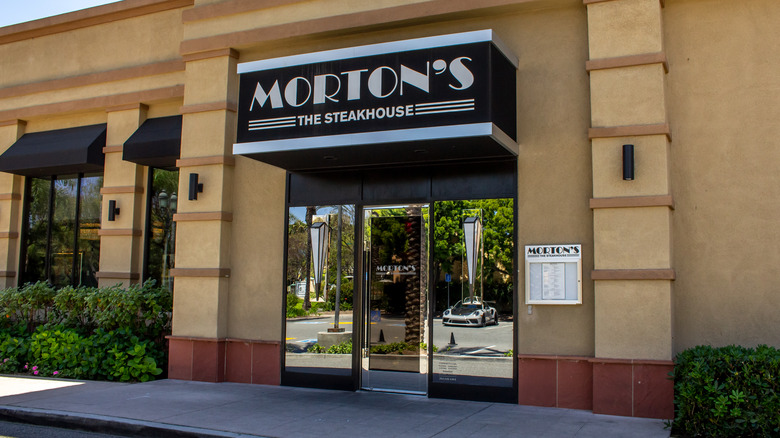 The Image Party/Shutterstock
Instead of the traditional, laidback cookout-style Fourth of July celebration you might be used to, think about trying something different this year. Morton's The Steakhouse is offering an upscale dining experience on the Fourth, complete with four courses to take you from empty bellied to stuffed and satisfied. The meal is available from July 2nd to the 6th and costs $129 for two people, making it an excellent option for couples looking for some quality time together.
The meal begins with three appetizer options, including prosciutto-wrapped mozzarella cheese and mini crab cakes. Then it moves onto a soup or salad before you dig into the main course featuring your choice of filet mignon, pork chops, salmon, lobster ravioli, or a New York strip. After that, you can top the meal off with a delicious chocolate mousse, hot fudge sundae, or key lime pie for dessert. Be sure to make a reservation ahead of time.
Kids eat free at California Pizza Kitchen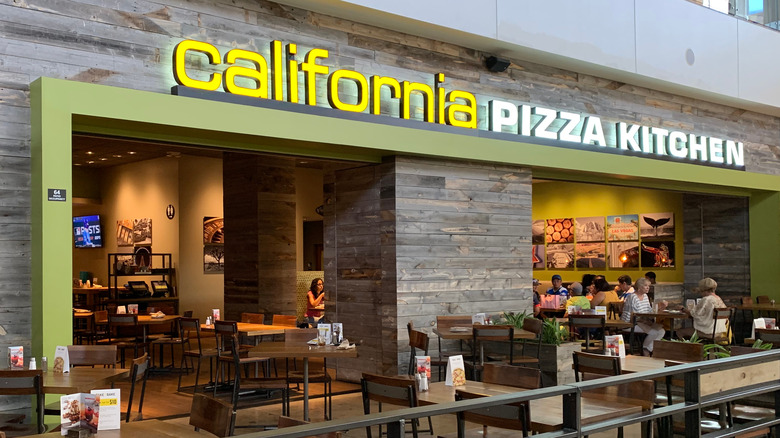 JJava Designs/Shutterstock
Pizza and pasta may not be the first choice for many people's Independence Day munchies, but when have you ever seen a kid refuse a slice of pizza? If you want to make sure the kids enjoy what they love on the Fourth of July, perhaps you can take them to your nearest California Pizza Kitchen where they eat free throughout the month of July. The deal is available every Monday through Thursday for dine-in, takeout, and online orders when you use code CPKIDS.
Kids can choose any CPK kid's meal for free, with options including a build-your-own pizza kit, buttered fusilli, a salad, a grilled chicken breast, and a bunch of others. To get the deal, simply order a regular menu item. Each check can get up to two free kids' meals, so it's a great way to affordably feed the whole family. While you're there, consider trying one of CPK's seasonal drinks, like the Fresh Strawberry Mango Cooler or the Sparkling Watermelon Cooler, to get you in the mood for the day's celebrations.
Get your Fogo de Chão order delivered free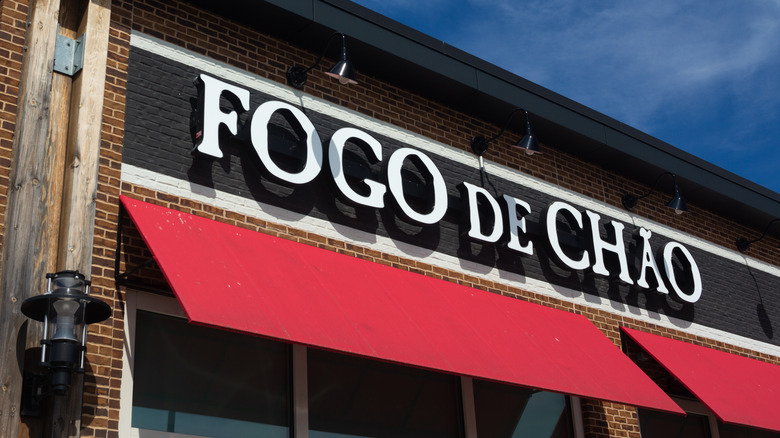 Youngvet/Getty Images
Want to spend your Fourth of July celebrating the fact that you can eat delicious cuisine from other cultures right here in America? If so, consider placing an order from Fogo de Chão, a steakhouse that brings traditional Brazilian food and flavors to American diners. Starting June 30th and extending through the Fourth of July, Fogo de Chão is offering 100% free delivery with to-go orders, so you can get steak, lamb, chicken, and more, delivered straight to your home to make your Independence Day memorable.
The to-go menu varies slightly between locations, so be sure to look for your local Fogo de Chão on the website before placing your order. Most restaurants offer combination platters with a choice of one protein and two traditional Brazilian sides, plus a la carte meats, sides, drinks, desserts, and more. You can place your order online and use code FREEDELIVERY to take advantage of the offer.
Make a donation and get free ice cream or food at Freddy's
For Independence Day 2023, Freddy's Frozen Custard & Steakburgers is giving away food to its customers who order inside or through the drive-thru. Freddy's is giving customers a free single cake cone or dish beginning June 28th and running through the Fourth of July when they donate $1 when placing their regular order. The donation goes toward the Folds of Honor Foundation, a charity that provides scholarships to support the education of children of fallen or injured military service members.
According to its website, Folds of Honor was founded in 2007 by Lieutenant Colonel Dan Rooney. Throughout his time in the service, Rooney routinely saw the devastation families face when their loved ones return home disabled or not at all due to their military service. His desire to help sparked the idea for Folds of Honor, which has awarded over 44,000 education scholarships since its founding. By participating in this Freddy's deal for the Fourth of July, you can do a little bit to help out veterans' families and enjoy Freddy's famous custard treats for free.
Score a multi-course meal at The Melting Pot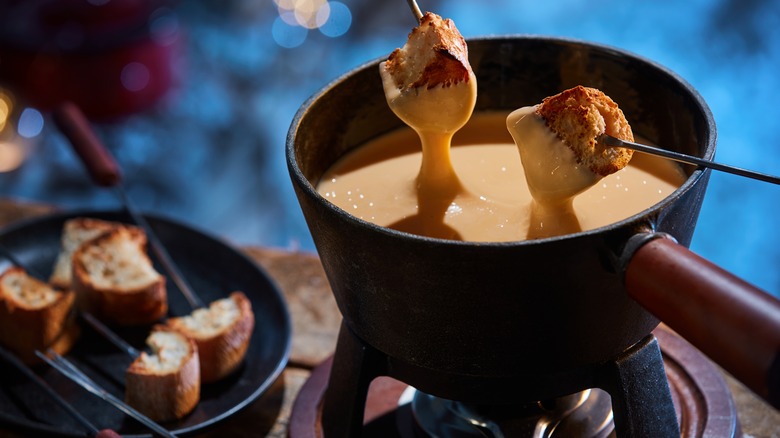 stockcreations/Shutterstock
The Melting Pot offers a unique dining experience, filled with breads, cheeses, wine, and more. If you and your friends or family are still trying to decide what to do for the Fourth of July, think about enjoying a meal at the nearest Melting Pot location. Through July 26th, the restaurant is offering a special multi-course meal, only available on Mondays, Tuesdays, and Wednesdays. Luckily, this Fourth falls on a Tuesday, making it an excellent way to experience a celebratory evening.
For $52 per person, The Melting Pot is serving three-course meals with salad, an endless entrée, and chocolate fondue. Diners can choose between shrimp, steak, dry-rub pork, and chicken breast for their entrée or bump up their meal to a premium option, like filet mignon or wild mushroom ravioli. The Melting Pot also offers wine and cocktails like the Berry Bubbly Spritz, perfect for toasting with your group.