The Best And Worst Jobs At Costco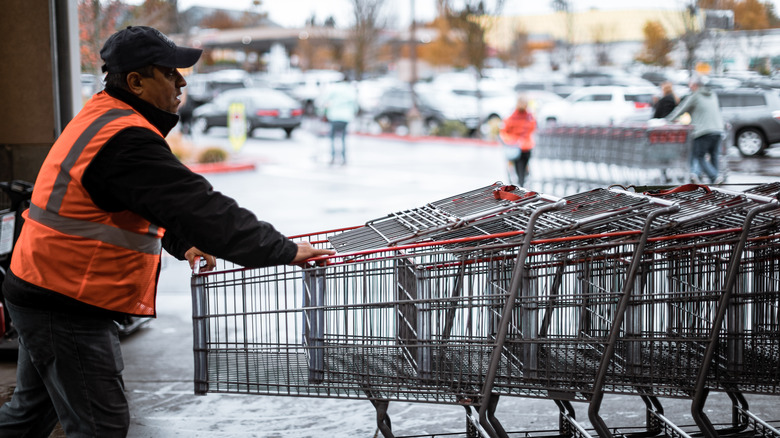 ARTYOORAN/Shutterstock
We all know how enjoyable it can be to shop at the insanely successful global retailer Costco Wholesale ... but is it just as enjoyable to work there? Obviously the company is doing something right by its employees, winning Comparably's Best Company for Perks and Benefits award in 2022, as well as the title Best Place to Work in Seattle, where the company's worldwide headquarters are based. It was also given an A+ by workers for overall culture score, assessing things like employee perks, approach to gender issues, and overall team experience. Job security, great pay, benefits, and opportunities for professional development have made Costco known as the best company to work for, and the retailer receives hundreds of applications a month from would-be employees hoping to don the company's signature red vest.
However, things aren't always sunshine and rainbows for every hire you see gracing the massive aisles of your favorite warehouse. Check out our list of the best — and worst — jobs a person can have at Costco Wholesale.
Worst: front end cashier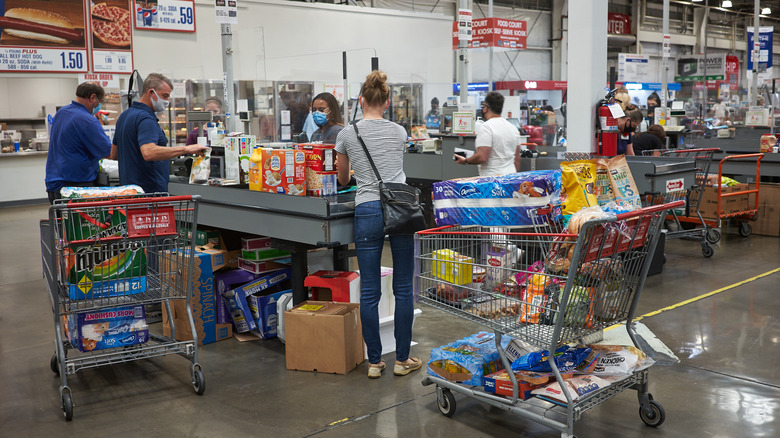 Tada Images/Shutterstock
We've all felt it; the instant anxiety that is walking into Costco on a slam-packed day. People are crawling over each other, carts are ramming into one another, and right as you've just barely managed to navigate the store with all your items in tow ... you get to the checkout line. As awful as it is to be the customer standing in the row wrapped around the snack aisle, imagine how it is for the cashier at the front of it all, trying to keep up.
As you can surmise, being a front-end cashier at Costco is fast-paced, and one of the highest-stress jobs in the bunch. Accuracy is very important, as double scanning an item or forgetting to check an I.D. on an alcohol purchase during checkout will slow down the process and back things up even further. A lot is expected, and there is very little room for mistakes. The job involves constant vigilance, standing for long periods of time, and, as one employee on Reddit brought up, pushing Costco programs at the direction of management on customers who may not want to hear it. This makes it a pretty poor fit for people with social anxieties. In addition, although it has some of the best-paying hourly rates in retail at 44% above the national average, it can take years to get to full-time status.
Worst: cart attendant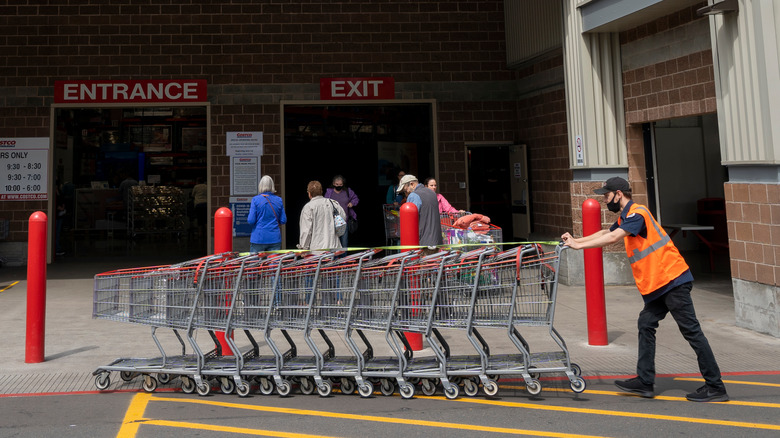 Tada Images/Shutterstock
Roped in with the front-end staff, a cart attendant's job is just what it sounds like: moving carts from point A to point B, to and from the parking lot. An entry-level position, the job will be slightly easier to obtain, but the starting pay will be some of the lowest in the warehouse. One user on Reddit within the subreddit r/Costco described cart pushing as the most physically demanding of the front-end duties. Another employee also recommended gloves, since many members will simply leave their trash inside the carts for the attendant to clean up.
One thing that can't be denied is that a cart pusher will definitely get their steps in – one employee reported 17.5 miles and 33,000 steps were the numbers recorded on his Fitbit after an eight-hour Saturday shift. He also stated he had lost a substantial amount of weight since embarking on his new career path. We're not sure if we should consider that last part a good thing or not.
Worst: greeter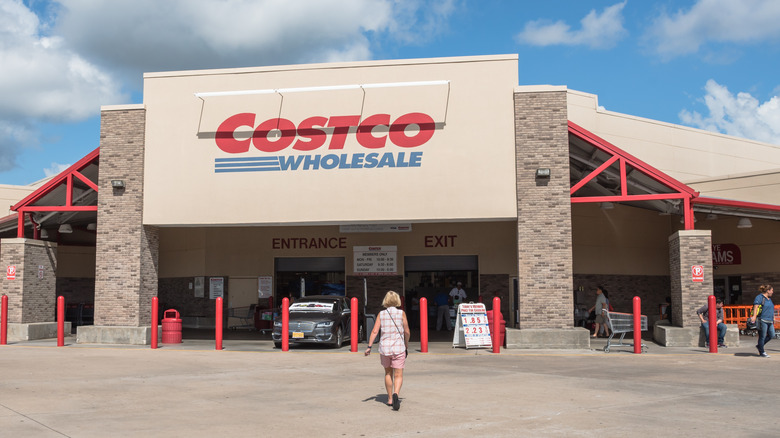 Trong Nguyen/Shutterstock
There's a lot of hustle and bustle happening at Costco on any given day, so spending a lot of time on your feet as an employee is to be expected. Walking about, however, is not the same as standing in one place your entire shift. This is exactly what greeters, the people who check cards at the door, have to do.
Standing in the same spot for a very long time is not only painful but exceptionally uninteresting. Regardless if an employee is bored out of their wits, though, they have to try and hide it behind a smile. Being the very first interaction with customers means that greeters are expected to be warm, ideally grinning at each guest as they wave them in — setting them up for sore cheeks right along with sore legs at the end of the day.
In addition, these employees face their share of confrontation. Members who have forgotten their cards are ushered, likely unhappily, to the customer service desk for a temporary card, while non-members who show up trying to gain access to shop often have to be turned away outright — something which can quickly turn into an ugly scene requiring a supervisor. Both cringey scenarios, indeed.
Worst: supervisor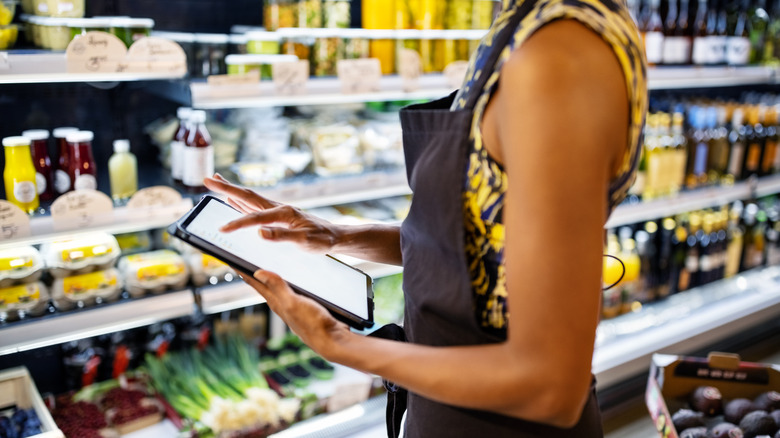 Alvarez/Getty Images
You may think moving into a supervisor role would come with nothing but positives, and there are certainly real reasons to celebrate. The employee's pay jumps, and they've been recognized as someone who can take charge and handle higher levels of warehouse responsibility.
However, a real-life Costco employee on Reddit in a thread titled Employees of Costco: What has been the hardest job? called being a supervisor a horrible position, referring to it as basically a babysitting gig ... and subsequent commenters agreed. A front-end supervisor's main role is to handle personnel problems, and therefore, they get yelled at by shoppers, employees, and management alike. They are also often micromanaged — some might even go so far as to say bullied — by the general managers, with one user on the same thread claiming that in one incident, a former front-end supervisor at their location was reduced to tears by their warehouse GM. Icing on the cake of what sounds to be a pretty stressful position in our book.
Worst: maintenance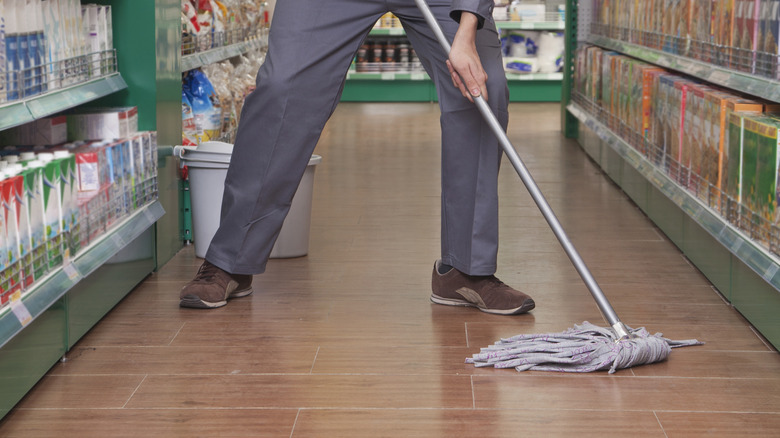 Xixinxing/Getty Images
Clean-up on aisle 12! No, really. When a kid projectile vomits on their way into the bathroom or someone drops a gallon of milk that explodes all over the floor in the cold room, who gets called to clean it up? You guessed it. Swinging in as the dirtiest job at Costco Wholesale is maintenance.
The majority of a maintenance assistant's day will be spent emptying trash cans, sweeping, cleaning break rooms, or scrubbing messes ... some of which can be pretty nasty. According to one Redditor under the name costcomaintenanceguy in the subreddit r/Costco, the workers are also watched constantly for productivity — in other words, they better stay busy. It is physically demanding work, and because starting maintenance assistants tend to be less specialized and less senior, they are often given the less desirable closing shift. By the time the massive warehouse floors are cleaned with the Zamboni and every bathroom is thoroughly disinfected and restocked, a closing maintenance shift employee may not find their way home until 10 p.m. during the week. Although the pay is 15% over the national average for other positions within the same field, we can't deny it sounds pretty exhausting.
Worst: food court attendant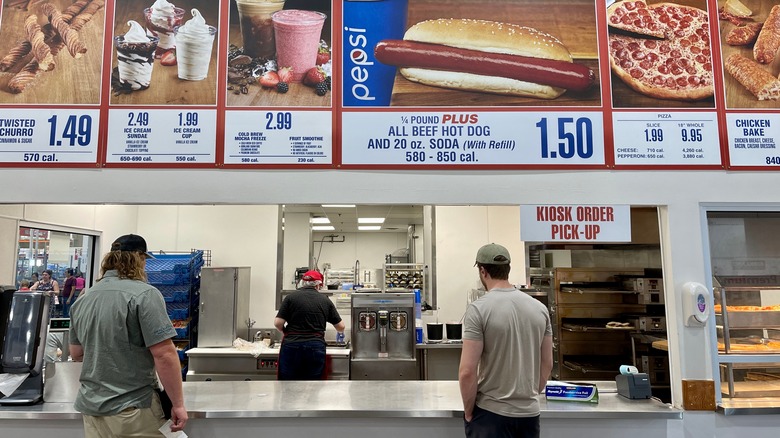 Ant DM/Shutterstock
The food court is often described as a stepping stone for entry-level Costco employees, a place to get one's foot in the door, but not the department one generally wants to stay in forever. This is because being a food court attendant is considered a very psychologically stressful job. According to an employee on Reddit, shift employee #1 may be doing all of the following at once: kneading dough, putting together pizzas, popping in those pizzas while pulling out chicken bakes, slicing completed pizzas, and placing finished meals inside boxes they must also assemble on the spot. Shift employee #2 may be in charge of hot dogs and all cold food items while simultaneously taking new orders and working the cash register. In this rotation, these same two employees may feed 200 to 400 people in a single hour during meal rush times. Talk about demanding and fast-paced work.
Food court attendants are, at least, paid decently for their toils — on average, an employee in food service at Costco makes $17,087 per year more than the average food service employee nationally. Still, due to their low visibility, food court attendants are often overlooked and underappreciated. They work long hours, deal with hungry, impatient customers, and leave work sweaty, dirty, and tired.
Best: meat cutter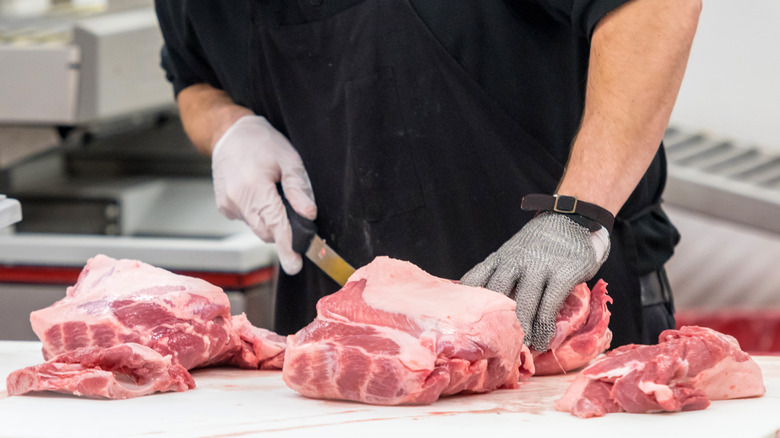 Juanmonino/Getty Images
All those delicious high-quality cuts of meat basking in the chill for your selection at Costco have to be sliced and prepared by someone. Cue the meat cutters, some of the highest-paid non-management employees other than pharmacists. Their yearly salary is listed at a whopping 45% higher than the national average within the field, with fabulous benefits. The competitive position is sought after for other reasons, too, such as its reportedly great work environment by former and current employees, and operating out of sight and away from the shopper base — meaning cutters don't have to manage customer service issues while simultaneously hauling raw meat, making cuts, and operating slicers.
Actually obtaining a position as a meat cutter at Costco, however, is extremely difficult. Turnover is low, and because employees do not leave their positions often, new ones rarely open up. If and when one does, Costco tends to promote from within its ranks of existing hard-working employees waiting for their shot instead of hiring from the outside.
Best: pharmacist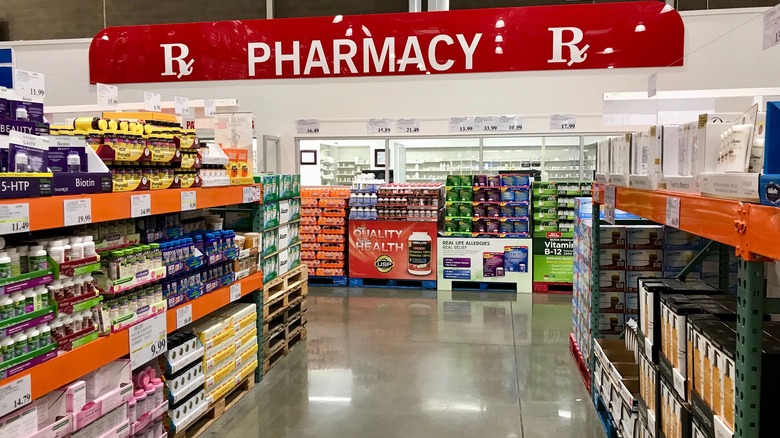 Cassiohabib/Shutterstock
Costco is ranked as the top place to work as a retail pharmacist. Employing some of the single highest-paid non-management workers in the warehouse, the pharmacy department is described by users on Reddit under r/pharmacy as being "community pharmacy heaven." 
Aside from the great pay and benefits, the department also has built-in mandatory breaks for its employees, something not always provided by other pharmaceutical retailers. Open 10 a.m. to 7 p.m. Monday through Friday, a pharmacist working for Costco will likely also have more desirable hours than their counterparts working in a hospital setting — some of which are open 24/7 and include night shifts and holidays. Just like in any other department, things can get busy, but being a specialized division keeps the pharmacy shielded from the full blast of the staggering number of shoppers. There are opportunities for learning and professional development through an appropriate, even enjoyable, amount of guest counseling and interaction. All in all, sounds to us like a recipe for fulfillment — and even happiness — in one's professional life. 
Best: optometrist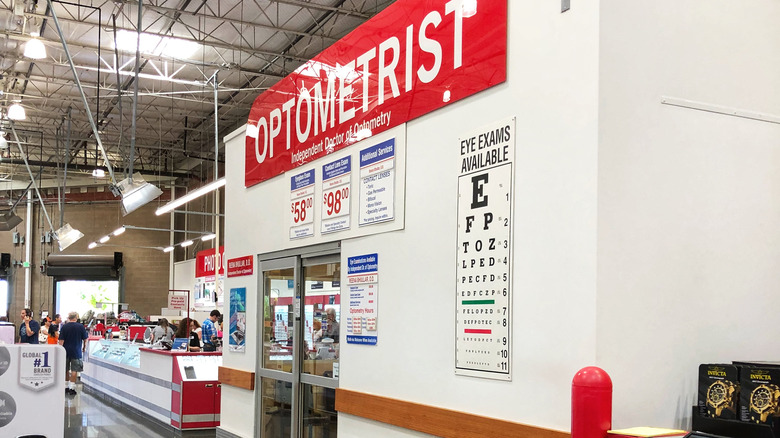 Cassiohabib/Shutterstock
Everybody knows someone who has updated a prescription or snagged a new pair of eyeglasses via Costco's optical department, but what makes this particular division unique is that the optometrists themselves are actually independent contractors. Licensed doctors in eye care will sublease a space from Costco and run the medical side of things, such as exams, while Costco itself manages the retail aspects — selling new glasses and hiring opticians to aid guests in the ordering process and the fitting of new lenses and contacts.
Whether a licensed optometrist or an optician, the optical department is considered an excellent place to work. Doctors love the consistency of patient volume and that Costco gives them the freedom to practice, while associates and opticians alike praise the pay, benefits, room for growth, and fun work environment. Under the subreddit r/Costco in a thread titled Costco vision jobs, one user working in Walmart's vision department was universally encouraged by other commenters to make the switch to Costco vision if they were able. A few users, having done the same, stated it was the best professional decision they'd ever made, while another mentioned a vast improvement in clientele between the two stores.
Best: tire shop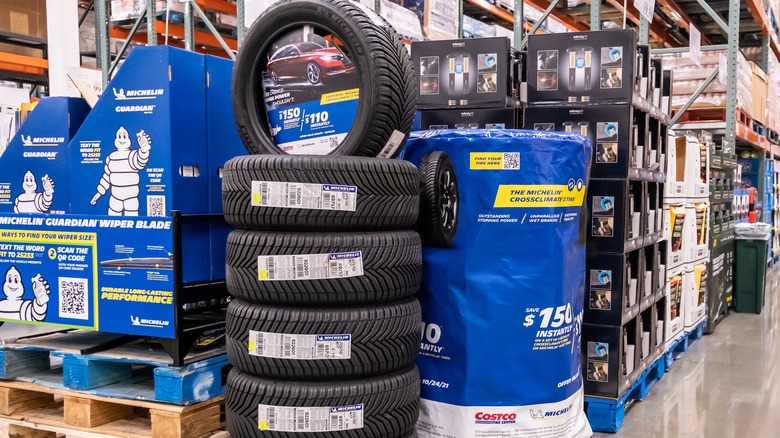 calimedia/Shutterstock
Ever knocked out your shopping while your car gets a tire rotation? Well, you can at Costco! The tire center offers pressure checks, tire balancing, tire changes, flat repairs, and the like. Of course, this requires a crew — a crew with a gig that is apparently pretty great. While their salaries begin at a rate 36% higher than the national average, they go up pretty quickly with the number of hours worked. It can be busy, but the job is very specialized and there is little direct shopper interaction. Many employees report it to be a good work environment with a great atmosphere, especially if you have a good team. And the chances for a good team are pretty high; given Costco's proclivity for hiring within their ranks of established employees who have passed the 90 day probationary period, there is little chance an employee will find themselves on a team of slackers.
Although we would imagine there is a bit of grease and heavy lifting involved in this position, one employee on Reddit stated that the rest of Costco's departments refer to the tire shop as being the "cake" job of the place. However, it is removed from the rest of the warehouse, so it can make it trickier to stand out if one is looking to move into a new department.
Best: stocker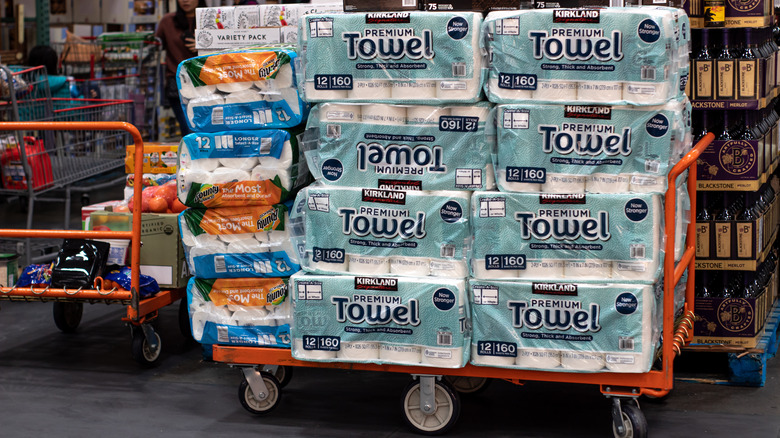 Kevin McGovern/Shutterstock
There are only a handful of people who will ever get to see what a Costco warehouse looks like when it is completely void of customers ... and the employees known as stockers are part of that lucky few.
The people who get every massive bag of pancake mix, box of black beans, container of hummus, and cart full of eggs placed and ready for the shoppers when the doors open are called the stockers. They work primarily early or late, before opening or after closing, in an environment clear of a crowd. One employee on a Reddit thread titled Stocker Position – What's it really like? said that her morning team is often blasting music, laughing as they work, and yelling at each other from across the warehouse. Although it can be physically demanding, most employees report that the work itself is not backbreaking — and, because few managers are around so early or so late, employees don't have that uncomfortable feeling of anyone breathing down their neck. This coupled with zero angry customer interactions leads to an overall vibe that seems to be pretty relaxed. The average stocker at Costco makes $17.70 per hour, 22% higher than the national average. There is also a fairly streamlined opportunity for growth to become a warehouse stock supervisor.
Best: front end assistant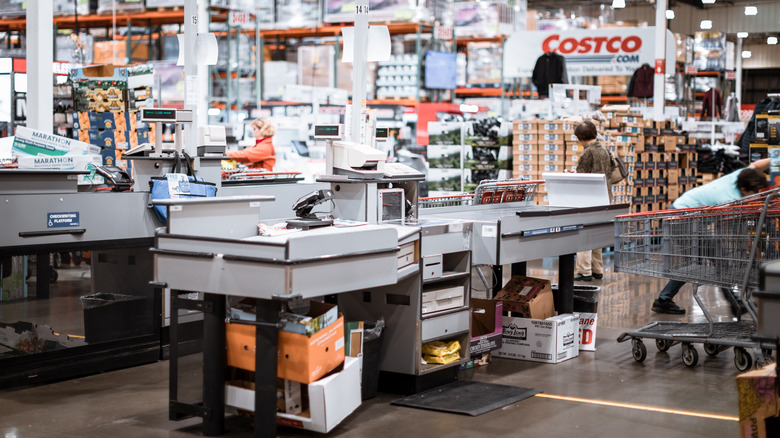 ARTYOORAN/Shutterstock
The most multifaceted of Costco's positions, a front-end assistant is there to help things at the front of the store run as smoothly as possible. This can mean anything from moving carts to directing checkout line traffic, to assisting the cashier, unloading groceries onto conveyor belts, and packing boxes. Every day looks a little bit different for these employees, and while the job can be hectic, there are a number of positives.
For starters, as one of the largest entry-level jobs, an employee has perhaps the best chances of getting their foot in the door at Costco by applying for the front end. Not only is it great pay for a starting retail job (averaging $17.95 per hour), it is also a very high visibility position — meaning employees who work hard will stand out quickly to management. This is a great opportunity for those looking to move up within the organization, or who are interested in staying with Costco for the long haul. Moments to shine are plentiful, such as asking the next customer in line for their membership card before they even get to the conveyor belt or turning barcodes up in the cart for easier scanning — both of which are appreciated greatly by cashiers according to employees on Reddit. Viewing every moment as a learning opportunity to develop a greater understanding regarding the ins and outs of the warehouse and the company itself is the very best thing a front-end assistant can do to ensure a successful, continuing, and fulfilling career at Costco Wholesale.