Costco's Rotisserie Chicken Pizza Hack Is So Extra That It's Genius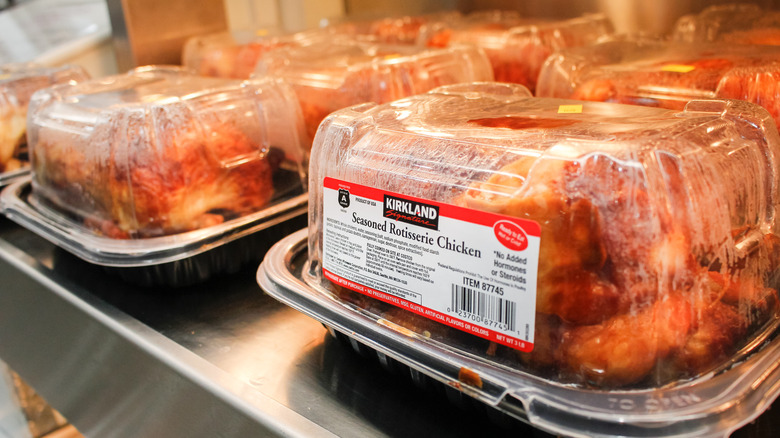 The Image Party/Shutterstock
Some people might love the thought of diving into a cheesy slice of Costco pizza from the food court after spending time perusing all the bulk buys the warehouse offers. However, since losing the beloved combo pizza to the coronavirus pandemic, there are only two flavor options available: cheese and pepperoni, and switching back and forth between the two can get a tad monotonous after a while. Fortunately, the internet has done what the internet does best, and we now have a brilliant – albeit slightly extra – hack for upgrading a post-shopping slice.
Credit for this mouthwatering creation goes to TikTok user @callmebelly, who revealed in a post back in February how they take their 'za from boring to bomb-tastic using another Costco fave. The video starts with them holding a plate with a single slice of cheese pizza from the in-house eatery, and then, in an interesting turn of events, they pull out one of the grocer's signature rotisserie chickens and start shredding some of it up.
Next, the TikToker places the pieces of poultry in a plastic bag that they grabbed from the meat section, douses it in barbeque sauce, which they picked up during their Costco haul, and gives it all a good mix. Once the chicken is evenly coated, they spread it evenly on top of their pizza to create, that's right, a slice of barbeque chicken 'za.
"I'm a genius for this," they captioned their post. We can't say we disagree.
BBQ chicken pizza is on the menu at some Costco food courts overseas
TikToker @callmebelly was really on to something when they transformed their slice of cheese pizza from Costco's famous food court into a succulent barbeque chicken-topped masterpiece. With over 3,000 likes on the video, it seems like several other TikTok users think so, too.
"I was afraid of where this was going but that does look really good," one person commented on the video. "I just tried this after watching our video. So good, thanks friend," another wrote. A third person, meanwhile, offered the idea of dousing the poultry in buffalo sauce as opposed to barbeque sauce to create a buffalo chicken pizza, which we have to admit sounds just as good.
For those who don't want to DIY their own Costco barbeque chicken pizza, there are a few food courts out there offering it on their menu – though some may have to hop on a plane to sink their teeth into a slice. It has been spotted by members of the Costco Reddit page at warehouses in New Zealand, England, and Spain.
Additionally, for those who may be stuck stateside and don't feel like being as extra as the TikToker at the food court, or perhaps just don't like barbeque chicken pizza, the internet has come up with another creative Costco pizza hack: the Cheesy Blaster, which is the ultimate food court hot dog that involves wrapping the weiner in a slice of 'za.