Your Next Limoncello Spritz Deserves A Scoop Of Ice Cream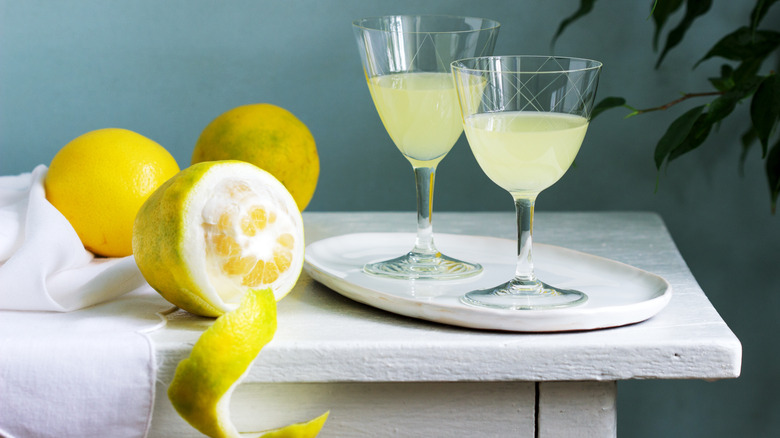 Janna Danilova/Getty Images
On the hunt for an elegant summertime libation? Look no further than the limoncello float. If you're a fan of a simple limoncello spritz, this dessert cocktail will take one of your favorites to new heights. A harmonious marriage between limoncello, sorbet, and the effervescent embrace of prosecco, this unique cocktail is a modern twist on the traditional sgroppino — an Italian dessert that typically combines vodka, lemon sorbet, and prosecco.
This Italian-inspired concoction is akin to an adult root beer float, combining tangy citrus notes, bubbly effervescence, and velvety sweetness into one sip. The zesty and vibrant essence of limoncello — a popular Italian aperitif — brings a natural tang to refreshing sorbet for an orchestra of summertime flavors. The sorbet's creamy quality provides a gentle backdrop, as fizzy bubbles provide a funky, tingly texture for the tastebuds.
The dessert cocktail is perfect for a pool day, picnics with friends, or after a hearty meal for a refreshing, light contrast to a robust dinner.
Customize your limoncello float
Although one TikTok creator shared a recipe that called for the usual suspects — limoncello, sorbet, and prosecco, there are plenty of ways to trick out your boozy float match your personal tastes.
Consider experimenting with other Italian fruit liqueurs such as fragolino or frambolino in your fizzy cocktail. These limoncello-adjacent liqueurs offer distinct fruit aromas courtesy of raspberries and strawberries for a departure from their lemon counterpart.
If you want an even creamier fizzy float, swap dairy-free sorbet for sherbet. Sherbet, with its addition of milk, provides a layer of richness that melds with the tang of limoncello and the buzz of prosecco. If you're not a fan of either, try using a neutral-flavored ice cream like vanilla instead.
If you want something closer to a traditional sgroppino, consider adding a shot of vodka to the float. Experiment with flavored vodkas like grapefruit, lime, or refreshing cucumber to bring out the bright characteristics of limoncello.
When you're feeling extra-sweet, garnish your cocktail glass with a sugar rim for a candied bite that also adds an element of sophistication to the drink's presentation. Dare we suggest crushing up lemon candy with sugar for an even funkier cocktail rim?
Cool off this summer season with this refreshing cocktail float, just remember, always drink responsibly!