Foster Farms Mini Chicken Corn Dogs Are Being Recalled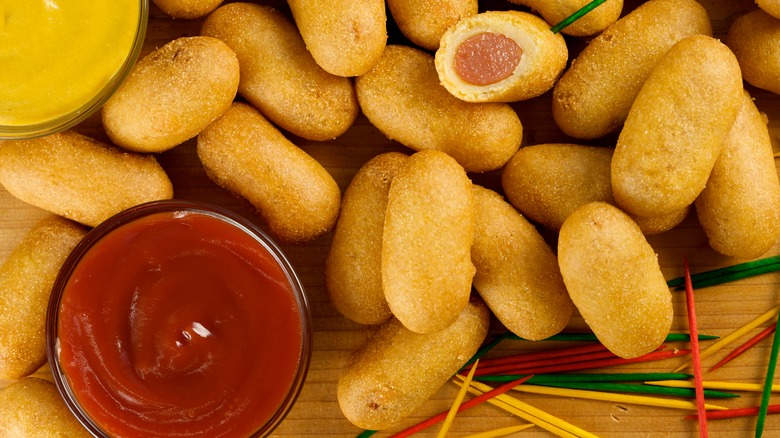 jluke/Shutterstock
Corn dog fans, check your fridges and freezers: House of Raeford has issued a recall for Foster Farms' mini chicken corn dogs following reports of potential spoilage. As a result, nearly 77,000 pounds of corn dogs are being recalled due to these safety concerns. The recall affects 1.83-pound packages of Foster Farms Mini Corn Dogs Bite-Sized Chicken Franks Dipped in Batter Honey Crunchy Flavor. Be on the lookout for bags produced on April 24, 2023 with a best-by date of April 23, 2024. The affected lot numbers are 123114 and 223114 and have establishment number P-9136 on the package. 
While the United States Department of Agriculture (USDA) press release does not specify any grocery stores or supermarkets, or other retailers, for that matter, that sell the affected mini chicken corn dogs, it notes that these products were shipped nationwide. A Foster Farms press release states that signs of spoilage associated with the product include an unpleasant smell, taste, and a different appearance from the company's standard. Fortunately, no illnesses have yet been reported.
Recalled Foster Farms mini chicken corn dogs should not be eaten
The first ingredient listed on the Foster Farms mini chicken corn dogs is chicken, which appears to be the interior of the corn dog. While it is unclear if the chicken is the source of the spoilage in these specific corn dogs, if it is, Healthline notes that eating spoiled chicken can be dangerous. 
Generally speaking, you should watch for any signs your food has gone bad. However, some telltale marks of spoiled chicken include meat turning gray or green, smelling more acidic than usual, or having a noticeably slimy texture. Eating spoiled chicken can cause food poisoning, which carries symptoms that include fever, stomach issues, gastrointestinal problems, and dehydration. If you have eaten Foster Farms mini chicken corn dogs and are not feeling well, it's advised to seek medical attention. 
If you have purchased Foster Farms mini chicken corn dogs with the recalled package data, it's best to throw them in the trash or return them to the store where you purchased them for a refund. Do not eat them. Customers are urged to contact House of Raeford Corporate Communications Manager Dave Witter at 910-282-7179 with questions, per the USDA.