Give Leftover Birthday Cake New Life With This Strawberry Shortcake-Inspired Tip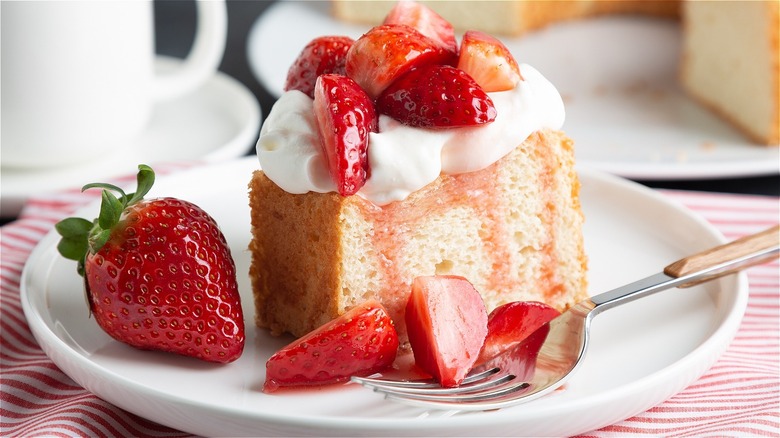 asife/Shutterstock
We will never cease to be amazed at the versatility of the humble Costco vanilla half-sheet cake. For $19, you've got a cake that serves around 30 to 40 people. We've seen it transformed into wedding cakes, though it also works well for a backyard barbecue or birthday party. With such a huge cake, you're bound to have a few leftover slices — you can only eat day-old birthday cake so many days in a row. However, there's an easy trick to transforming the 9-pound sheet cake scraps into a delicious summer dessert: strawberry shortcake. 
One TikToker shared a video explaining the hack: Just scrape that extra frosting off with an angled spatula, cut the cake into smaller slices, and put the pieces on their sides. Then, just as you would a classic strawberry shortcake, top it with whipped cream and sliced strawberries. 
While strawberry shortcake is typically made with short crumb pastry, who's got the time or the patience to turn the oven on in the summer? Especially when the Costco sheet cake is light and fluffy — this is the perfect summery dessert and a great way to get rid of leftover birthday cake. It allows you to get two unique desserts out of a single $19 cake that you didn't have to bake or decorate.
Give the Costco cake an upgrade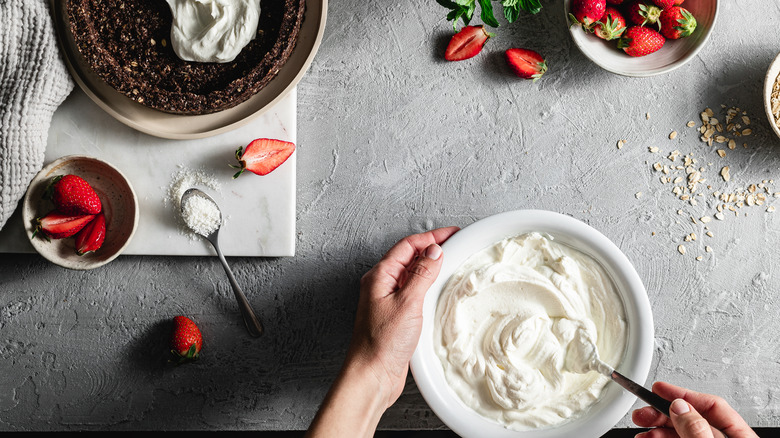 Alvarez/Getty Images
The formula — strawberries, cream, and leftover cake — is basically impossible to mess up, and even a canister of sprayable whipped cream will do. But there are plenty of ways to give it a solid upgrade. To start, cut the strawberries into slices and let them sit in a bowl with some sugar or honey for a few minutes before putting them on the cake. This will give the strawberries a chance to release their juices, which you can then drizzle onto the cake for some extra sweetness and moisture. 
When it comes to whipped cream, nothing beats freshly whipped. A basic whipped cream recipe is typically heavy cream, vanilla, and powdered sugar, which you then whip either manually with a whisk (be sure to do some arm stretches for this) or with an electric mixer. But to give it a special touch, try adding some ground cardamom or lemon extract to the mix. Cardamom has a pleasant spice to it, while lemon is fresh and zesty, and both complement the saccharine sweetness of strawberries.