A TikToker Sounds Exactly Like A Keurig Coffee Maker - And It's Too Real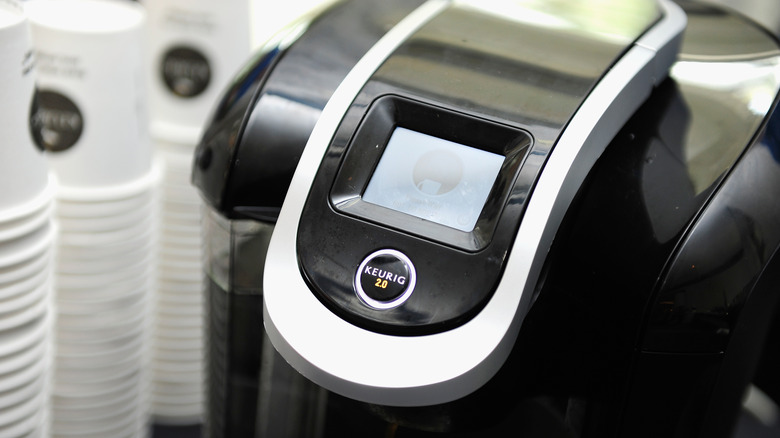 Sergi Alexander/Getty Images
It's a sound we all know and maybe even love: your Keurig making you a fresh cup of coffee or tea to start off your morning. Sure it makes a lot of gurgling and water-sucking noises, perhaps sometimes so loud it makes you wonder if the machine is working properly, but the ease of making a single-portion cup of your favorite morning beverage is worth it.
Recently, a TikToker named Devon Bowker went viral for a video featuring his impression of the noises a Keurig machine makes. The video is a minute long, and Bowker's recreation of the Keurig song is uncannily similar to that of the real machine. "How'd I do?" Bowker captioned the post. Some of Bowker's 12 million followers took to the comments to share their two cents, such as David who wrote, "Breathtaking performance," a comment which has garnered almost 82,000 likes as of this writing. JRGrantPerry, on the other hand, was even more impassioned: "You transported me. It was early. I could smell the coffee. Bravo."
What other coffee maker noises can be replicated?
TikToker Devon Bowker spoke with Today about his viral video featuring him imitating the sounds of a Keurig coffee maker. Bowker is a tenth grade biology teacher who says he routinely performs this impression for his students, a schtick which generally garners what you might expect from teenagers: a sigh. But Bowker notes his impression is a lesson in "not being afraid to be kind of off the wall and silly." As for Bowker's favorite K-Cups, he says he generally opts for the Pacific Bold roast sold at Costco or Starbucks' Pike Place roast.
But Bowker isn't done yet. He's been challenged to do impressions of a French press and espresso machine, to which he says, "Yeah, I could pull that off, I bet." We have to assume that his impression of an espresso machine, which he's already planned out, will be well-received, considering there are already YouTube videos out there featuring "relaxing" espresso sound effects. Sounds like taste isn't the only sense that coffee appeals to.