The Regional Soda You Should Use To Make Homemade Barbecue Sauce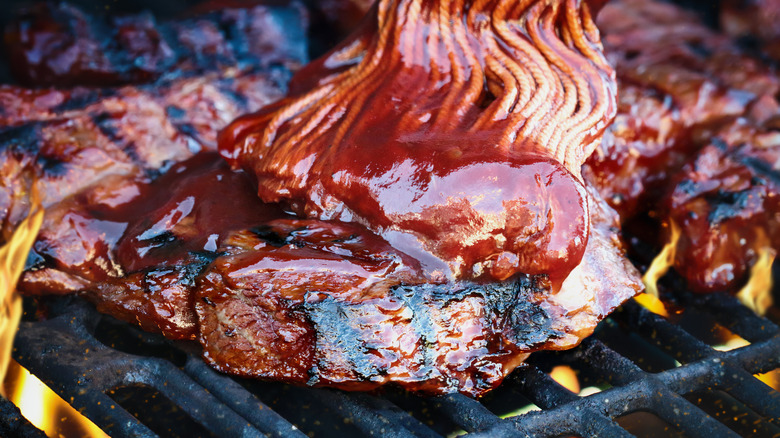 Stephanie Frey/Shutterstock
In the Southern part of the United States, barbecue is a big deal. As such, we tend to trust their judgment in all things grill related — even if some of their ideas may seem a little outlandish at first glance. We listened when they told us to add root beer and other flavors of soda to our homemade barbecue sauces, and we're certainly glad we did. Now Southern grill masters are letting us in on the secret ingredient they're using to take barbecue to a sticky sweet new level: Big Red Soda.
In a video that has amassed hundreds of thousands of views, TikTok user Arnietex shares his recipe for homemade barbecue sauce using Texas' own Big Red Soda. He begins by popping a can of Big Red Soda and emptying its contents into a saucepan. As the shockingly red liquid simmers, he stirs in red pepper jelly and fruit chutney before adding ketchup, brown sugar, Worcestershire sauce, apple cider vinegar, and some liquid smoke. Things start to heat up as he adds pepper, smoked paprika, and chili powder to the mix. After tossing in a touch of pectin for thickness, Arnietex says the sauce should be simmered for 30 minutes before adding it directly to your cooked meat.
Big Red Soda and barbecue: a match made in heaven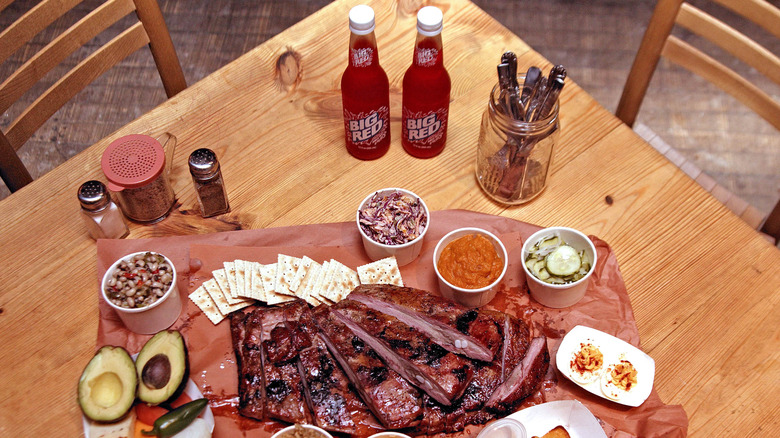 Bloomberg/Getty Images
Born in Waco, Texas in 1937, Big Red Soda holds a special place in the heart of Texans. It has a cheerfully unnatural color and a flavor profile that is hard to pin down, which, for locals, is half the fun. While the bright red liquid would lead you to believe it contained notes of cherries, Big Red is actually closer to a cream soda, flavored with vanilla, lemon, and orange oil. Initially, Big Red was just a Texas thing, but by the '70s, the delightfully fizzy drink could be found in stores across the South.
As Texans have a long history of pairing a cold glass of Big Red Soda with smoky grilled meats at backyard barbecues, the idea that the two would eventually be combined seems like a natural progression of things. And it appears the makers of Big Red endorse the marriage! In 2013, the soda company released a quirky viral stunt video in which they jokingly advertised a bottle of Big Red Soda that contained a hidden compartment of barbecued meat at the bottom. While a soda bottle that doubles as a serving of brisket is still out of reach, thanks to our Texan grill masters Big Red Soda barbecue sauce is very much real, and the result is just as weird and wonderful as the soda that gave it life.