Homemade Queso Fresco Recipe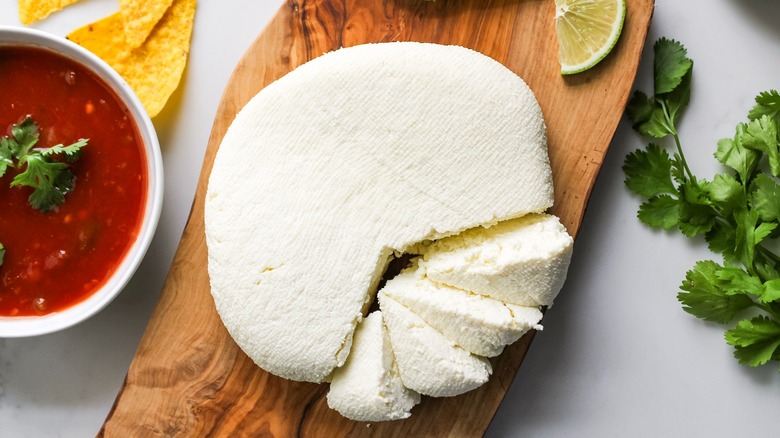 Feta Topalu/Mashed
Have you ever made your own cheese at home? During the pandemic, we'll admit we, like many others, went down the rabbit hole of baking our own bread from scratch. Outside of that experiment, we don't often get the opportunity to make these crucial ingredients from scratch. But all of that is about to change. Recipe developer Feta Topalu brings us this recipe for homemade queso fresco, which comes together in less than two hours. Oh – and we forgot to mention that this quick recipe only requires three ingredients, all of which you likely already have on hand.
Looking for ways to use queso fresco in many types of dishes? Topalu says, "Homemade queso fresco can be made on a regular basis, but it's especially fun when you can add it to a taco bar or a Mexican dish." We like to sprinkle it on top of huevos rancheros or elote.
Gather your ingredients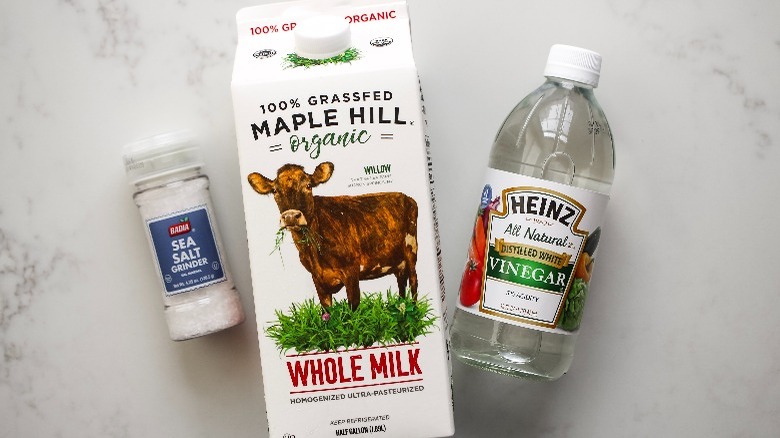 Feta Topalu/Mashed
To make this homemade queso fresco, you can start by gathering your ingredients. For this recipe, you will need only three ingredients: whole milk, distilled vinegar, and salt.
It's more than likely you already have these ingredients on hand, but on the off chance you don't have distilled vinegar, Topalu notes "the distilled vinegar can easily be subbed for another vinegar or even lemon juice! Although the amount of acid used can change when making swaps."
Heat the milk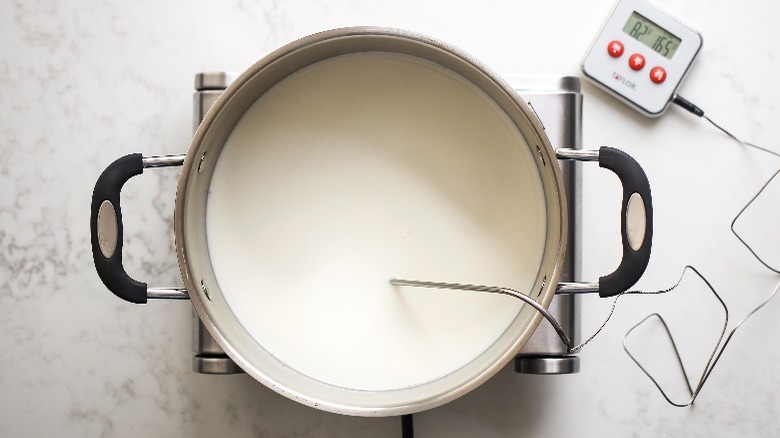 Feta Topalu/Mashed
When asked why anyone would want to make their own cheese when they could just buy it, Topalu tells us, "When making homemade cheese, I'm in control of the quality of ingredients and freshness. For this queso fresco, I was able to use my favorite organic whole milk which resulted in a fresh, high-quality, organic cheese." As such, you can use your favorite milk in this first step. Note: nondairy is not ideal here.
Pour the milk into a large stockpot and increase the heat to medium-low until the milk reaches 165-185 F. Then remove it from the heat.
Add the vinegar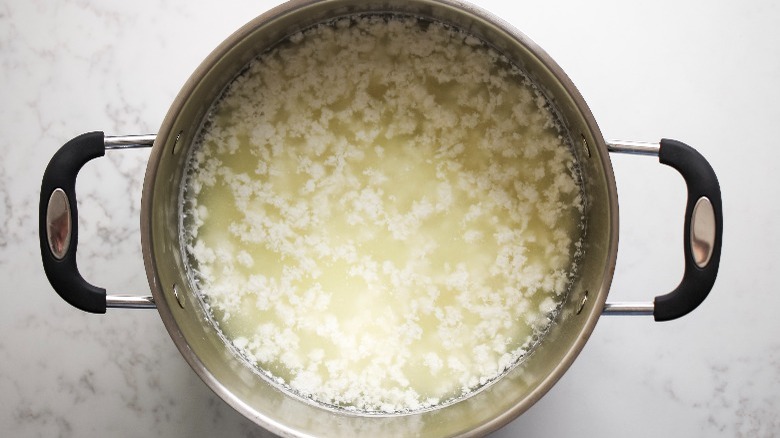 Feta Topalu/Mashed
Pouring only a few tablespoons at a time, add the ⅓ cup of vinegar to the heated milk, and gently stir. You will begin to see the curds separate from the whey. Continue until all vinegar has been used, or wait about 10 minutes.
If you are not using distilled vinegar, but a substitute acid, Topalu advises, "You will need to watch and stop adding the acid to the milk when the whey and curds look fully separated. Then proceed with the remaining recipe."
Drain to remove excess liquid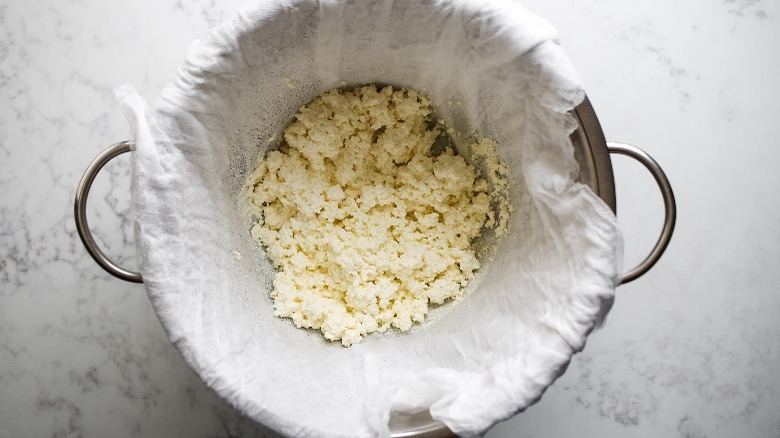 Feta Topalu/Mashed
Lastly, place several layers of cheesecloth over a colander that sits over a large bowl. Add the cheese and allow it to fully drain. Using your hands, squeeze the cheese through the cheesecloth, draining off the excess liquid. Then form the cheesecloth to shape the cheese into a tight disc. Place a heavy object over a small plate on top of the cheesecloth-wrapped cheese. Allow the cheese to sit and form shape for 1 hour.
After that, you will have homemade queso fresco. Be sure to store in the fridge in an airtight container until serving. Topalu's favorites include "on top of enchiladas, tacos, and refried black beans."
Homemade Queso Fresco Recipe
Homemade queso fresco can be made on a regular basis, but it's especially fun when you can add it to a taco bar, on huevos rancheros, or sprinkled on elote.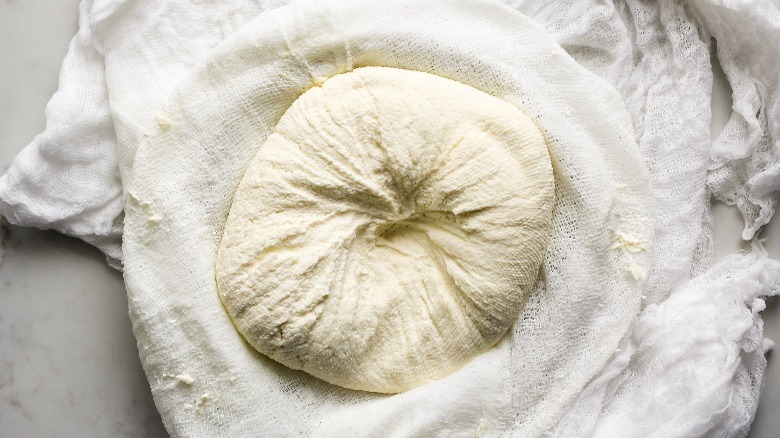 Ingredients
½ gallon whole milk
⅓ cup distilled vinegar
1 teaspoon kosher salt
Directions
Pour the milk into a large stockpot. Turn the heat up to medium/low. Heat the milk until it reaches 165-185 F with a thermometer, stirring frequently. Remove from heat once it reaches adequate temperature.
Add one to two tablespoons of vinegar to the milk at a time until you've added ⅓ cup. Gently stir after each addition. The curds will start to separate from the whey. The curds will look like white clumps. Let sit for 10 minutes for the curds to fully separate.
Line a medium colander with a few layers of damp cheesecloth. Place a large bowl underneath to catch the draining liquid.
Transfer the curds into the cheesecloth and let the liquid drain for 10 minutes. Stir in the salt.
Gather the ends of the cheesecloth and twist to remove any excess liquid. While keeping the cheesecloth tightened, form a flat disc. Place back into the colander. Place a small flat plate on top of the cheesecloth followed by a heavy object to gently press the cheese. Let the cheese take shape for 1 hour.
Carefully unwrap the cheesecloth. Place the cheese into an airtight container and refrigerate until ready for use.
Nutrition
| | |
| --- | --- |
| Calories per Serving | 100 |
| Total Fat | 5.3 g |
| Saturated Fat | 3.0 g |
| Trans Fat | 0.0 g |
| Cholesterol | 16.3 mg |
| | |
| --- | --- |
| Total Carbohydrates | 7.8 g |
| Dietary Fiber | 0.0 g |
| Total Sugars | 8.2 g |
| Sodium | 227.0 mg |
| Protein | 5.1 g |