The Reason McDonald's Ketchup Tastes So Different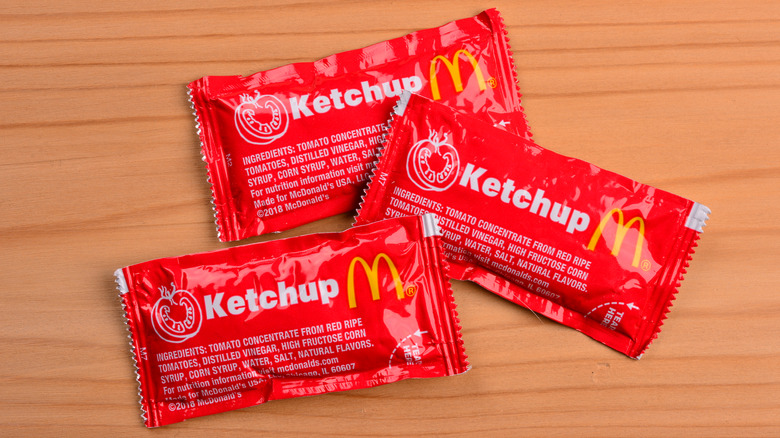 Tony Savino/Shutterstock
It seems like every few years, fast food chains change something. It might be the introduction — or removal — of a certain food item, a new recipe, an updated logo, or a new slogan. Sometimes, like in McDonald's' case, it's the condiments. If you're a McDonald's fan, you've likely opened dozens of fast food ketchup packets over the years, so you've probably noticed the change in flavor.
The reason McDonald's ketchup tastes so different today compared to packets from more than a decade ago is that it really is different. Unless you've been paying close attention, you're probably among the many people who never noticed the omission of an important detail on the label: the Heinz name brand.
There was a time when the Heinz logo decorated each packet, but now, McDonald's actually makes its own ketchup. Although the ingredients of the chain's old ketchup and new ketchup are almost identical, there are a few ingredients that aren't shared between the two brands. The transition from Heinz to a new supplier is ultimately why the ketchup tastes so different.
McDonald's new ketchup omits just two ingredients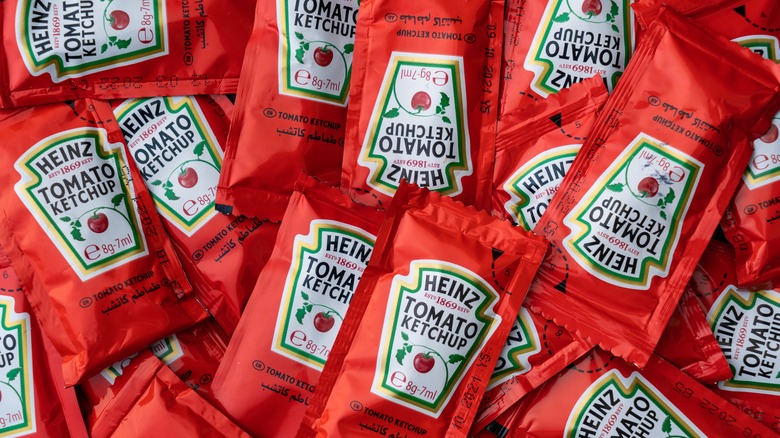 Fitria Ramli/Shutterstock
Heinz and McDonald's maintained a partnership for 40 years. That relationship ended in 2013, when Heinz hired the former CEO (and current board member) of Burger King Worldwide as its new CEO. Not long after the change, McDonald's stopped serving Heinz ketchup and started offering a private-label version called McDonald's Fancy Ketchup. By the way, the term "fancy" serves as an indicator of USDA grade A ketchup.
If you've had McDonald's packaged ketchup recently, however, you may have noticed that "fancy" is no longer part of the label. While the term was still featured on packets in 2015, a Reddit photo showing a packet with a 2016 copyright revealed that the term had been removed from the label. There's no change in the ingredients, though, so it's unclear why the chain decided to remove it.
In comparing the Reddit photo of the McDonald's brand ketchup to a Heinz brand packet, the McDonald's ingredient list reveals the following: tomato concentrate from red ripe tomatoes, distilled vinegar, high fructose corn syrup, corn syrup, water, salt, and natural flavors. Heinz Ketchup lists all the same ingredients but excludes water. It also includes spice and onion powder, which McDonald's ketchup does not. Some consumers prefer the new flavor over the original, but others are still missing the Heinz days.