Fast Food Ketchups Ranked From Worst To Best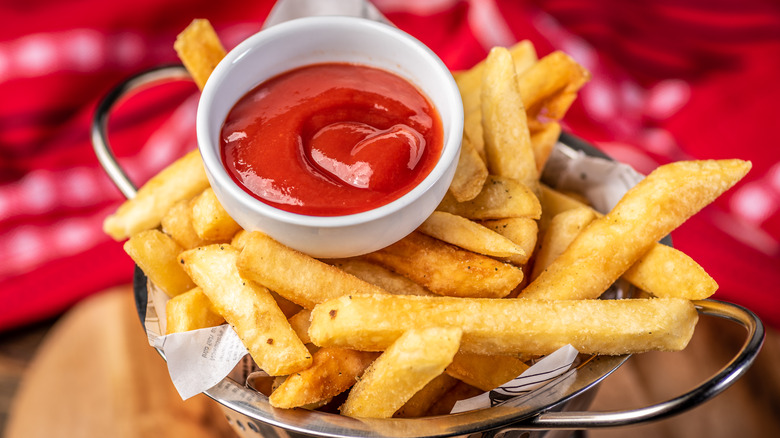 Adam Calaitzis/Getty Images
Let's face it — we love ketchup. So many of us have a favorite burger restaurant where we dig into fries slathered in the red sauce. Even at home, an estimated 97% of Americans keep a bottle of the red stuff in their fridge. And we'd argue it's also fair to say that fast food ketchups far and wide can influence our choice for an on-the-go meal or snack just as much as the food itself. This sweet yet savory condiment has come a long way since its origin as an Asian fish sauce. And it's actually fast food restaurants in America that you can thank for popularizing french fries and ketchup, starting with the burger boom of the 1940s. 
Nowadays, we've never had it so good. Go into any fast food restaurant and you'll be guaranteed a decent ketchup to complement your food. This might be a household favorite like Heinz, or it could be a blend of a brand's own making. No matter what you prefer, we can all agree there's far more to fast food ketchup than first meets the eye, from a serviceable sauce to one that can take a humble burger and fries to unthinkable heights. We've set out to discover the very best on the market, paying attention to taste, the relationship with a brand's menu, and any versatility beyond. Read on for our ranking of the best fast food ketchups you can dunk your fries into. 
12. Tim Hortons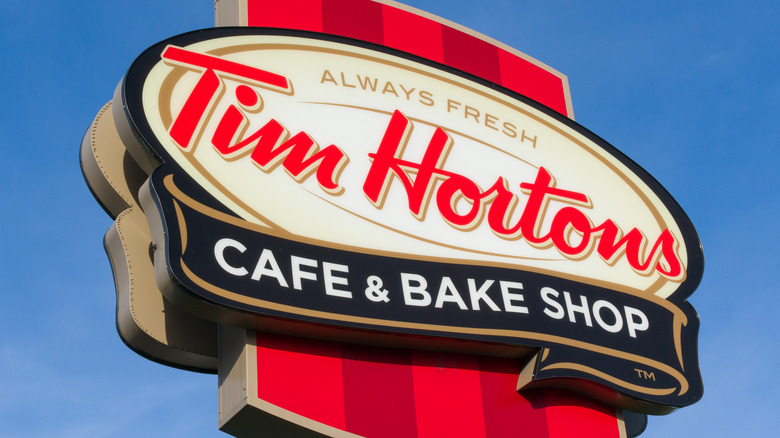 Ken Wolter/Shutterstock
With over 600 sites across 10 states now open in the U.S., Tim Hortons ranks among the top when it comes to coffee shop chains. But outside of hot cups of joe, the Canadian fast food chain also boasts an excellent selection of munchables, including a range of hot breakfast sandwiches, bagels, hash browns and wraps – all of which are perfectly complemented by a generous glob of something red and tasty.
Tim Hortons has selected Del Monte as their go-to ketchup brand and it's an ideal partner to their edibles range. The company is more than a century old and calls itself the "Original Plant-Based Food Company," and it's created a ketchup that more than gets the job done. As a dipping sauce for fries, breakfast sandwiches, or fried chicken, it won't trump the best ketchups on the market. But its innate thickness makes it a premium hot sandwich topper, and it's a much richer ketchup than most of the other brands out there. Although it may not rival the top end of our list for flavor or versatility, this higher class of sauce does heighten a Tim Hortons BLT, and so it more than deserves a mention.
11. Five Guys
Five Guys' exquisite offerings of burgers, fries, hotdogs and sandwiches have seen them gain a truly loyal following amongst fast food aficionados, and their ketchup choice of Heinz is a natural winner. It's worth noting that there are countless other big fast food chains who also use the world's most famous ketchup, including Wendy's, KFC and Burger King.
Any ketchup fans out there will already know the Heinz variety, which boasts a registered trademark as being 'America's Favorite Ketchup'. As ketchup brands go, Heinz is sweeter than many and highly tangy. There's a reliability to Heinz that's helped it become the number one ketchup in the world, and many of its supporters won't hear of anything else. So why has this esteemed brand failed to scrape into our top ten? Well, it's a familiarity thing. Heinz is a flexible ketchup with a medium consistency and a fruity, acidic taste, and it'll do the job it's designed for every time. That's its greatness, but also its downfall. Heinz ketchup will never disappoint, but compared to many other brands, it lacks something of a wow factor. And we all like a little wow now and then.
10. Raising Cane's
If you're thinking right now that places like Raising Cane's and Chick-fil-A alos use Heinz ketchup, then you're absolutely right. So why a secondary mention? Simple. When it comes to points of difference between Five Guys and Raising Cane's ketchup, it's all about the actual ketchup vessel. Five Guys uses packets of Heinz, while Raising Cane's has transitioned to handing out dippable containers, a far superior device for serving fast food ketchup.
Known as a Dip and Squeeze, these ingenious little packets are designed for their adaptability, and contain three times as much ketchup as a regular 9-gram pouch. The ketchup is of course identical to the packets found in the likes of Five Guys or Burger King, but with these you can either twist off an end to squirt on a burger, or tear off the lid to dip your fries into the tub. Heinz' magnificent innovation allows you to get more ketchup out of each little serving device and they're the perfect foil for Raising Cane's classic chicken tenders or tasty fries. The faster other restaurants catch on to these tubs of delight, the better our fast food experience will be.
9. Jack in the Box
First and foremost, we have to tip our hats to Jack in the Box ketchup for adding some joviality to the business of eating fast food. Their sauce packets come printed with a selection of witty remarks such as "catch up with ketchup," "get your dip on," and "your main squeeze" — delightful additions to any fast food condiment. The sauce itself is a great flavor enhancer. Of medium consistency, it balances the tomatoes with just the right amount of pop and zing. And as ketchups go, it's super versatile, being equally adept as a dip for fries as it is for topping burgers.
Having expanded from being a brand focused on the usual fast food fare to one now offering sandwiches, salads, tacos and even cheese sticks, among so many other items on its vast menu, Jack in the Box has chosen a classy ketchup to match its quality food selection. And it's one which those lip-smacking curly fries should never be eaten without. 
8. Dave's Hot Chicken
Famed for their consummate spicy chicken selection, fans of Dave's Hot chicken see their chosen restaurant as being a cut above its competitors, and they've selected a ketchup well known for its quality: Hunt's. The Hunt's brand has been around since 1888, a little over a decade after the better-known Heinz brand launched its own tomato ketchup.
Put to the taste test, it's easy to see why Hunt's has such a loyal following. A look at the ingredients list shows it's made from "vine-ripened tomatoes, natural sugar, vinegar, salt, garlic, and spices." There are no artificial ingredients added, and no high fructose corn syrup. As a result, Hunt's Ketchup is big on tomato flavor, but has just enough garlic and spice to make it a ketchup and not a standard tomato sauce. We love the thick consistency, and you'll never catch a dollop of Hunt's dripping off a french fry. The prominent tomato flavor is also a great foil for the spice you'll find in Dave's excellent hot chicken. If you happen to be seeking out a ketchup that tastes primarily of its main ingredient, Hunt's is most definitely one to fall in love with.
7. McDonald's
The issue of McDonald's ketchup has been well documented in recent years, but let's give a quick recap. America's most popular fast food chain enjoyed a happy marriage with the Heinz brand for decades. The burgers and fries everyone knew and loved were topped off with a ketchup of similar status. So what could possibly go wrong? Well, back in 2013, Heinz was taken over, and the new CEO just happened to have historical links to Burger King, McDonald's then-biggest rival. All of the sudden, the brand decided it was time for a change.
If all this sounds like playground stuff, you'll be glad to know the saga does happen to have a happy ending. McDonald's created their own ketchup, and one that many would say is even superior to the Heinz variety. The brand omitted the onion powder and spices found in Heinz Ketchup and added water for a slightly thinner sauce and a stronger tomato taste. This sweet sauce is not a ketchup for all times and all foodstuffs, but one that matches the very food it's been created to complement (namely the very salty fries and nuggets), and it's a winning formula every time.
6. Baker's Drive-Thru Habanero Ketchup
We're approaching the higher end of fast food ketchups now, and Baker's Drive-Thru has manufactured a sauce for the ages. Although the chain also serves a regular ketchup, it's the habanero variety that sneaks into the top half of our ranking. There's a growing number of fanatics who've had their taste buds changed by this delectable sauce, with some on Facebook even clamoring for Baker's to release it as a standalone product. For anyone who has paid a visit to a Baker's Drive-Thru in recent times, this is more than understandable. 
The sauce is of medium consistency and has a velvety texture that matches Baker's excellent burgers just as well as its Mexican wraps. Add a spicy habanero to the mix and we're talking next level in the flavor stakes. Those fearful of chili peppers need not worry, though. This ketchup is spicy, but it won't blow your head off your shoulders. If you happen to be new to ketchup with a spicy kick, now's the time to start. There's a whole new world of flavor out there, and Baker's Drive-Thru habanero ketchup is a very tasty way to start. 
5. Whataburger Fancy Ketchup
Whataburger? What a ketchup! Whataburger's red stuff is so good, they even label it fancy. This isn't just a frivolous term dreamed up by the brand itself. It's actually a USDA distinction, based on the weight of the ketchup. Any fancy ketchup needs to meet specific criteria regarding its ingredients, including having 33% of tomato solids. And you can certainly taste the difference when it comes to Whataburger's famous in-house brand.
This is a ketchup so good that Whataburger has launched it as a standalone product in supermarkets. Not only that, the chain also sells fan gear in the form of fancy ketchup T-shirts. The ingredients list shows this ketchup is made from most of the usual suspects, including high fructose corn syrup, distilled vinegar, onion and garlic powder, spices, and natural flavors. But whatever happens during the prepping process takes this sauce far beyond most of its rivals. As ketchups go, this one leans on the sweeter side, but there's enough spice going on in the background to prevent it tasting too sugary. It's also a much thicker ketchup than many, so those who like to layer up their burgers or really coat their chicken tenders and fries are in for a treat. 
4. Pal's Sudden Service
Pal's Sudden Service, with locations across Tennessee and Virginia, has earned plaudits from the likes of Harvard Business Review for its "unique operating model and organizational culture in the fast food restaurant business." Unsurprisingly, Pal's opted for a first-class fast food ketchup to adorn its burgers, sandwiches, fries, dogs, and breakfast selection.
The brand has formed a long relationship with the tomato experts at Red Gold. Family-owned, Red Gold has an emphasis on sustainability, and their ketchup comes free of anything artificial. The proof of the pudding is in the eating, and Red Gold easily makes our top four with its fresh taste and oozy consistency. It might be on a nutritional par with many other ketchups, but it batters most into submission with its heady hit of tomatoes, sweetness, and tang. This is a ketchup that goes beyond fast food — some of our taste testers even add a glob as a secret ingredient to chili con carne.
3. Red Robin Express Spicy Ketchup
Red Robin's spicy sauce scoops the bronze medal in our fast food ketchup ranking, and it's with good reason. The brand has created a smooth, classy dip that contains none of the gloopiness one might find in the average ketchup packet. Anyone fearful of searing their tongue need not worry – it certainly boasts a kick far beyond that of regular ketchup, but the high sugar content more than balances any heat. Red Robin would be pushing for a higher place on the podium were it not for the added sugars found in its ingredients, but overall this is a full-bodied ketchup that lends itself to a world far beyond french fries.
Now available to buy as a standalone supermarket sauce, Red Robin Express has always marketed itself as a cut above the average fast food restaurant. Alongside their gourmet burgers and fries, the brand offers chicken pieces, mac and cheese, and even fried dill slices, all of which lend themselves incredibly well to Red Robin's signature red sauce. But nothing so well as the chain's signature steak fries — or a homemade version of your own. 
2. Little Big Burger
Portland's Camden's Blue Label Catsup provides the red stuff at Little Big Burger's mighty restaurants, a sauce the fast food chain calls its "not-so-secret ingredient." Narrowly missing out on the top slot, their catsup certainly gave our taste buds a tingle, but before we cover the details, let's give that name some attention. The terms ketchup and catsup are sometimes used interchangeably, partially because catsup was the preferred term for a tomato-based condiment in the U.S. until the ketchup spelling took over.
So what is it with Camden Catsup that had our testers swooning? Well, it's about attention to detail. The ingredients are similar to many ketchups, but far from identical. There's no high fructose corn syrup, and any sweetness comes from honey and evaporated cane juice. The natural flavoring offers a homemade ketchup taste that's missing in many bigger brands, and offers an insight into how the first tomato catsups might have tasted. Add to this a dash of chili and you can add a beautiful balance to any sweetness. Let's just say that the Camden team in Portland knows its history and has created a rich tomato sauce to stand the test of time. Or at least one to pair with pretty much anything made from meat or potatoes.
1. Whataburger Spicy Ketchup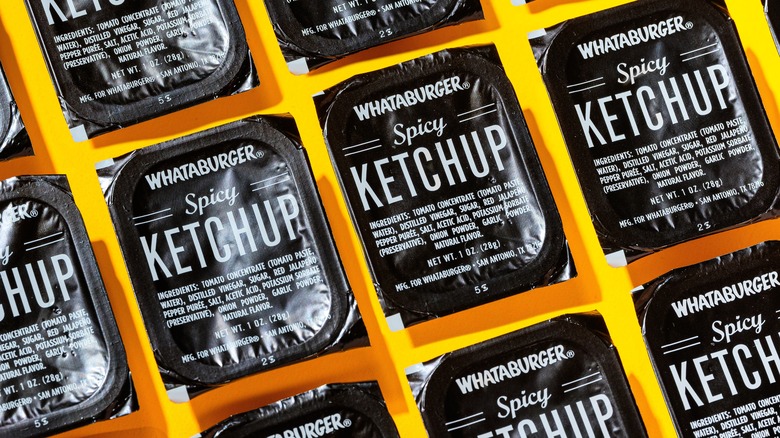 ErickPHOTOPRO/Shutterstock
We've chomped our way through some seriously high-brow fast food ketchups alongside some go-to favorites and household staples, but there could only be one winner. Enter Whataburger, a brand with such remarkable ketchup that they've made our list on not one but two occasions. You've already heard about their fancy ketchup, now let's push everything else aside and celebrate our gold medal winner.
Whataburger has a growing fanbase for their menu items alone, and their large burgers, food cooked to order, and table service marks them out from a sea of fast food restaurants. Their spicy ketchup, however, is out of this world. Another brand that's available as a standalone supermarket bottle, Whataburger Spicy Ketchup only loses points for its high sodium content, but even this isn't enough to remove it from our top slot. A check through the ingredients reveals this to be the brand's fancy ketchup with red jalapenos, although this single added extra takes matters far beyond one's wildest dreams. Cleverly, they haven't overdone the spice, and the chili merely takes the rest of the ingredients to new horizons. Given the brand hails from Texas, it's been said that many a local will ride or die for a Whataburger. We can certainly say the same for the chain's spicy ketchup, and can't bear the thought of our fast food being without it.