This California Costco Has An Incredibly Stacked Tequila Selection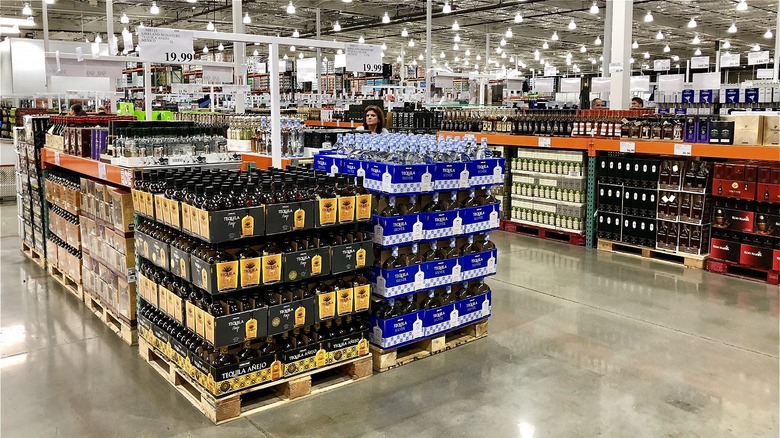 Cassiohabib/Shutterstock
If you're a tequila fan, run — don't walk — to one Costco in the California Bay Area, because according to TikToker Diana Guzman, it has one heck of a selection of quality tequilas. Costco is known for its wide liquor selection ranging from its Kirkland brand products to more expensive brands of spirits; a Washington, D.C. area Costco once featured a Balvenie 50 Year Single Malt Scotch for a whopping $29,999, according to one Reddit post. Now this Costco, which Guzman says in the comments is located in Pleasant Hill, California, is selling some tequilas that have a pretty great price tag, compared to other retailers' websites.
Per the TikTok video, some of the tequilas gracing the shelves at this Costco appear to be Skelly Tequila Reposado, Grand Love Reposado Tequila, Institucional Texano Boot Reposado, Texano Rodeo Hat Reposado Tequila, Don Julio 1942 Ultima Reserva, Don Julio 1947 Rosado, and a seventh product, which is unclear in the video but comes in what looks like a beautifully made clay jug.
One tequila, two tequila, three tequila ... and more!
Most of the tequilas being sold at the Pleasant Hill, California Costco featured in Diana Guzman's TikTok video are creatively packaged and have fun themes. The Skelly Tequila, for instance, features the torso and head of a skeleton with a mustache, wearing a sombrero. It's also the only one that features its price sign in the video and is being sold at $49.99 for a 750-milliliter bottle. The Grand Love brand, meanwhile, comes in a heart-shaped bottle with an intricate pattern on the front, and the Institucional Texano Boot tequila literally comes in a giant glass boot with glasses attached to the sides.
Tequila fans took to the comments of Guzman's post to share their excitement that these drinks are being sold at Costco. One user was thrilled about the Grand Love tequila, commenting, "The heart one, are you kidding me!! I would just use it for decor." Commenters also lamented the fact that they have not found such a robust selection in their home states and that these bottles may only be available at Guzman's particular Costco. (In fact, there are a few states that don't allow alcohol at Costco stores at all.) Another user chimed in that these tequilas were not available at their local store, but noted, "I would absolutely buy a few of these."