Krispy Kreme Celebrates 86 Years With Dozen-Under-A-Dollar Deal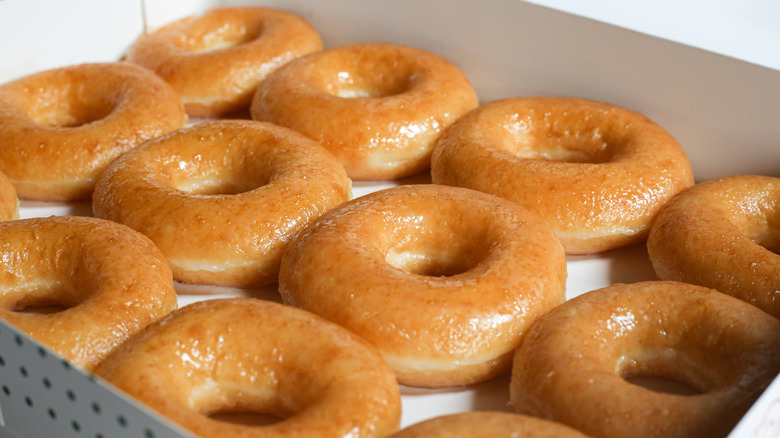 Pong Stocker/Shutterstock
Krispy Kreme began 2023 selling the most expensive Krispy Kreme doughnut in NYC, the Big Apple Doughnut. Now that summer is in full swing, they're offering a fantastic deal for doughnut lovers. In honor of its 86th anniversary, customers can receive a dozen original glazed donuts for 86 cents when they buy a dozen doughnuts at regular price.
The deal is available in-store or through online ordering, but the number you can receive differs. If you order online using the code 86YEARS, you can receive one dozen at the 86-cent price, but if you order in-store or at the drive-thru, you can purchase up to four dozen of the special-priced doughnuts.
Krispy Kreme proves time and again that they listen to their customers' demands, from bringing back the past five years' top-selling donuts to giving free donuts to students with "A"s on their report cards. This latest dozen-under-a-dollar deal shows that Krispy Kreme can celebrate its anniversary while giving loyal customers a reason to share their doughnut love.
Krispy Kreme started as a family business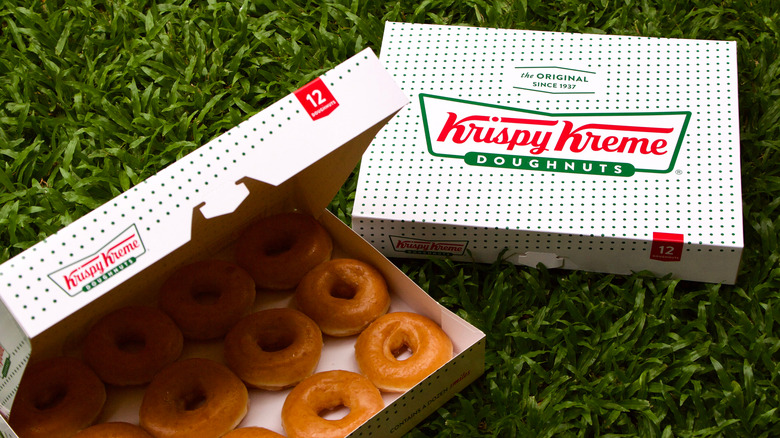 TongRoRo/Shutterstock
Krispy Kreme founder Vernon Rudolph's famous donuts came from a recipe his uncle, Ishmael Armstrong, bought from a New Orleans doughnut shop owner named Joe LeBeau. Rudolph worked with Armstrong, selling the doughnuts door to door in his home state of Kentucky. The duo moved to Tennessee during the Depression. When business didn't improve, Armstrong decided to sell the business. Rudolph's father, Plumie Harrison Rudolph, bought the company, and soon, Vernon's brother, Lewis, joined them in the venture. After successfully opening up a few locations, Vernon decided to move and open his own store.
The Krispy Kreme we know today began in 1937 in Winston-Salem, North Carolina. Vernon Rudolph moved there with a couple of friends, and they started making the iconic Original Glazed donuts and selling them to grocery stores. The smell emanating from his facility was so enticing that people asked if they could buy the doughnuts directly from him. According to Krispy Kreme's website, "[H]e seized the opportunity and "cut a hole in an outside wall and started selling Original Glazed doughnuts directly to customers on the sidewalk."
By 1946 the Krispy Kreme Doughnut Company was officially created, and a year later, they added the Krispy Kreme Corporation. While the company dealt with individual stores, the corporation made the specific doughnut mixes each store used, ensuring customers would get the same delicious flavor regardless of location.