The Most Expensive Krispy Kreme Donut In NYC Is Pretty On Brand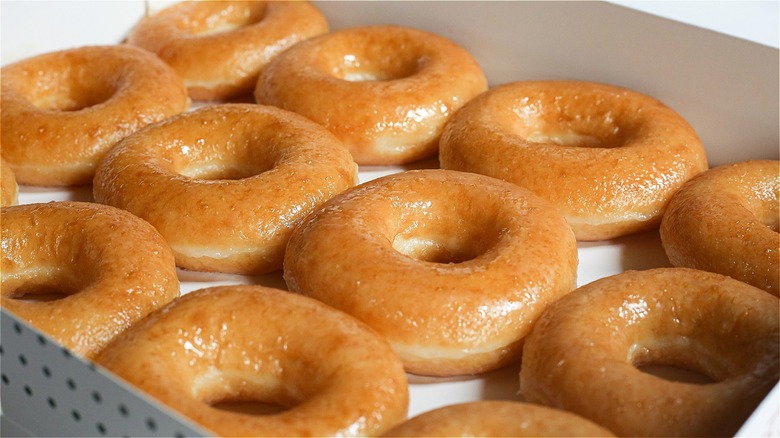 Pong Stocker/Shutterstock
Krispy Kreme has been dishing out doughnuts since 1937 when the chain was founded in North Carolina, and today it is probably best known (and loved) for its Original Glazed doughnuts (via Krispy Kreme's website). But having a fan favorite doesn't keep the brand from launching new flavors. These can be inspired by a place or taste, like the Krispy Kreme Biscoff doughnuts we devoured (purely for research purposes, of course). According to the chain's website, the limited-time menu additions include a Biscoff Cookie Butter Cheesecake Doughnut that brings together sweet elements like cream cheese frosting and a Biscoff Crumble. Some creations have been rich in more ways than one.
Though it's probably safe to say a $10 will secure you more than one doughnut at most Krispy Kreme locations in the country – for instance, the Bsicoff Lover's Dozen cost us 20 bucks – a Krispy Kreme doughnut that costs more than a 10-spot isn't entirely unheard of. Back in 2014, Maxim reported that the chain offered an especially-expensive doughnut at one of its locations n Selfridges, a high-end department store in London. The doughnut was reportedly priced at over $1,680, served with a cocktail, and consisted of luxury touches like "champagne jelly" made with Dom Perignon 2002, gold leaf, and edible diamonds. Today, Krispy Kreme fans looking to shell out some dough for an opulent, themed doughnut option can make it happen in Manhattan.
Krispy Kreme has a fitting donut for the Big Apple
New York City's Times Square is home to more than just a big elevated ball that makes a widely-televised descent once a year. In the vicinity, you can also find the Krispy Kreme Times Square Flagship store. According to Krispy Kreme's website, at this Manhattan location, visitors can watch doughnuts being made, purchase merch, and buy a doughnut aptly themed for the Big Apple — the Big Apple Doughnut.
On TikTok, user sb.umatiya posted a video featuring the Big Apple Doughnut with its shiny layer of red glaze and fancy, Times Square-themed packaging. In the comments for the post, several followers asked what the price tag was for Krispy Kreme's NYC specialty doughnut. As Delishably explains, the doughnut runs about $11. For anyone curious about what that $11 bucks will get you, on its website, Krispy Kreme describes the Big Apple Doughnut as having a "Red Delicious flavored Kreme filling," red glaze, a royal icing leaf, and a pretzel stem. On Instagram, user nclaspell taste tested the doughnut, revealing the shiny glaze has a soft texture (at 9:35 in the video), and the doughnut tastes like a "sweet, sweet Honeycrisp apple."
Of course, anyone not within the purchasing range of the Big Apple Doughnut may have one question on their mind: If Krispy Kreme can make it in New York, can't it make it anywhere?