Combine Olive Oil And Canned Tuna For An Umami-Packed Sauce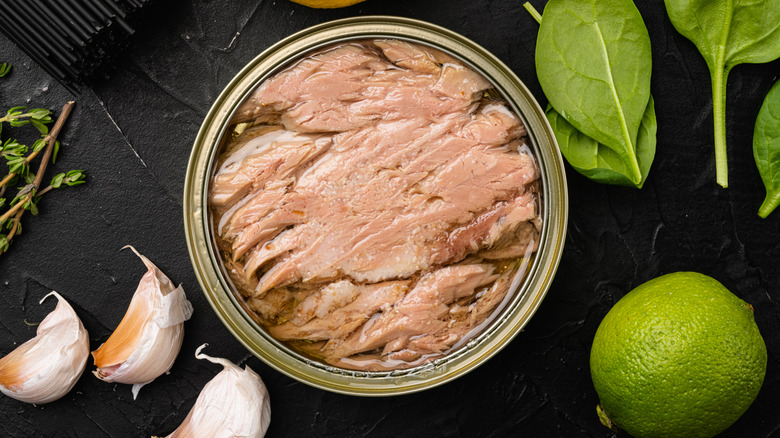 Ilia Nesolenyi/Getty Images
From Alison Roman's viral anchovy shallot pasta to being deemed the "hot girl food" du jour, tinned fish is receiving its due. We aren't just loving the gourmet offerings of sardines and mussels. We are also reconsidering the humble canned tuna. Many of us grew up just mixing it with a glob of mayo (don't knock it till you try it), then coating a piece of white bread with the makeshift tuna salad, and too many continue to think of it as a quick, ultra-affordable, but very bland snack. Still, canned tuna can be much more, especially when combined with high-quality extra-virgin olive oil. The result is savory and complex. 
Add enough olive oil that you can whisk the tuna into it, and blend until they're combined. This super simple sauce can be added to just about anything. Marla Puccetti and Paul Nanni of The Heron like to add it to marinara sauce. It would also be delicious on crostini or avocado toast, but if you just want to enjoy it on its own, simply mix in some cut produce. For instance, bell peppers, olives, garlic, and lemon zest make for a nice Mediterranean salad. 
Getting the most out of your canned tuna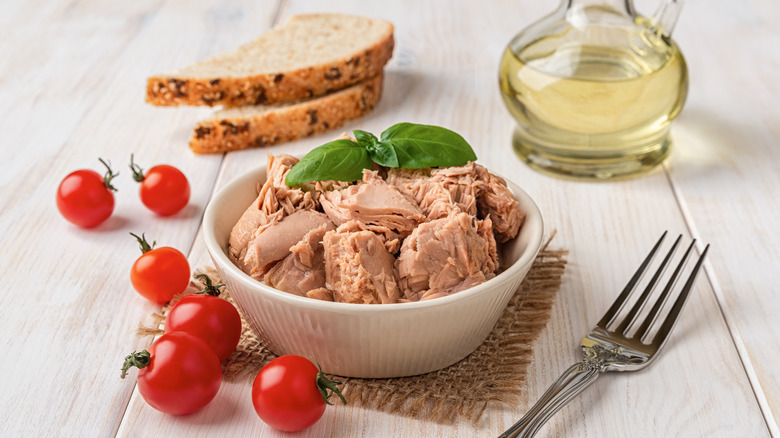 Maryia_K/Shutterstock
When tuna is the focal point of your meal, you don't want to go super cheap because the fish is generally of lower quality. The best canned tuna is up to personal taste, but there are a few key points to keep in mind. For one, you need to decide on the texture of the tuna meat you want. Chunk light tends to be made up of small, flaky bits of tuna, which is great if you want the tuna to nearly disintegrate as you cook. However, if you want a more meaty steak-like tuna, go for solid white albacore, as it's made up of larger, firmer cuts of fish. 
You also need to consider if you want your tuna packed in olive oil, in water, or totally on its own. Again, this comes down to personal preference. Some find tuna that's packed in olive oil to taste greasy or unpleasant, while others rave about it. Tuna preserved in water and salt is a popular option, but it can be, well, watery, so be sure to drain it well before adding it to the olive oil.