Lemon Chicken Orzo Soup Recipe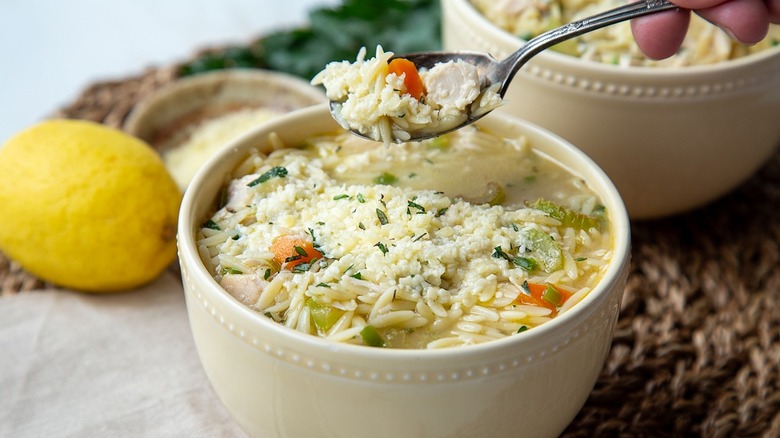 Kate Shungu/Mashed
Orzo, an ingredient that belongs in any well-stocked pantry, may resemble rice, but it is actually a type of pasta. It's small, thin shape allows it to cook quite quickly and it's an ideal carb to bulk up a bowl of soup. Here it's used in a chicken soup that recipe developer Kate Shungu calls "classic American comfort food with a Mediterranean spin from the orzo and fresh herbs." As for the chicken itself, it can be from a rotisserie bird or any leftover cooked chicken you happen to have on hand, whether the meat be light or dark or a mixture of both.
One ingredient that really stands out in this soup is lemon, due to the fact that there's a double dose of this fruit. As Shungu points out, "We'll use both the zest and the juice of the lemons for this recipe, which adds lots of bright, lemony flavor to the soup." The lemons also add some vitamin C, making this an extra-healthy type of chicken soup to have on hand when you come down with a cold.
Assemble the ingredients for the lemon chicken orzo soup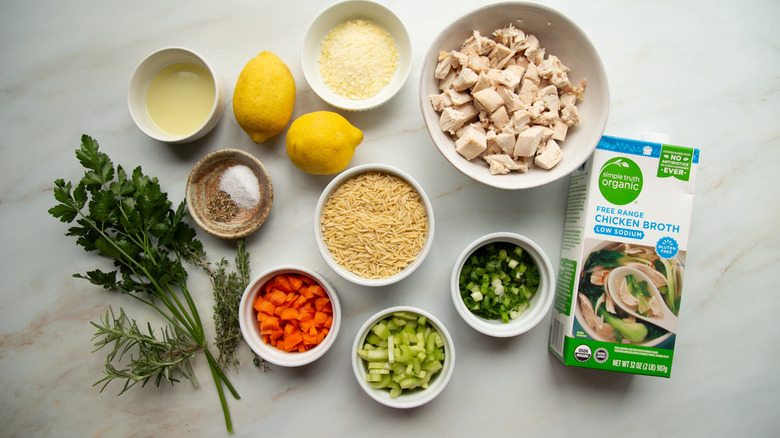 Kate Shungu/Mashed
As the name of the recipe indicates (and we've already discussed), you'll need lemons, cooked chicken, and orzo to make this soup. You'll be supplementing those main ingredients with carrots, celery, fresh herbs (Shungu suggests parsley, rosemary, thyme, or a mix-and-match assortment of these), and green onions, while you'll also need olive oil, chicken stock, salt, and pepper for cooking and Parmesan to sprinkle on top.
Prepare the produce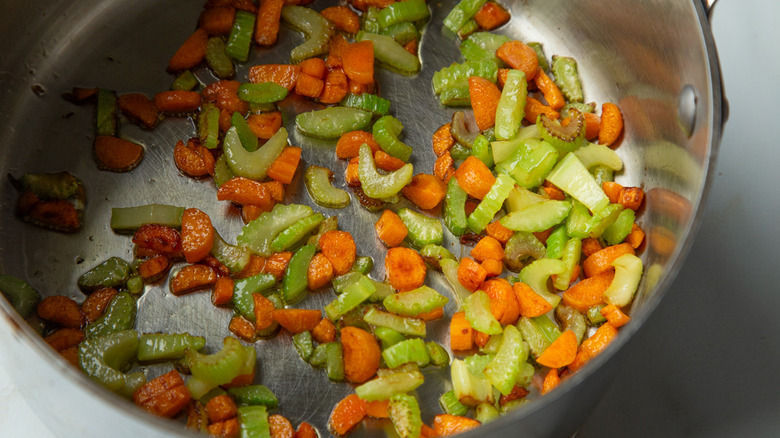 Kate Shungu/Mashed
Before you start cooking, there's actually a fair amount of prep to be done with the vegetables, although nothing too difficult. In fact, this sort of thing could be easily outsourced to a sous chef should you happen to have one on hand. If not, grab a knife and a vegetable peeler and set to work. Peel and chop the carrots, then slice up the celery. Chop up the herbs, as well, then snip the green onions. Finally, zest and then juice the lemons in this order, as the reverse tends not to work too well. The reason we like to save the lemons for last is because they make your hands smell nice.
Now heat up the olive oil over a burner set to medium, then take your freshly chopped carrots and celery and cook them in the oil for about 4 to 5 minutes. (The rest of the produce will be added to the soup a bit later on in the process.)
Simmer the soup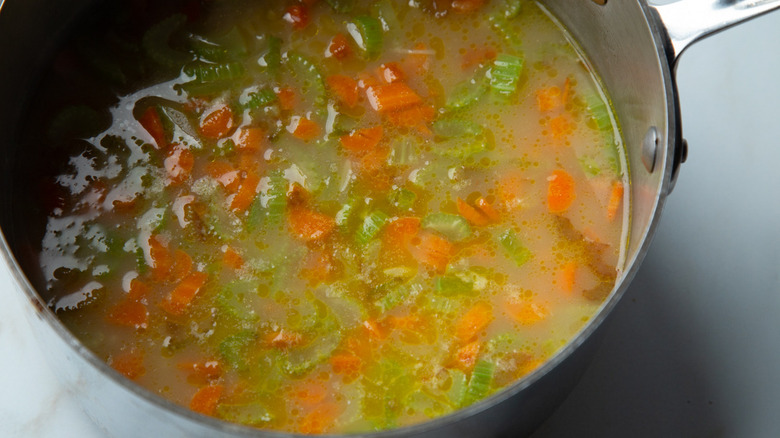 Kate Shungu/Mashed
Once the vegetables are somewhat soft, pour the stock into the pan and stir in the orzo. Once the stock starts to boil, turn down the heat to a simmer and let things bubble along (gently) for 10 minutes. There's no need to keep a close watch the whole time, but stirring every so often is a good idea.
Add the final ingredients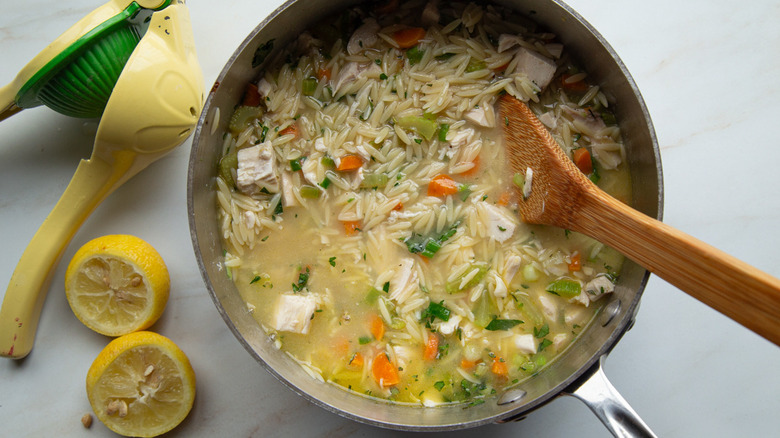 Kate Shungu/Mashed
When the orzo is tender and the soup is, well, soupy, turn off the heat and stir in the chicken along with the herbs, lemons (both zest and juice), and green onions, then season everything with salt and pepper (add more of either or both if you feel that it's necessary). Once you dish up a bowl of soup, sprinkle it with Parmesan.
If you don't eat all of the soup in a single day, you can keep it in the fridge for up to four days. If this doesn't seem like enough time to finish the whole thing, though, it would be advisable to reduce the size of the recipe since Shungu warns that this soup can't be frozen. As she explains, "The texture of the orzo will be negatively affected during the freezing/defrosting process."
Lemon Chicken Orzo Soup Recipe
This lemon chicken orzo soup is equal parts bright and comforting.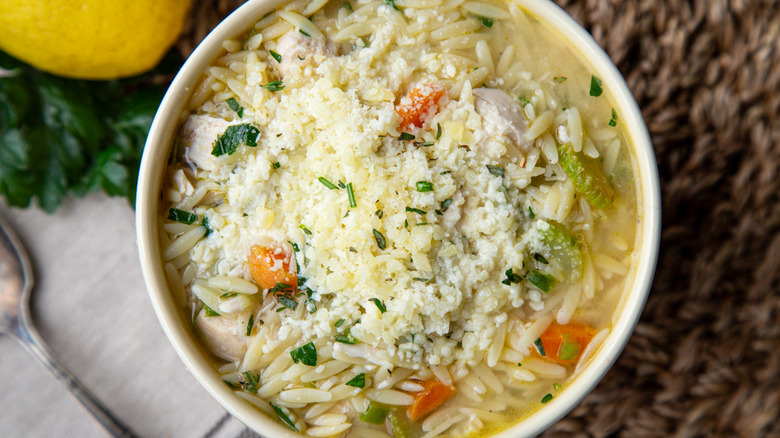 Ingredients
2 tablespoons olive oil
2 carrots, peeled and finely chopped
2 stalks celery, finely chopped
5 cups chicken stock
8 ounces orzo (about 1¼ cups)
2 cups cooked and chopped chicken
⅓ cup chopped fresh herbs (thyme, rosemary, and/or parsley)
zest and juice of 2 lemons
3 green onions, chopped
1 teaspoon salt
¼ teaspoon ground black pepper
¼ cup grated Parmesan
Directions
Add the olive oil to a large saucepan over medium heat. Add the carrots and celery, and cook until soft, about 4 to 5 minutes.
Pour in the chicken stock and add the orzo. Bring the stock to a boil, then reduce to a simmer. Cook for 10 minutes, stirring occasionally.
Take the soup off the heat and add the chicken, herbs, lemon zest and lemon juice, green onions, salt, and pepper.
Transfer to serving bowls and top with the grated Parmesan. Serve while warm.
Nutrition
| | |
| --- | --- |
| Calories per Serving | 509 |
| Total Fat | 24.0 g |
| Saturated Fat | 6.4 g |
| Trans Fat | 0.1 g |
| Cholesterol | 67.8 mg |
| | |
| --- | --- |
| Total Carbohydrates | 44.0 g |
| Dietary Fiber | 3.9 g |
| Total Sugars | 8.7 g |
| Sodium | 1,214.2 mg |
| Protein | 29.4 g |