Ree Drummond's Fun Trick For Crispy Reuben Sandwiches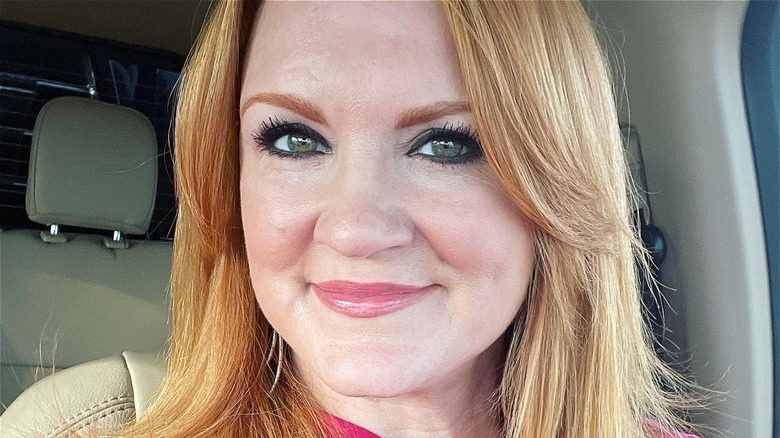 Facebook: The Pioneer Woman - Ree Drummond
A Reuben is unique because it hits so many cravings at once. However, just because a Reuben is a great sandwich, that doesn't mean there isn't room for improvement. For instance, Ree Drummond has a Reuben hack that's both fun and convenient. She calls her creation the Reuben Wafflewich.
Instead of greasing up a frying pan or a cast-iron skillet, Drummond suggests using a waffle iron to get the gooey crispness that is a trademark of the hot version of the Reuben sandwich. In her YouTube video, Drummond showcases how to use the waffle iron to make the sandwich. She says, "One secret to any grilled sandwich is you gotta get a lot of butter on the bread because that makes it get really golden and crisp, and it's the whole purpose of a grilled sandwich. Let's face it."
However, other than switching up the way you heat it, you make the sandwich the same way you've always made it. Drummond's version of the sandwich combines pumpernickel rye bread with Thousand Island dressing, cheese, and pastrami on one side and cheese and sauerkraut on the other. Then, you're ready for the aforementioned buttering and heating.
How to use a waffle iron to cook a Reuben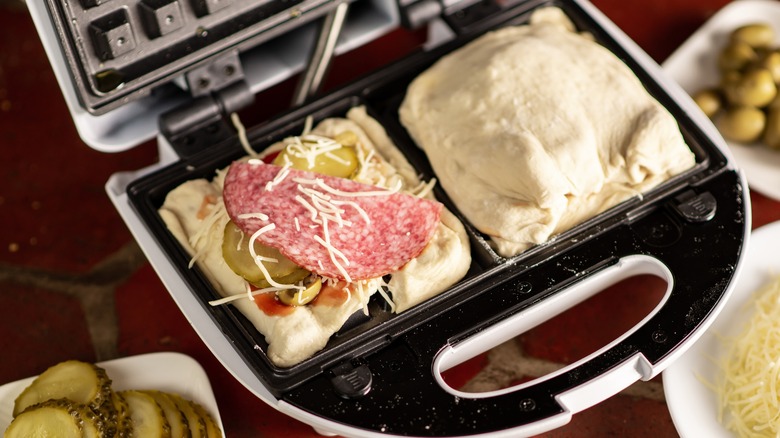 Zapylaiev Kostiantyn/Shutterstock
A waffle iron is an efficient way to make a warm and tasty meal from a cold sandwich. While the technique isn't unique to Ree Drummond — think panini press — adding big breakfast squares makes cooking a Reuben a lot of fun. However, this isn't the only time Drummond has encouraged using a waffle iron for something other than waffles. The Pioneer Woman employs this timesaving method on everything from hash browns to fluffernutters.
When Drummond uses a waffle iron, her first steps are always the same, she preheats the unit and gives it a quick spray with cooking oil to make it nonstick. When cooking a Reuben on a waffle iron, the television personality says it is best to butter the top side of the sandwich and place that side down on the waffle plate. This way, you can easily butter the other side before closing.
Drummond's hack is more convenient than getting out a skillet and a spatula, turning on the stove, and greasing up the pan and the sandwich. When following her recipe, you do not even have to flip the sandwich because a waffle iron cooks both sides simultaneously. Best of all, like frying, the waffle iron is hot enough to produce the Maillard Reaction. This is when the bread turns golden brown for a nice crisp.