The Easy Cake Box Hack For Transporting Overly Tall Creations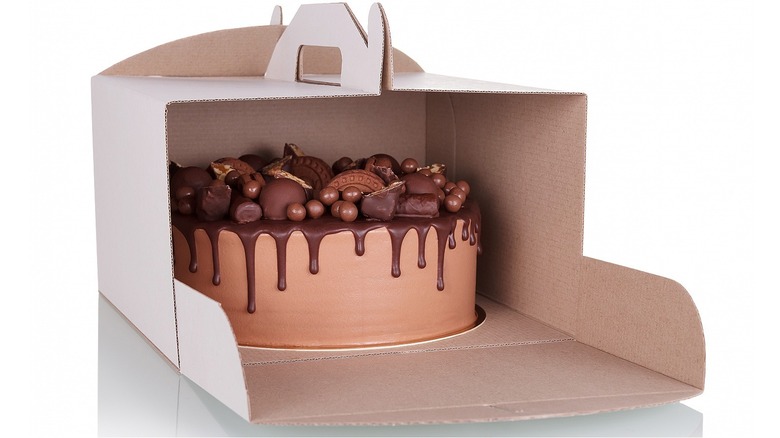 Laboko/Getty
Baking cakes is no piece of cake. However, decorating and delivering them can turn your stress level, too. A perfectly sized cake box is the secret ingredient to a successful cake delivery. When your box is a bit snug or when a standard 6-inch-high box is not tall enough, we have a trick to ensure your tall cake arrives at its destination in one delicious piece. It's one of the dessert and baking hacks you'll wish you knew sooner.
Finding inexpensive cake boxes that are tall enough can be a challenge, but here's the secret: All you need is two boxes of the same size, cleverly join them together, and you have one box that's big enough to accommodate your cake — no matter its width or height. You don't need to buy cake box extenders anymore. Tailor-made for your needs, it's the perfect workaround that works like a charm as long as the cake boxes are similar in size and style. Say goodbye to cake transportation woes and deliver your delicious cakes like a pro.
How to use this cake box hack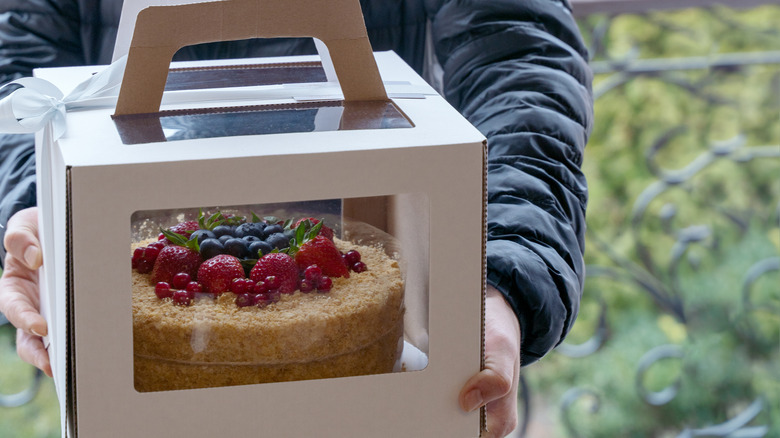 Xolodan/Shutterstock
As TikToker @ambergotcakess demonstrates, simply put the cake in one box and find a matching box. Align the boxes facing each other, then join them and secure the sides by closing the tabs, ensuring a snug fit. If the tabs don't work, use staples or tape for easy adjustments. This hack saves the day when you cannot access ample cake boxes. Remember, not all boxes are created equal. They vary in height and length, so it's crucial to find a box that fits your cake perfectly.
Create a smudge-proof cake effortlessly by assembling the box around it instead of struggling to fit it in afterward. Place the cake on its board, build up the sides, and seal the box. Use plastic wrap to cover any parts of the package that may still be exposed. While there is fancier, pricier wrapping, you can choose affordable alternatives. After all, the focus is on savoring the cake, not its covering. Add a touch of sparkle with your stickers, logos, and branding. Simplify, impress, and enjoy!
You can confidently hit the road once your cake and decorations are packed. For multi-tiered cakes, travel smart. Package each tier separately and assemble them upon arrival. Prepare for the unexpected by bringing spare decorations, icing, and a spatula to fix any transport mishaps. Also, keep decorations separate until you reach your destination, then add them to your cake for the perfect finishing touch.