Pizza Hut Has 2 Sticky New Hot Honey Menu Items, But There's A Catch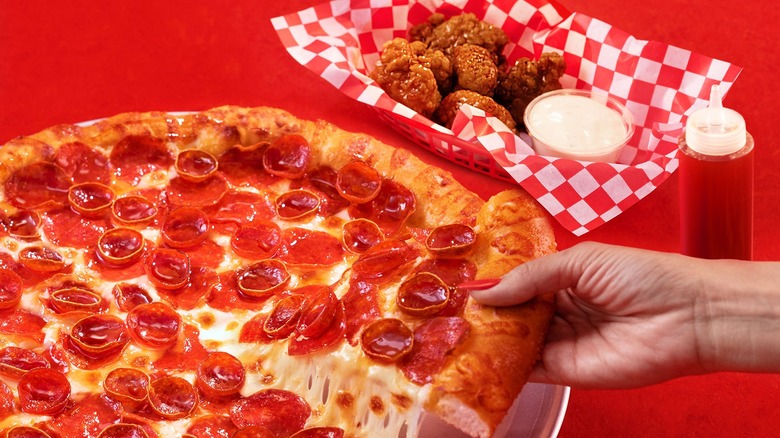 Pizza Hut
There are a number of adjectives that can be used to describe pizza, but it's only been in the last few years that "sticky" has joined the conversation. Why, you ask? Because hot honey has quickly become one of the trendiest toppings to drizzle over a slice, and this week, Pizza Hut is partaking in this craze by adding two new hot honey items to its menu.
According to a press release sent to Mashed, the Kansas-based chain's new hot honey pizza has finally made its long-awaited debut today, July 18. Featuring all the classic elements of Pizza Hut's famous pies –- marinara sauce, pepperoni, and melty cheese on the crust of your choosing –- this 'za also comes topped with "crispy cupped pepperonis" (yes, two types of 'roni) and the true pièce de résistance: a chili pepper-infused hot honey. That's not all. If your typical pizza night includes a side order of chicken wings, Pizza Hut has something for you, too, as hot honey wings will also be joining the menu today, as well.
We're sure there are several people chomping at the bit over this exciting news, but there is one small catch to the latest menu change at The Hut. Unfortunately, this duo of sweet and spicy menu items is currently only available for customers residing in Dallas, Texas, and Cleveland, Ohio, and will only be sticking around in these cities for a limited time.
You can DIY Pizza Hut's new menu items until they debut in your city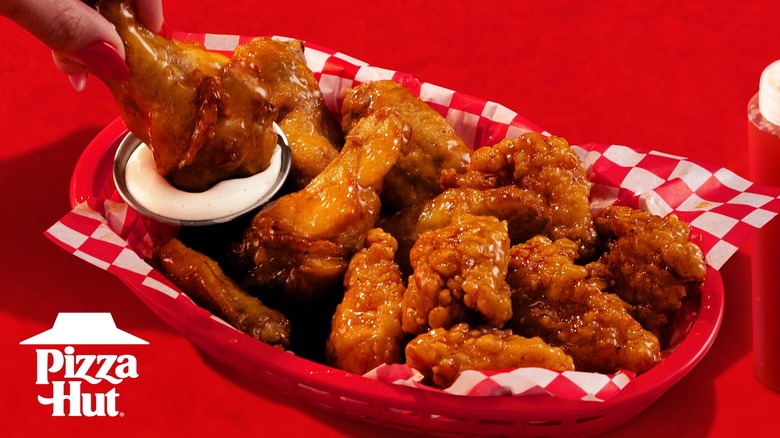 Pizza Hut
It's okay to shed a few tears if you're not a resident of Dallas or Cleveland. However, that doesn't necessarily mean hot honey pizza and chicken wings are out of reach. You can easily DIY the combo yourself by purchasing your own bottle of hot honey and drizzling it over a slice of pepperoni pizza (from Pizza Hut if you want it to be as authentic as possible) to your heart's content. As for the wings, all you need to do is douse a plain serving in the sticky sauce and toss until they're all evenly coated. If you're not in the mood for either, don't worry, there are many ways to use hot honey.
Meanwhile, residents of Dallas and Cleveland simply need to head to their closest Pizza Hut location (or its mobile app or online counterparts) to get their hands on the chain's new hot honey pizza and wings. The menu newbies will start in price at $11.99 per pie and $5.99 for a six-count order of chicken wings, which will be available in both bone-in and boneless varieties.
Time will only tell if Pizza Hut conquers the hot honey trend. However, considering the chain has already proved it can handle spice with its Spicy Lover's Double Pepperoni Pizza in 2022, which YouTuber Peep This Out called a "banging situation," we wouldn't be surprised if this slightly sweeter take will end up being a hit as well.