Pizza Bombs Are The Viral Meal Filled With Epic Cheese Pulls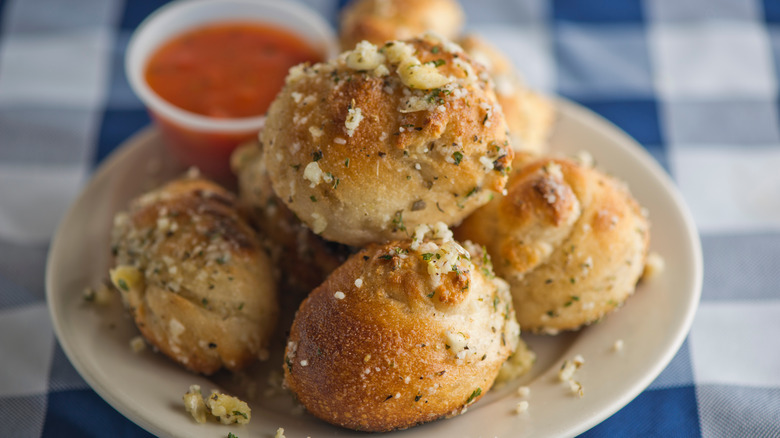 Marie Sonmez Photography/Shutterstock
Whether you're a total cheese lover or are lactose-free but want to admire from afar, everyone can appreciate a good cheese pull. The visual marvel of gooey cheese stretching as far as possible became popular in the 2010s when everyone began posting their best food photos on Instagram. From the melty goodness of sharp cheddar inside a grilled cheese sandwich to the never-ending ribbon of mozzarella that falls from your deep-dish pizza slice, an epic cheese pull is one sign of a delicious meal.
However, not all recipes provide the satisfying stretch promised by the packaging. Sometimes hungry shoppers are disappointed by cheesy bread lacking cheese or met with the hollow casings of what could have been a delicious mozzarella stick. If you're gearing up for a meal full of cheesy goodness only to be left with the sad coagulation of a recipe that has seen better days, pizza bombs are the answer. 
TikTok has made a name amongst foodies as the best place to find mouth-watering recipes while balling on a budget. One recipe for pizza bombs (bread stuffed with cheese and pizza toppings) posted on the platform has our mouths watering. Even better, it only calls for a few key ingredients. For those looking to up their snack game and guarantee a photo-worthy cheese pull every time, reach for a can of biscuit dough and your air fryer because you need to try this unique pizza recipe ASAP.
This viral recipe is the elevated pizza trend we deserve
Pizza bombs take everything we love about the iconic pizza rolls of the '90s and usher the concept into the 21st century. While myriad videos feature cheesy goodness and-or pizza bombs, this post received nearly 166K views on TikTok, thanks in no small part to the truly epic cheese pull at the end.
With a pizza bomb, the possibilities are endless. Turn the simple pepperoni pizza we know and love into a supreme by adding chopped green peppers, black olives, and mushrooms. If you prefer less meat on your pizza slices, experiment with other flavor profiles — like spinach and artichoke — to pair with delicious mozzarella. For those who swear pineapple belongs on pizza, start some controversy by filling them with traditional Hawaiian toppings. 
Are you feeling particularly experimental? Expand the flavor profile beyond traditional pizza toppings. We're confident a pizza bomb full of Brie, prosciutto, and fig jam would blow people away as a dinner party appetizer. While the TikTok video uses biscuit dough, you could opt for homemade pizza dough or puff pastry for a sweeter kick. No matter how you prepare them, these quick and easy pizza bomb recipes are great for parents prepping kids' after-school snacks or busy college students looking to snack on something other than instant ramen.