Costco Shoppers Are Disappointed In This Cheesy Pull Apart Bread
Between their Kirkland Signature cheese flight and their wheels of artisanal Parmesan cheese, Costco sure seems like a haven for cheese-lovers. They have just added a new cheesy item to their repertoire with the return of Tipiak's imported pull-apart cheese bread. Each package comes with two loaves of bread, stuffed with brie, Emmental, and mozzarella cheeses. Three different cheeses combined with French bread — what's not to love? Well, according to some Costco shoppers on social media, quite a lot. 
Many shoppers were excited to see this cheesy, bready goodness on Costco's shelves, but they were sorely disappointed when they brought the new item home. Quite a few took to social media to say that the bread was simply not good. "Ughhh I bought and it does NOT taste good! I had to throw away the 2nd batch," @love_sara12 commented on an Instagram post by @CostcoBuys. Social media user @erin2549 agreed: "No thank you! Looks a lot better than it tastes!" User @marinabeads06 added, "Bread is pasty and cheese tasteless."
If you want to skip the Costco trip, cheese bread is easy to make at home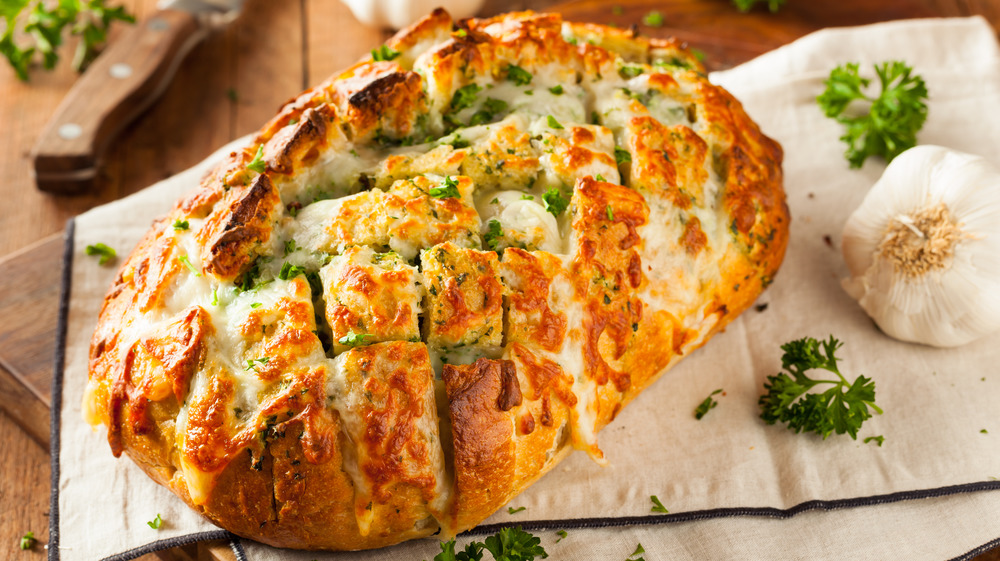 Shutterstock
Other Costco shoppers felt that it would be a better idea to get your carb fix by simply making your own cheesy bread at home. Instagram user @melday95678 suggested: "Overwhelmingly bad reviews wow! It's so easy to make yourself, I'd add garlic butter and parsley." There are all kinds of different quick and easy cheesy bread recipes online, and many take under two to three hours to make (via Spend With Pennies, via Cookies & Cups). 
However, as far as pre-made breads go, many people felt Costco's pull-apart bread just did not deliver. What's more, it is hardly a health food. According to Costco Cousine, four slices contain 130 calories, 290 mg of sodium, 16 grams of carbohydrates, and five grams of fat. And for many, the flavor — or lack thereof —  was just not worth the indulgence. A box of Tipiak's pull-apart cheese bread is on sale at Costco for $10.79, but it might be a better idea to save your money for one of Costco's other satisfying baked goods, like their cinnamon pull-apart bread or their delicious filled danishes.